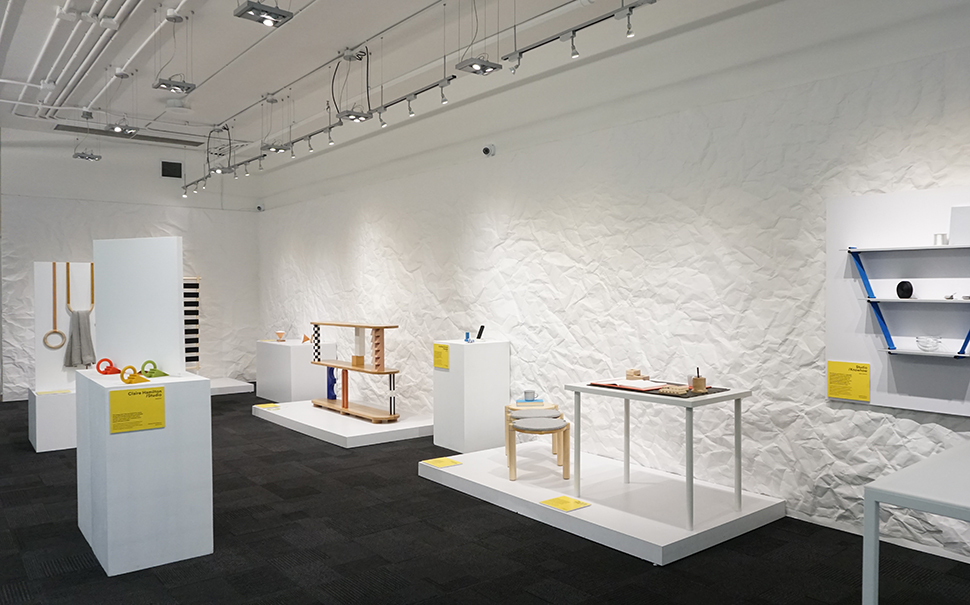 Submission Deadline
Friday, September 25, 2020
Prototype Exhibition
Work/Life
Going into its sixth year, 'Work/Life' is an annual exhibition organized by DesignTO in partnership with Umbra. A dozen new prototypes by Canadian designers are shown each year at the Umbra Store during the DesignTO Festival. 'Work/Life' invites any Canadian designer (living here or abroad) to submit to this open call for submissions.
About the exhibition
Showcasing the work of Canadian designers, 'Work/Life' is an exhibition that explores fresh and original housewares and working products for contemporary life.
'Work/Life' will run during the annual city-wide DesignTO Festival, January 22-31, 2021. All selected prototypes will also be considered for addition to Umbra's growing roster of quality products, to be manufactured, distributed, and sold through the Umbra brand, with royalty. For example, The Bolo Planter by Simone Ferkul, a prototype from the 2017 exhibition, is now produced by Umbra and available for purchase globally.
Call for submissions
In a world where home sizes were already dwindling and our ideas of working and living have been constantly redefined, the boundaries between work and life were drastically altered by the pandemic. Work/Life has a whole new meaning.
How has the stay-at-home order changed your life, creating a new context for everyday living? How has being at home 24/7 changed the way we use objects? Are you hacking your way through it? How can we share these inventions or turn hacks into viable products?
For those of us able to work from home, 2020 has pushed the boundaries of living and breathing Work/Life. Every household object has become precious. Products in our home morph to have multiple uses. Our scrutiny of products — what they do and what we need — is heightened.
Drawing upon these conditions, Work/Life invites designers to explore what design will be in the coming year. How can we evaluate a "new quality of life" through prototypes? Consider opportunities for multiple functions, storage, space efficiency, personalization, dual utility, entertaining, and other hybrid and micro-living concerns. The exhibition invites designers to think about the whole environment that we live and work in, and welcomes creative responses to the theme.
Design considerations
An understanding of Umbra's core values: modern, original, casual, functional, and affordable
A product must provide user multiple useful benefits, or adaptable to their owner's needs, working in different situations
Anticipate or integrate technological developments
Needs for tech, storage, privacy, ergonomics, productivity
A product that grows and changes with age and place
A product with a long lifeline
A product that you want, and that you can afford
Aesthetics, functionality, manufacturability
Global appeal
Submissions of new work are preferred and strongly encouraged; however, we will consider submissions of work that have not been publicly displayed before. Applicants can submit more than one entry using one submission per form.
All submissions must include the following:
A description of the product (max. 150 words) — please be sure to include the following details: title, function, materials, dimensions;
A short bio on you and/or your creative practice (max. 150 words);
2-3 images of the prototype, such as a digital rendering, drawing, or sketch (max. 1MB per image);
Your contact info (name, email, phone number, mailing address), and website URL and/or social media handles (if available);
Signed copy of Umbra's Design Submission Agreement (in PDF format).
Deadlines
All submissions are due Friday, September 25, 2020 by 11:59pm EST.
How much does it cost?
There is no fee for this submission or for participating in the Prototype Exhibition. However, if selected, you will be responsible for arranging drop-off and pick-up of your prototype to the Umbra Store, 165 John Street, Toronto, at your own cost. Artist fees will be paid to designers selected for the exhibition.
When does the prototype need to be done?
The prototype does not need to be made when submitting to the call. Designers who are selected will be required to produce a prototype of their submitted design and ship the prototype to Toronto by January 4, 2021 latest. Additional details will be sent to successful applicants.
Who can apply?
All Canadian designers can apply. This includes Canadian living abroad, and anyone currently living in Canada. Students can apply as well.
When and where is the exhibition?
The exhibition will open Friday, January 22 and run until Sunday, January 31, 2021. An opening reception will be held during Festival Week if permitted by pandemic protocols. The exhibition and reception will be held at the Umbra Store, 165 John Street, Toronto. We reserve the right to modify dates and delivery formats if required.
What happens next?
Successful submissions will be notified by email mid-October 2020.
Questions?
Email any questions to Programs Coordinator Carmen Douville at carmen[at]designto.org with the subject line: Prototype Exhibition + your name.