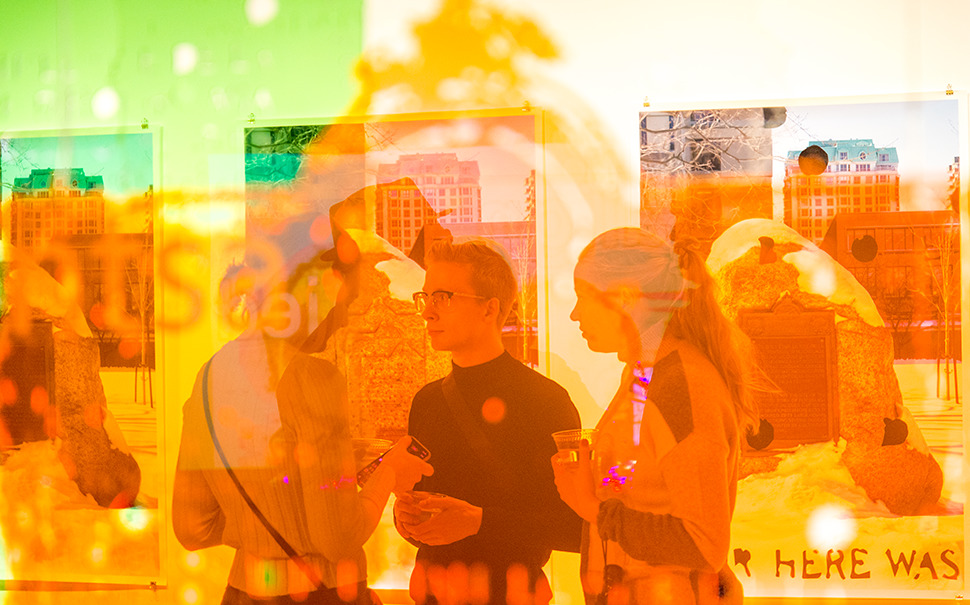 Submission Deadline
Friday, September 25, 2020
Thematic Exhibition
Exchange Piece
The practice of care can be found in all aspects of our lives. From objects and places, to ideas and policies, and people and communities, care in the creative process affects the way we relate and position ourselves to the things we create and interact with.
This exhibition seeks to explore collaboration as an act of care. It is constructed around an exchange and conversation between early career and senior artists and designers. Selected artists are paired, an introduction is made, and then a collaborative "exchange piece" is created through conversations between them.
Going beyond function and aesthetics, care is also a practice that considers our wellbeing and the wellbeing of others. Who or what requires care? How does our concept of care change in consideration of different practices and communities? What relationship can be formed through these dialogues between creators? What can one discover about their own practice through engagement with a different perspective?
Artists will be invited to explore these ideas through a series of guided conversations. The outcome of this collaborative process is an exchange piece, which will be exhibited alongside each artist's work. This may take the form of a conversation, a physical work, or an alternate approach that responds to the experience of sharing.
This call for submissions is for early career and senior artists and designers who want to collaborate and engage with those at different stages of their practices.
Call for submissions
We invite submissions from artists and designers working in all mediums and formats. We are open to projects expressed in 2- or 3-dimensions, digital or analog, whether they be object- or concept-based.
Submissions of existing work or realized projects are preferred; however, we will consider submissions of speculative work and projects that have not yet been realized.
The exhibition will be featured as part of the DesignTO Festival, January 22-31, 2021.
All submissions must include the following:
A description of the project or work you'd like to exhibit (max. 150 words) — include the following details: title, materials/format, dimensions, year;
A description of how your object or work connects to the exhibition theme (max 300 words);
A short bio on you and/or your creative practice (max. 150 words);
1-3 images of the project or work (max. 1MB per image); and
Your contact info (name, email, phone number, mailing address), CV, and website URL (if available).
Deadlines
All submissions are due Friday, September 25, 2020 by 11:59pm EST.
How much does it cost to submit?
There is no fee for this submission or for participating in the Thematic Exhibition. However, if selected, you will be responsible for arranging drop-off and pick-up of your work to Harbourfront Centre, 235 Queens Quay West, Toronto. Artist's fees will be paid to artists selected for the exhibition.
When and where is the exhibition?
As permitted by pandemic protocols, the exhibition will open Friday, January 22 and run until Sunday, April 4, 2021. An opening reception will be held during Festival Week if permitted by pandemic protocols. The exhibition and reception will be held at the Artport Gallery, Harbourfront Centre, 235 Queens Quay West, Toronto. We reserve the right to modify dates and delivery methods if required.
What happens next?
Successful submissions will be notified by email by mid-October. Early career artists will then be paired with a senior artist and/or designer to begin the exchange program. The exchange will be facilitated by DesignTO's programming team. Details will be provided and a schedule of interaction will be mutually agreed upon.
Questions?
Email any questions to Programs Coordinator Olga Schellenberg at olgas[at]designto.org with the subject line: Thematic Exhibition + your name.
Going into its seventh year, the thematic exhibition is a signature program of DesignTO, a non-profit arts organization that produces Canada's largest and leading annual design festival. This exhibition is co-presented with Harbourfront Centre.