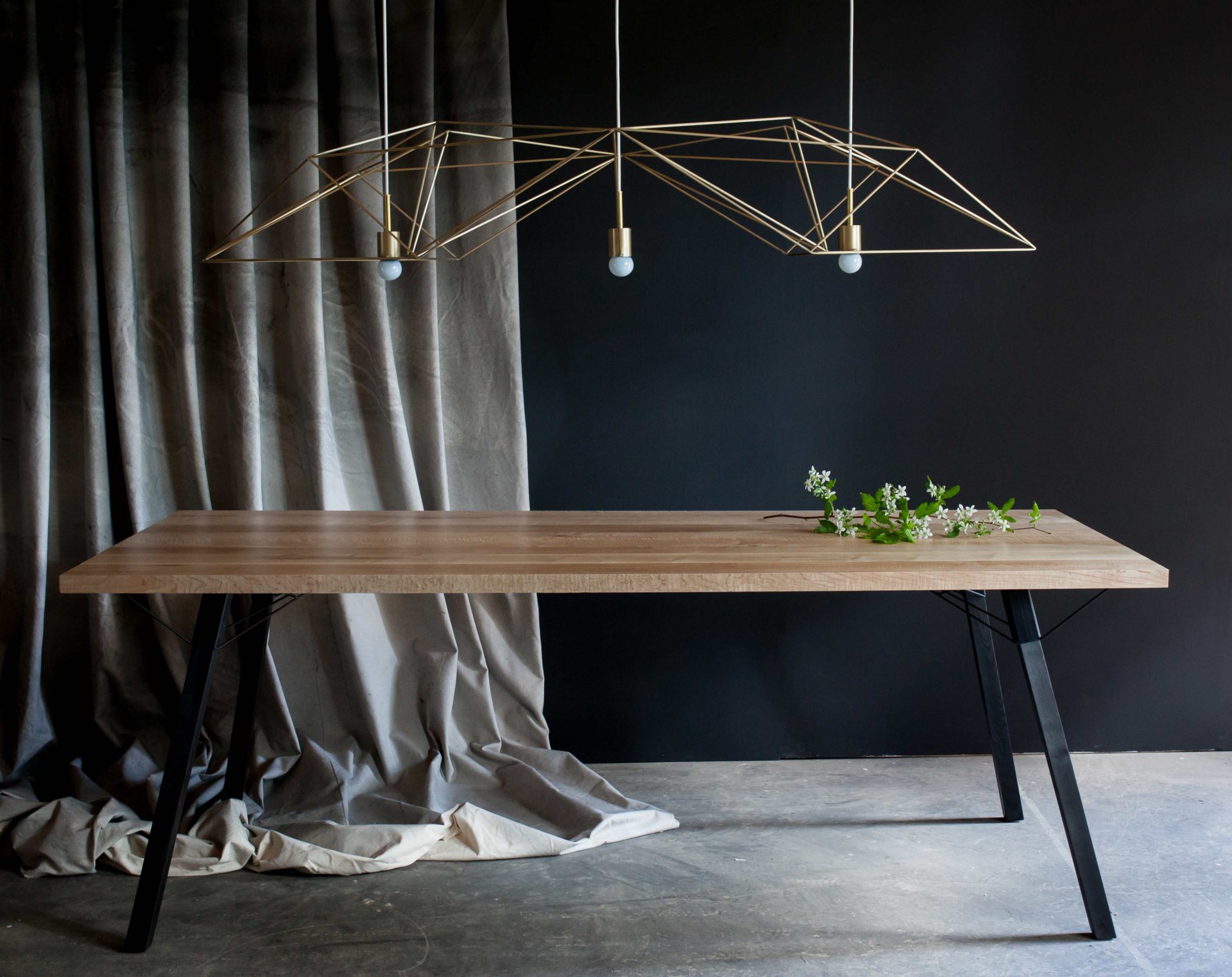 This interview with designer Simon Johns first appeared in the TO DO Members' newsletter, July edition. To receive the exclusive TO DO Members' newsletter, and other amazing benefits, such as discounts at local shops, galleries, and museums, join the TO DO Membership Program. Click here for more details.
Simon Johns is a fine arts-trained designer, and maker of furniture and lighting. With a BFA from Concordia University, he approaches design with hands-on studio experiments borrowed more from sculpture than from a software-based practice. Based in East-Bolton in southern Quebec, Canada, his work draws from relations between the manufactured product, and the raw surroundings of the studio's wooded location.
Deborah Wang (DW): Simon, I first became aware of your practice at Come Up To My Room, and after through your presentation at Site Unseen Offsite in New York. Can you tell us about why you decided to participate in these two exhibitions?
Simon Johns (SJ): Well, I had done Sight Unseen Offsite in New York in May 2016. I came home from that week really energized from the experience of talking about my work, and from all the fresh encounters with fellow exhibitors. I guess it made me realize how different our realities, objectives, and experiences are, as independent designers. Exhibiting makes you aware of where your work stands in a slice of time, in a greater but immediate context. Everyone whips together a show, practically simultaneously, in the few months before Sight Unseen Offsite. That show is not so much a trade show, it feels more like it's about design identity, like a fresh snapshot of people or brands as they move forward.
So as a subscriber to the TO DO newsletter, I read about Come Up To My Room, and the submissions deadline was around the corner. The show looked so open-ended and experimental. It's at the border of installation art and design, it takes pride in being wild and surprising, it's a go-to show, and it's fun. It felt to me, like the perfect thing to commit to. I would have a project to do that had to be coherent, but that wouldn't necessarily be critiqued or judged in a scholarly way, nor in a market-oriented way. So I took it on as an opportunity to dig into different aspects of my work, hoping the outcome would be a catalyst for other pieces, the starting point for new work.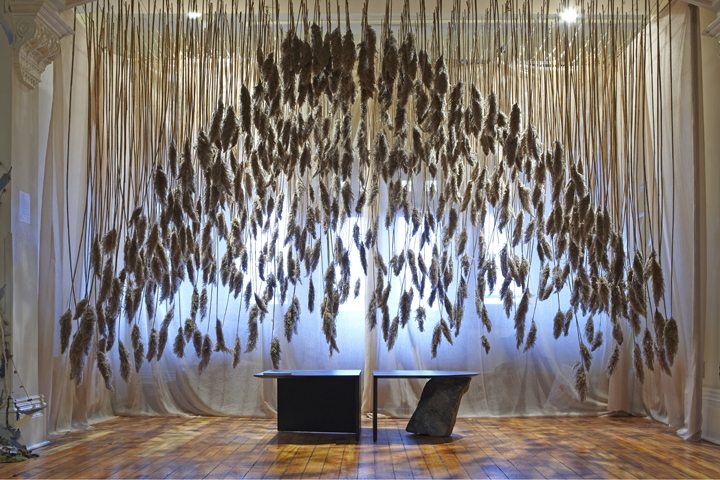 DW: How did you decide what to show?
SJ: The loose theme was called transplant, and I wanted to make something new. Realizing how strange it is to be a designer in rural Quebec, I wanted to focus on my surroundings, and 'transplant' the results to Toronto. I made a list of materials that were significant to my area and played with them. Among them were the reeds, also called 'Phragmities', along the entrance of my property that I've always wanted to use in some way. I ended up using 600 of them as-is, hanging upside down, creating a soft and embracing cavern. Below I wanted a piece that was clearly furniture, but also a result of the same creative process. The Missisquoi Table is made of two separate tables that are meant to stand 4 inches apart, separated, as the two banks of the river are. One side is held up by a large and heavy stone, the other side by a plank, and the two supports form an axis that flows from one table to the other through the gap. The stone is from the small quarry across the road, which is one of many in East-Bolton.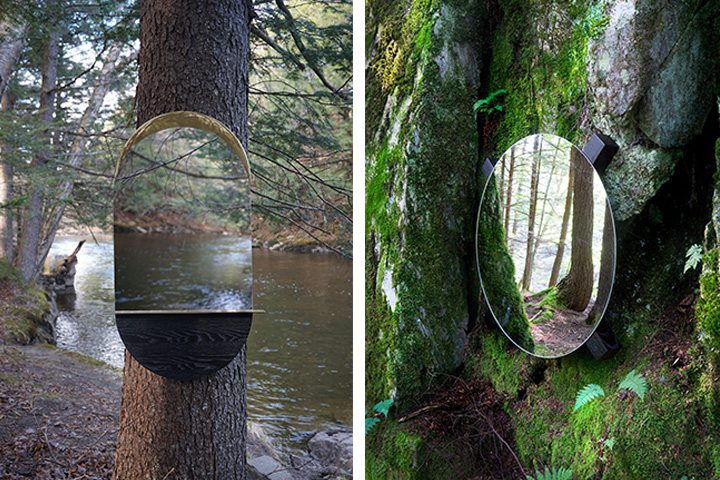 DW: You describe your studio as being in a "wooded location." In the Misissquoi Table, it's clear how your environs influence your design. Can you tell us more about this, and how you came to work in East-Bolton, Quebec?
SJ: I wanted to move out of the city because I was tired of paying rent, wanted an adventure, and more mental and physical space. So when I moved to a seven acres lot with a small run down house, it felt like I had bought a new playground with opportunities to experiment. But it was kind of a crazy naive move I made without thinking it through. It eventually made me want to work from home, and commit to making things full time.
I guess my location influences me in many ways. The land has 500 feet on the Missisquoi River with mature hemlock trees, tall cliffs, reed filled wetlands, and no neighbours. I think the isolation, and simply being among all this overwhelming nature influences my work a lot. There's definitely not a lot of noise, be it audio or visual or cultural, so I feel I can stay true to an idea for longer, and it helps me get stuff done. Formally, I'm in contact with more naturally occurring shapes, patterns, illusions and textures than manufactured ones. Not that it makes me draw from them constantly, but I do reflect on all sorts of dichotomies and contrasts, and that plays a role for sure.
DW: I'm also interested in your fine arts background. What kind of work did you create during that time, and how did that transform into your design practice?
SJ: I started Fine Arts at UNAM in Mexico, and finished at Concordia. I did mostly painting incorporating silk screening, and the raw esthetic borrowed from the political DIY/punk scene I was part of. The work played with different visual and cultural codes and attempted to move the viewer depending on her/his own background.
I think the DIY ethic and a flow of events brought me to make furniture and become a designer. My work today definitely still juxtaposes contrasting materials and shapes, and I hope that creates an experience or emotion that the viewer will get.
I'd say I used to consider my BFA as unfinished business, but that background is creeping into my work more and more. I feel I'm now allowing myself to make work that not only fulfills a task, but can also ask a question.