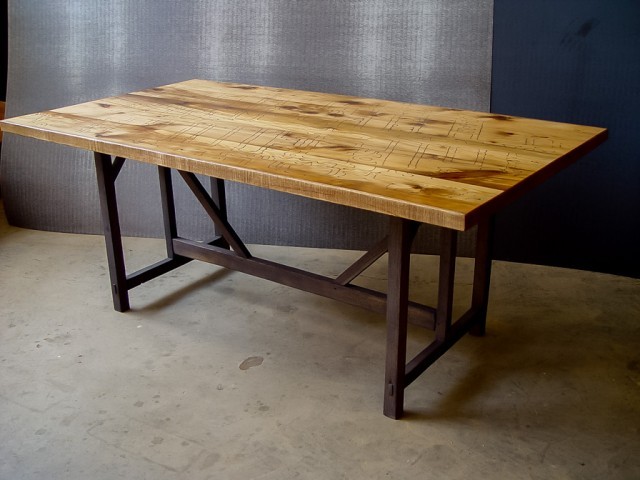 Lubo Brezina is a Slovakian-born, Toronto-based designer inspired by the intricate architecture of Japan, but nothing about his work gets lots in translation.
His obsession with woodwork, and the ability to take reclaimed material and give it new life as a unique piece of furniture is what put Brezina on the map as a designer – a career he says he "just sort of fell into."
Our Instagram followers will get a sneak-peek of Brezina's creative process this week as he takes over our@todesignoffsite account from Nov. 4 – 6, 2015.  Plus, everyone can see his work first-hand at the TO DO 2016 festival.
We recently sat down with Brezina to talk about how he got his start, some of his latest projects, and what it is about Toronto that keeps him inspired.
TO DO: What first drew you to design?
Brezina: I studied architecture at the University of Toronto, so I've always been interested in designing buildings. After school, I started doing home renovations around the city, and the jobs became more and more complex. At one point a client asked me to design a kitchen, and then a table. At that point I realized that I really enjoyed building and carving furniture. One thing led to another and I just sort of fell into it. It's not too surprising because I was always intrigued with the foundation of design, like what makes a structure stand up.
TO DO: Almost all of your work uses reclaimed materials – wood to be specific. What is it about the material that interests you?
Brezina: I work with reclaimed materials for the obvious reasons, like the environmental benefits. But, I'm also really intrigued by the history behind the wood. There's a story there and I want to help tell it.
You might not know this, but reclaimed wood is also very difficult to work with. It's been mistreated, misused or maybe crunched up during a demolition project, so you have to try to fix it. It takes longer, but the chaos leads to results that are much nicer in the end.
TO DO: What is it about wood in particular?
Brezina: I think maybe subconsciously I'm inspired by my Slovakian roots. It's a country with a lot of forest and a culture of woodwork, so maybe that's it. Although my family is made up of academics, so I'm not entirely sure how I got into it.
TO DO: So, there may be some Slovakian influence underneath, but do you think Toronto – the neighbourhoods or the cultures – plays into your work at all?
Brezina: It's more the people of Toronto that plays into my work. It can feel like a small city sometimes, but you meet people from all over the world with different backgrounds and experiences. It's a unique situation where you can collaborate with people from other countries to come up with distinct ideas.
TO DO: Who are some of your design heroes?
Brezina: They're not contemporary, and most of them are anonymous to me. I get my inspiration from old, wooden churches in Slovakia or temples in Japan. I see things that I like, and although I don't know who the designers are, I know their work.
But, I don't keep up or read design magazines if that's what you mean.
TO DO: The next question was going to be about your favourite design Instagram accounts, but based on your previous response that might not apply…
Brezina: (laughs) Yeah, not really! However, I do enjoy the posts from Mjölk – that store in the Junction.
(Check them out here: @john_at_mjolk & juli_at_mjolk)
TO DO: Can you tell us about some of the projects you're working on?
Brezina: I just finished a big project for the lobby of a tower downtown. I created 8 massive benches for that one, which should be installed soon. I'm also working on some other commissioned furniture pieces and I'm helping a friend finish his house with some wood interior.
And, of course I'll be putting something together to showcase during TO DO in January!
TO DO: What can people expect from you at TO DO 2016?
Brezina: I have a window on Dundas St. W. year-round, so I'll be using that as my venue. It will feature a pendant light made out of wood and paper, which I'm working on now.
TO DO: We can't wait to see it! Do you have any other comments about your work or career path that you'd like to include?
Brezina: Well, there's one more thing – when I first started designing almost 20 years ago there was no such thing as TO DO. Actually, there was hardly any support for design in Toronto, and there were only a handful of people doing what I was doing. It's incredible how much the industry has changed since then and how many people are involved. I think Toronto is about ready to explode with talent and that is so exciting to me.
Follow along as Brezina takes over our Instagram account for the third annual #TODOIGTakeover from Nov. 4 – 6, 2015. Check out his work online or stop by his window at 1659 Dundas St. W.