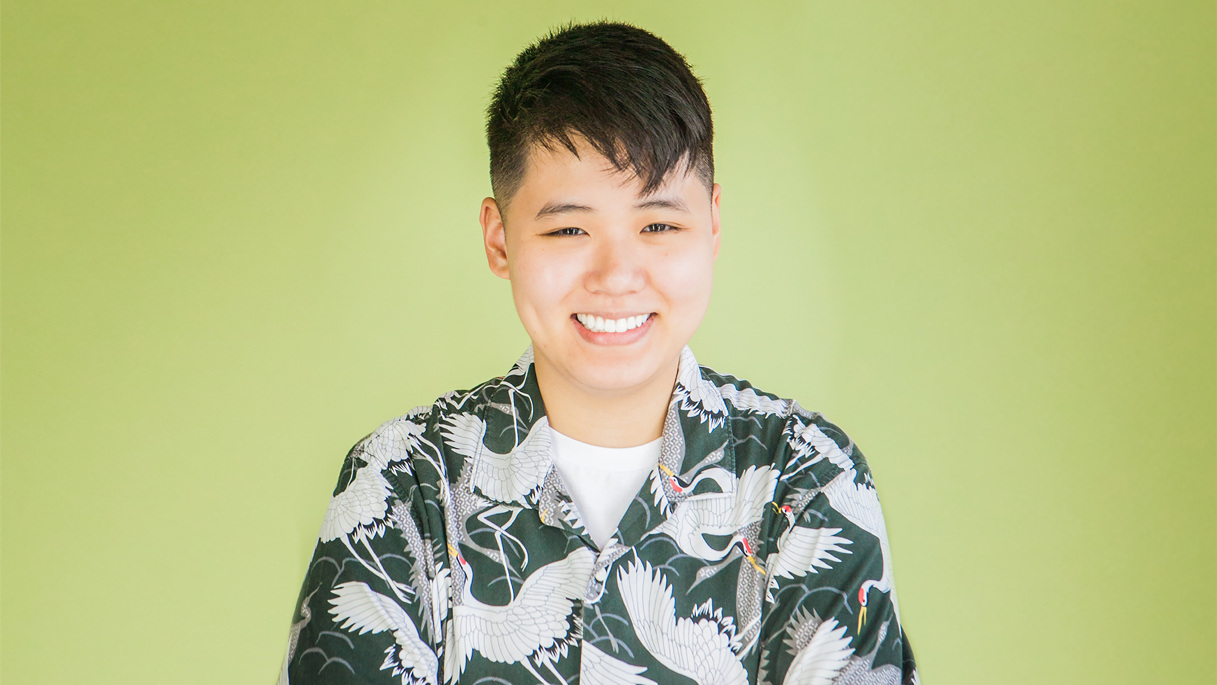 We sat down with the multidisciplinary artist and designer behind the DesignTO's 2022 Look and Feel, to explore their approach in creating the special illustrative branding for the 2022 Festival.
Vicky To specializes in fabrication, design, and more recently, acting. They are no stranger to DesignTO either. "I was working at Kid Icarus when I first got involved (indirectly) with DesignTO," they recall. "I worked on a print job with Adrian Forrow's illustrative look and feel project for the Festival in 2019. I then started working at aftermodern.lab and have carried on a more direct involvement with the Festival for about 3 years now." Vicky has had a hand in preparing the brand ever since.
What is the most important part of the DesignTO brand that you wanted to emphasize in the 2022 Look and Feel?
Vicky To: Community is the most important part of DesignTO. As creatives and as humans, we're all just looking to connect (especially after this pandemic), and so I really wanted to create something interesting enough to spark conversation. I wanted to keep things playful to give people the comfort to approach it. The playful elements endear people to the design rather than intimidate. It was important then that the overall look be inviting to the general public, who are not necessarily working in design.
What challenges did you face during the design process of the Look and Feel?
Vicky To: The biggest challenge I faced was calming down my inner critic. This year, I really challenged myself to dig deep and find confidence within myself. I wanted to push to see what works and what doesn't.
Right before COVID hit, I joined the film union in Toronto and started my film career as a prop builder. I also started to pursue acting, which has taught me a lot about trusting my first instinct, and to not sit on self-doubt.
How has acting influenced your creative approach?
Vicky To: I've learned to pitch my ideas better through acting, since it inspires you to make yourself stand out. It's very important to be authentically yourself. So I apply that everywhere. 
Walk us through how you came up with this year's design.
Vicky To: I love to draw buildings, so I started using basic shapes to see what came out of that. I fabricate and build props for films now, so I tend to think a lot about the 3-D aspects before the 2-D. Using geometric shapes to create forms that resemble abstract buildings allows for more play in the overall feel of the design. There are endless forms that can be put together using these illustrative shapes, and a warm colour palette inspires togetherness and connects people.
What did you enjoy most about the 2022 identity?
Vicky To: The most enjoyable aspects so far with creating the 2022 identity is exploring the colour palettes and how certain palettes give a whole different feeling and look to the same illustration. I chose the colours to be Miami-inspired because I wanted to invoke a feeling of warmth. The second is working with the team and being able to chat about the idea and get feedback.
I always try to consider how people are included. Community, now more than ever, is very important, so making connections is a big part of my creative process. I wanted to experiment with the different ways the viewers are led to the pieces. I wanted for the design to be inviting, and to draw people in.
As you explore the Festival's programming, keep a careful eye open for Vicky's designs as they brighten up most of our external-facing material, including the website, newsletter, social media, events and exhibitions signage. Thank you, Vicky!
View the full Festival Schedule and plan your DesignTO Festival, January 21-30, 2022. 
Follow Vicky on Instagram @vickyto