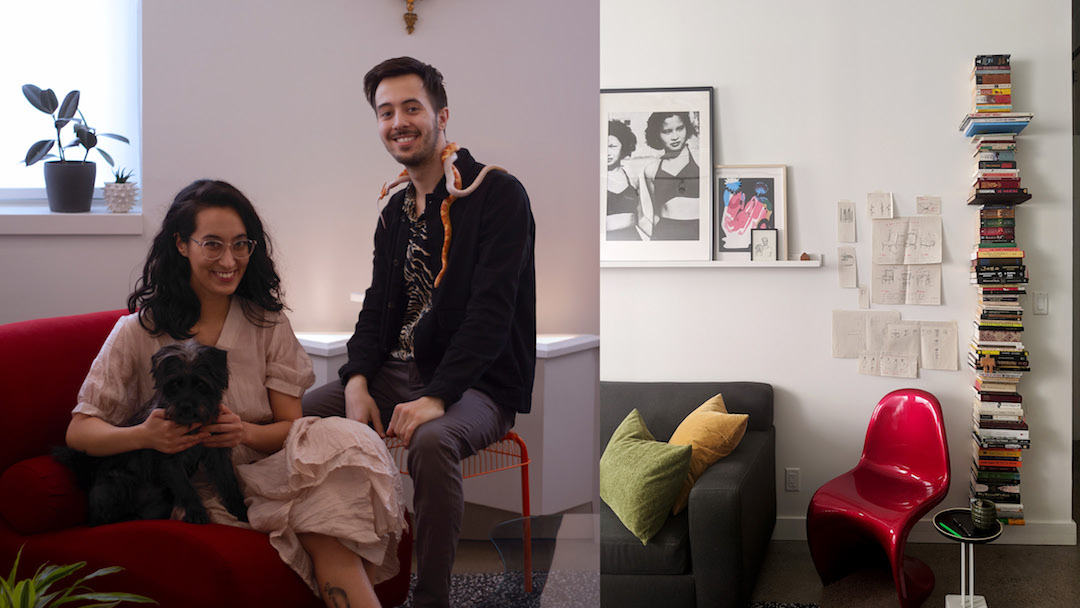 As individuals and organizations take on proper physical distancing measures due to the COVID-19 pandemic, many of us have found ourselves spending more time at home for many reasons. What was once a common place to eat, sleep, and unwind, our homes also double as remote workspaces for those of us that have the option of working from home. With this significant change, we need to adapt to become more flexible with how we use our homes. We're asking people in our community to share their work from home (WFH) spaces, routines, and coping mechanisms. 
Name
Jake Oliveira
What is your profession?
I am an industrial designer and a member of the team at Powell & Bonnell. I'm lucky to create pieces for the Powell & Bonnell brand (who manufactures everything in the GTA, a proud point for me), as well as for a handful of manufacturers and master craftspeople.
Tell us about your workspace.
Currently, I am between an office table adjacent to the living room and a laptop riser (aka Powell & Bonnell Alto Stool), which serves as a makeshift standing desk. My partner Melissa is a researcher for the Canadian Digital Service, so we both operate in different realms of the creative field and take up a fair amount of space with our work. Like most folks getting used to this new normal we've adapted our loud and lively decor and apartment layout to try and create a few breakout spaces we can shift between when in meetings.
What are some important aspects of your WFH space?
Windows open ALL DAY. The more natural light the better.
A newly formulated sketch book called "The Cookie Jar": half-finished ideas, preliminary sketches, and concept thoughts. Whenever I hit a creative slump I grab The Cookie Jar, open it to a random page, and try to take the closest idea to the next phase. It has served as a great low stakes outlet to get out of a rut in the process.
Records need to spin during heads down time. Our current rotation includes Smino's Blkswn, Charley Crockett's The Valley, Gorillaz' Self-Titled, and Chromeo's White Women.
Do you have a WFH routine or tips?
Most days generally start the same: Make a pot of coffee, pick an album, create a task list, and get cracking! Whenever I get stuck on a particular task, I tend to frequent one of the breakout spaces we've set up in our apartment for a quick sketching session.
Do you have any WFH coping tips?
One new COVID-19 ritual has been to make a massive pot of Masala Chai (courtesy of our friend Evan Jerry of Studio Anansi) to stay caffeinated. You can find that Dishoom recipe online!
Aside from that, we have two pet snakes and a tiny Affenpinscher dog with Big. Terrier. Energy. If you are lucky enough to have pets around, they really help soothe anxiety because hanging out with them tends to require all of your focus.
When times are tough, gratitude is an integral part of keeping balanced. What are the things you are grateful for?
I'm incredibly grateful for all of the video calling software out these days. It's allowed me to stay in touch with friends and family around the globe, and although it isn't as ideal as face-to-face chats, it is a welcomed solution.
I'm also incredibly thankful for the increase of bike-friendly streets in Toronto. My partner and I are big on hiking and these initiatives have made it a lot easier for us to get out of the downtown core and into nature.
Sending and receiving love right now is important. How are you expressing your love for the people in your life?
Now that we are in Stage 3, I'm happy to be able to do socially distanced walks with friends in our social circle. There have also been some great impromptu outdoor comedy shows in Bickford Park. There are few things more lovely than sharing a pizza and some laughs with a friend!
––
*Are you working from home? Want to share your WFH space, routine, or coping mechanism? We'd love to hear from you.