For DesignTO 2020, we've teamed up with the Yonge + St. Clair BIA for DesignTO Tours: Connection Points on January 19, 2020.
This walking tour will give attendees the opportunity to explore and experience four DesignTO installations in the Yonge + St. Clair neighbourhood alongside the artists and designers who created them! Read on to learn more about the participants.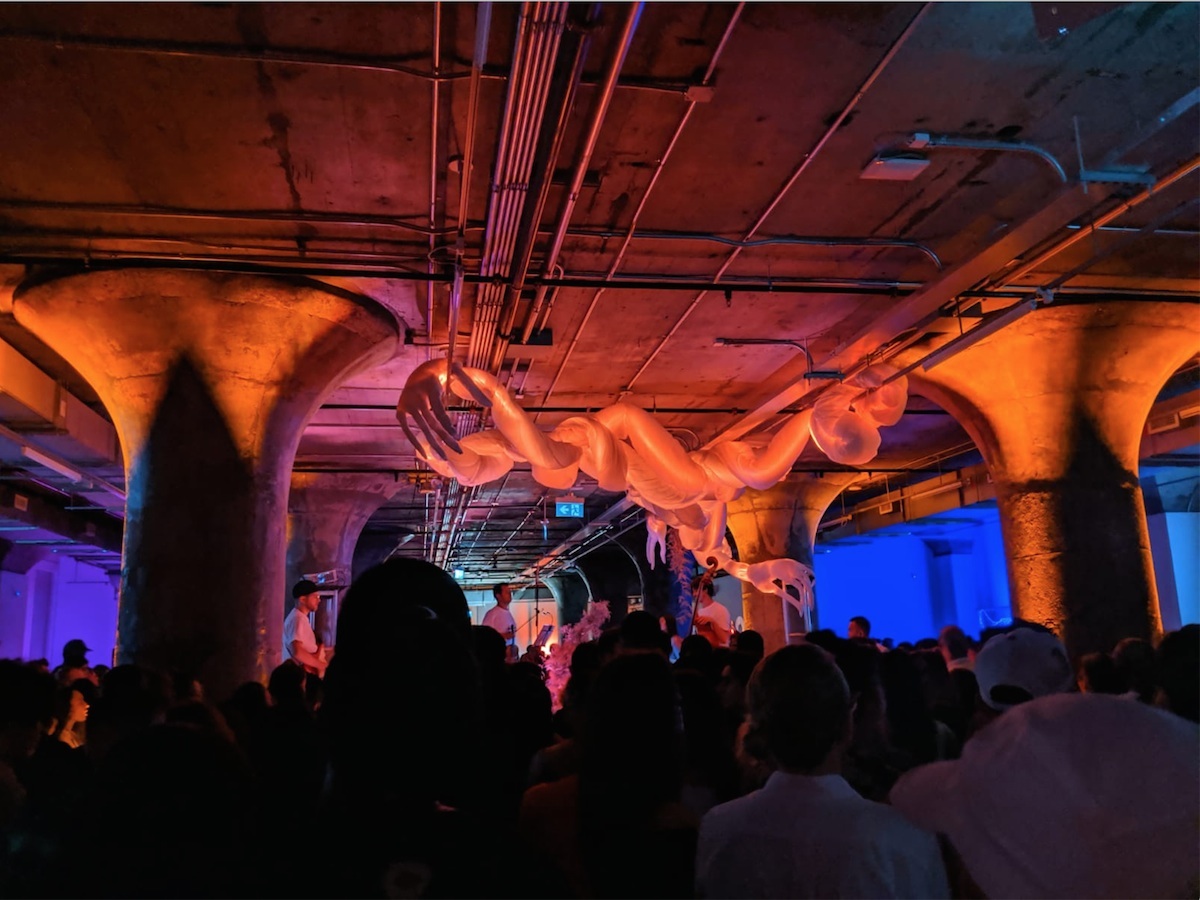 A Long Story II, by Lauren Pirie
'A Long Story II', by Lauren Pirie, is a soft sculpture installation fabricated with cotton fabric, polyester stuffing, thread, sculpture wire and LED lights.
A moment suspended, illuminating the inherent interconnectedness – between human and human and to our shared environment – and at the same time, a yearning for connection. 'A Long Story' is interested in the common threads in our personal and global mythologies, and how our willingness to confront our shadows, individually and collectively can lead to growth and healing. Loyal to the natural and the supernatural, with human nature at the centre, everything here is connected and intertwined. Coiling shapes softly reference serpents, which are often perceived as evil, but hold ties to the Earth Mother, creative energy, water, and the underworld, meld fully here with fantastical anatomies.
Lauren Pirie is a multidisciplinary artist, art director, and curator with an interest in environment, immersive experience, and socially-engaged art. She's curated collaborative art experiences, large community events, and intimate gallery shows. Her work includes a range of media and scale exploring environment in relation to connection, desire, and healing. During the tour Lauren will be present to share her thoughts and motivations behind this piece.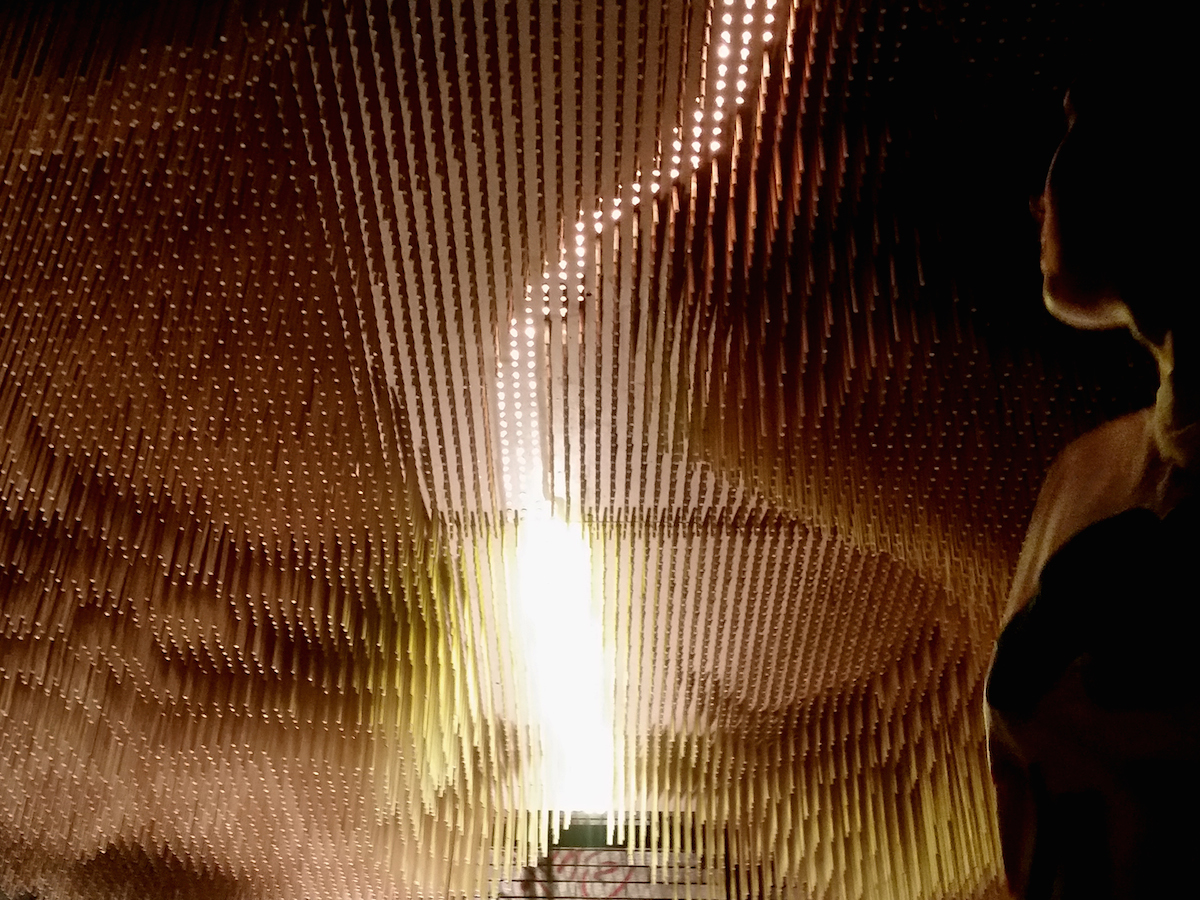 'Inverted Valleys' is part of a series of canopies that quickly create inviting public spaces while leaving the area beneath untouched and freely useable.
In this sense, the aim of 'Inverted Valleys' is twofold: one hope is that the focus on the unique geography of Toronto's ravine systems motivates people to be more aware and appreciative of the incredibly valuable (but underused) natural resources in our city. The second, more overarching aim, is that the continued use of interstitial urban spaces (alleys, lanes and pathways) for installation works encourages people to rethink what is possible in terms of how we engage with the built environment.
Environmental urbanists Natalia Bakaeva and Mark Francis are Toronto-based designers, installation artists, and the founders of Interspatial. Their art and architectural design are focused on animating interstitial urban environments, and facilitating autonomy in the making of personal and public spaces. They will be on hand to explain their artistic process and more during the tour.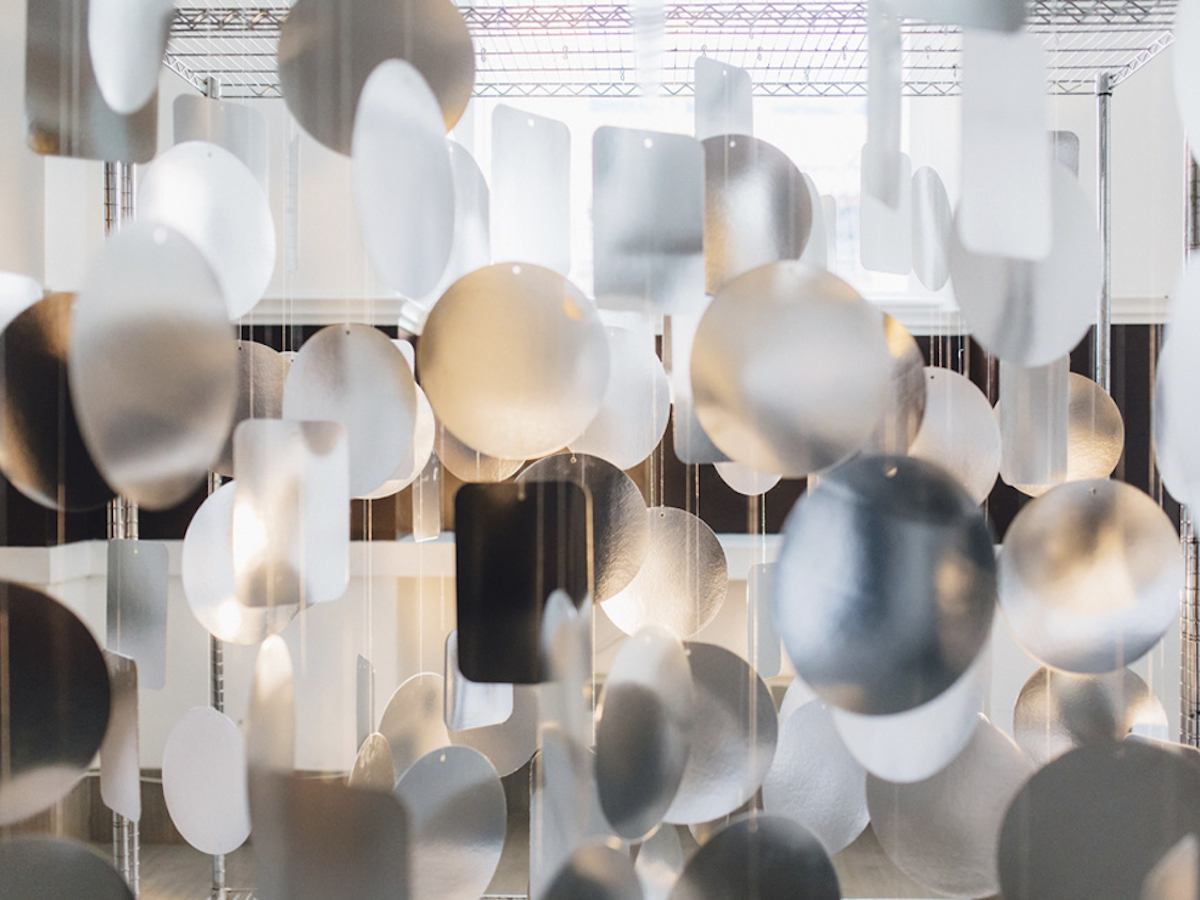 'Front of House' is a cluster of hundreds of reflective cardboard takeout lids, suspended from the ceiling of the lobby of 2 St. Clair West. The reflective lids spin and 'Front of House' transforms an everyday material, normally discarded, into a shining beacon of light and motion that changes throughout the day with shifting natural light.
Chris Foster is a multidisciplinary visual artist and designer based in Toronto. His artwork takes many forms including public installation, sculpture, design, printmaking, and collaborative projects. Working across disciplines, his work engages conversations about material culture, architecture, and the built environment.
Layne Hinton is a multidisciplinary artist and independent curator based in Toronto. Through analog projection, sculpture, installation, video, drawing, and printmaking, her artwork examines architectural forms, geometric structures, and the way in which line, light, and shadow play with these spaces. Continuing her exploration of space, Layne is a curator for Art Spin, an organization that presents site-specific projects and exhibitions in unique spaces in transition.
The pair will be joining the tour to provide deeper insights in to the work.
'Arborescent' is a colourful forest of renewal and growth from unexpected materials. Push yourself to imagine a world in which we eliminate waste and emphasize the reuse and repurposing of materials for everyone's benefit. We believe it is our collective responsibility to create a sustainable future for generations to come.
Gensler is the world's largest architecture and design practice, with offices in 47 locations around the globe. With a focus on bespoke, community-centric design, Gensler's Toronto office has been lucky enough to work on several projects around the St. Clair intersection, including 2 St. Clair East, the current work at 2 St. Clair West, and several public benches and podium installations along the street. Representatives from Gensler will be on hand for the tour to give attendees a better understanding of the meaning behind the work.
DesignTO Tours: Connection Points happens on January 19, 2020. It is supported by the Yonge + St. Clair BIA.