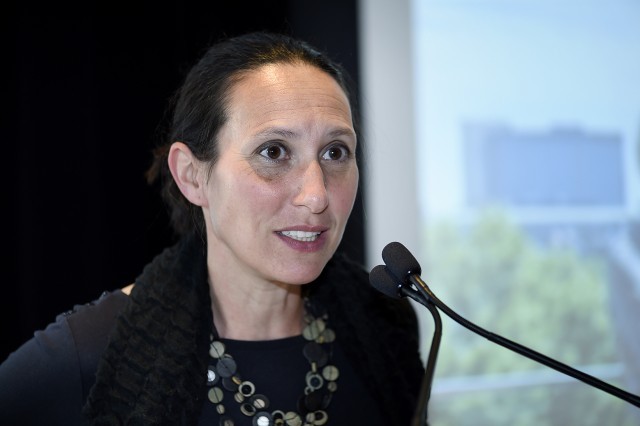 Next week, the third session of Exporting Toronto Design, 'At Home and Abroad', begins. Exporting Toronto Design is an organized discussion on how to create global awareness of the Toronto design scene and extend its local reach. Here is what to expect on Tuesday at session three.
Session three will be held at the Umbra store on November 10th at 6:30PM, and will feature a panel led by Lola Sheppard and Catherine Osborne, two of Toronto's lead design thinkers. In the first two sessions of the series, a panel discussion generated nine actionable ideas on how to extend the reach of Toronto design. In the third session, these ideas will be refined and developed into strategic steps we can take to turn these concepts into realities.
Lola Sheppard is a registered architect, the recipient of the 2012 RAIC Young Architect Award, and a founding partner of Lateral Office. Lateral Office is a Toronto based design firm that specializes in research-driven design and taking new approaches to unique design challenges in the built environment. Lateral Office received a Progressive Architecture award in 2013 and an Emerging Voices award from the Architectural League of New York in 2011.
Lola studied at McGill University and the Harvard Graduate School of Design towards her Bachelor of Science in Architecture, Bachelor of Architecture, and a Master of Architecture.  She has taught at several universities including the University of Toronto, Ohio State University, and California College of the Arts, and is currently an Associate Professor at the University of Waterloo. Lola worked in design offices in Paris, London, and Cambridge before settling in Toronto to form Lateral Office.
Catherine Osborne – Azure Magazine Editor
Catherine Osborne is the current editor of Azure, an award-winning magazine focused on contemporary design and architecture. Catherine joined the Azure team in 2005 as Senior Editor, and was promoted to Editor in 2013. Catherine specializes in writing and editing in design, art, and architecture, and has worked at various other publications including Designlines, The Walrus, Tokyo's Daily Yomiuri, the Herald Tribune, National Post, and the Wall Street Journal. Catherine also co-launched Lola, a Toronto based art magazine that published regularly for seven years.
Catherine received her Bachelor of Fine Arts from Queens University, and is deeply involved in the design community. She has attended events across the world including Milan's Salone del Mobile, the London Design Festival, and the Venice Biennale of Architecture.
Lola and Catherine will be speaking together Tuesday at Exporting Toronto Design and then hosting a Q&A for participants, followed by a workshop facilitated by Simon Mhanna of TO DO. Session three is just $5 to register and will host approximately 75 participants.
Click here to register now.