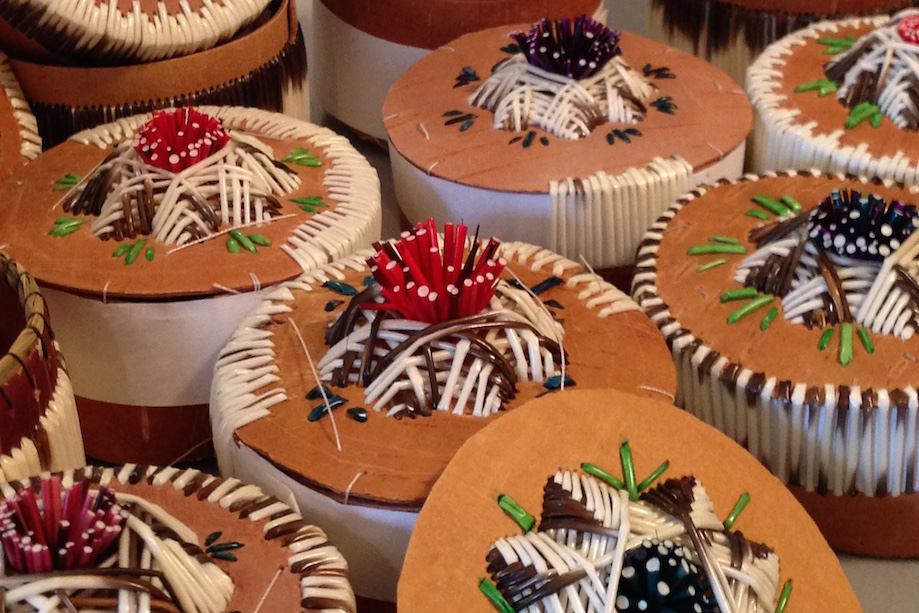 TO DO Festival Features is a shortlist of 10 events, exhibitions, and/or window installations selected by a jury. The criteria for selection is entirely up to each juror, while considering caliber of the work or event program, and appeal to a general public and specialist audience. This year's jurors include Corrie Jackson (RBC Art), Shaun Moore (MADE Design), and Claire Pijoulat (WantedDesign NYC).
'Ojibway Quillwork' is an exhibition presented by G'zaagin Art Gallery, which presents work that incorporate natural materials in a way that can be experienced creatively. An example of these works would be the quillwork on show, which has been harvested, cleaned, dried, and stored for a number in years in preparation for the project. The quillwork not only reveals the time and effort taken to gather the material, but also the interactions between craft, design, history, tradition and narrative.
Juror Shaun Moore notes the exhibition's nod to traditional heritage and storytelling as one its highlights. "I'm really excited about this exhibition," said Moore. "The graphic nature of quillwork often feels current despite its incredibly long and traditional heritage. I'm interested to see the evolution in style across the five generations of makers."
'Ojibway Quillwork', on view at Coolearth Architecture's offices in The Junction, is a rare opportunity to view an underrepresented art form. See it from Jan. 16–22, 2017.
Click here for exhibition details.