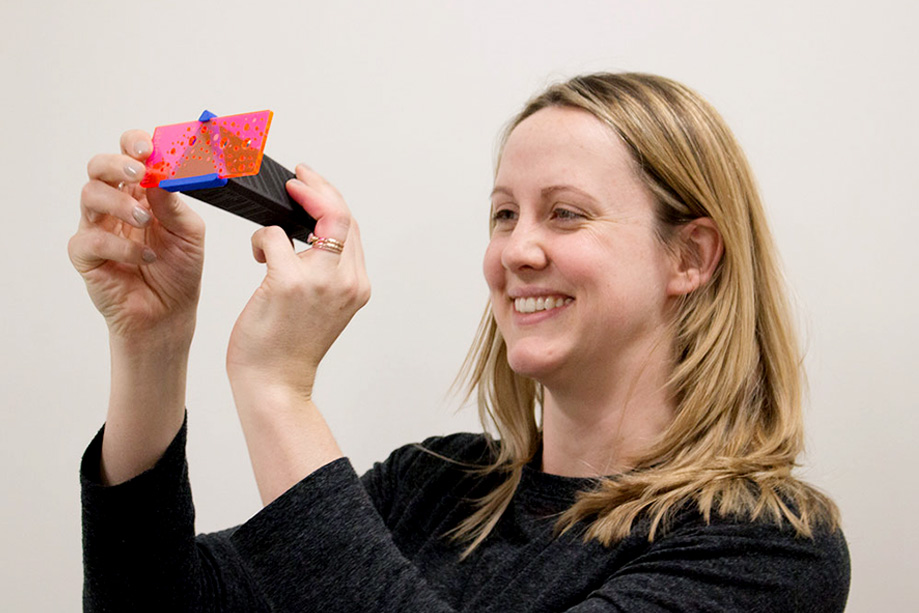 TO DO Membership benefit partner Hot Pop Factory had a great 2017. To thank their clients Hot Pop Factory created a very special gift. Below is the article about the special gift from the Hot Pop Factory blog.
Last year was huge for Hot Pop Factory thanks to our clients and collaborators who provide endless inspiration. When 2018 got underway we decided to repay the favour and express our appreciation with a custom gift. We wanted it to be digitally fabricated, clever, and reflect our optimism – but what to make?
We called in recent OCADU grad Alda Escareño to develop the initial concept. The Hot Pop Factory team handled design development and resolved the technical details. The result was awesome! And we want to share it with you.
A Kaleidoscope – Hot Pop Factory style
We call it the Infinity Scope, a fun optical device and invitation to reflect on all that is possible. Beyond serving up gorgeous dancing patterns of light and colour, we are very proud of its assembly and how it combines laser cutting and 3D printing. Alda was the perfect collaborator to help us design a fun object with a narrative. We were wowed by her OCADU Masters of Design thesis project The Joy of Laser Cutting, a smart 'cookbook' of digital fabrication recipes.
"I see digital manufacturing as a world full of potential… As an artist, I'm interested in exploring new and unusual applications of this technology."
Inspired by the design of classic toys, Alda mulled over the idea of a toy along these lines – something fun and interactive – and a concept began to come into focus. "I decided a kaleidoscope was a promising direction because it had the potential of bringing together a range of interesting materials." Alda roughed out a sketch model, the components including a folded prism, acrylic pattern inserts, and triangular connector to hold it all together, and passed the baton our way.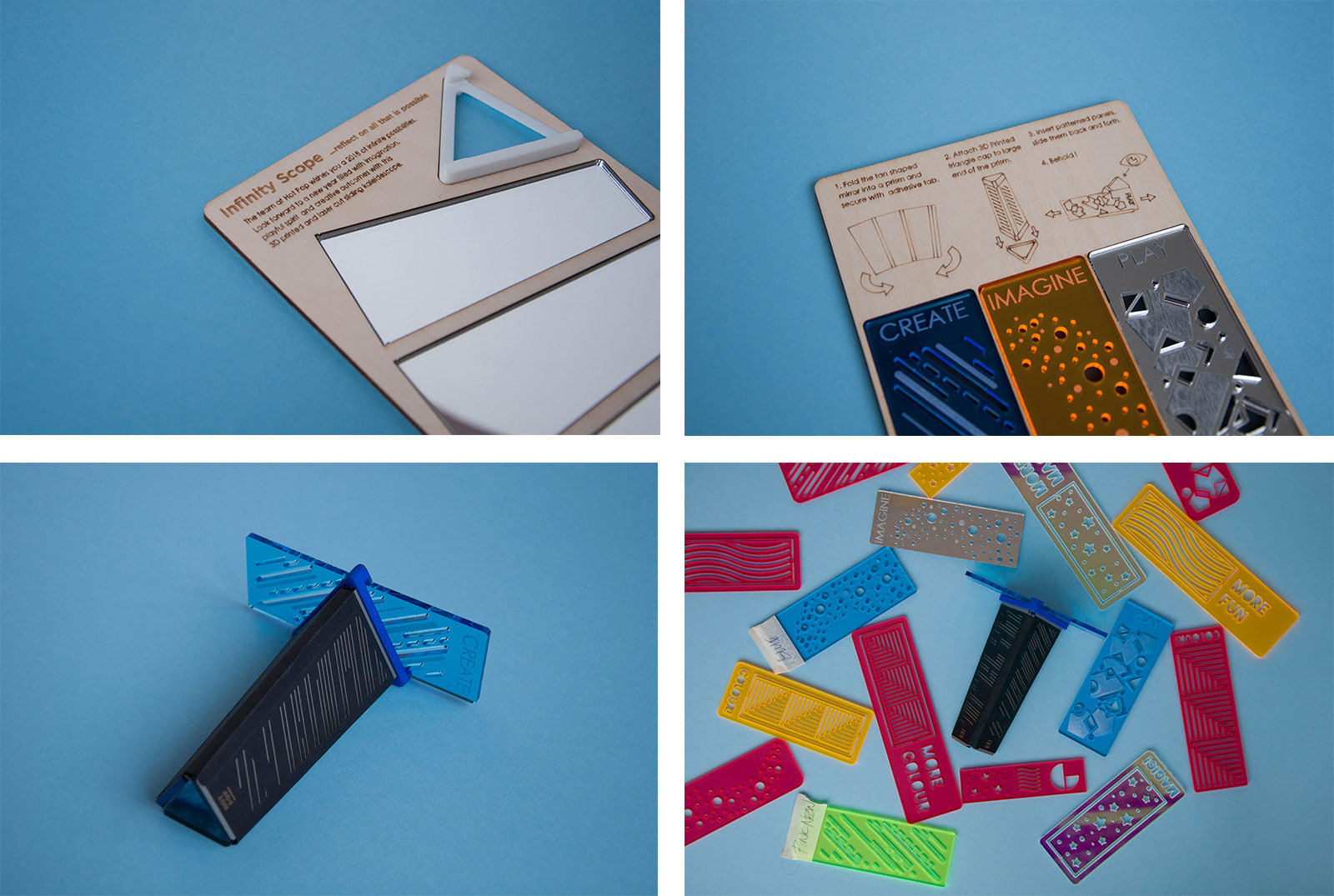 The Infinity Scope needed to be flat-pack for mailing, and this really drove the design. The triangular connector had to make the prism rigid and clasp the patterned panels. The 'snap fit' was difficult to get right. The final laser template for the acrylic included notches in the corners that received the 3D printed connector's tiny clips. After a lot of iteration, everything snaps together super intuitively in the final design.
"I think these constraints helped us arrive at a pretty clever design for the connector. It's simple and brings it all together. It also highlights how you can combine laser cutting and 3D printing in perfect harmony."
We experimented extensively to design patterns that would be cut into the acrylic and ended up with three panels. An angular array of lines and dashes, a constellation of circles, and a composition of interlocking geometric shapes, which were ultimately labelled 'create', 'imagine', and 'play'.
See for yourself!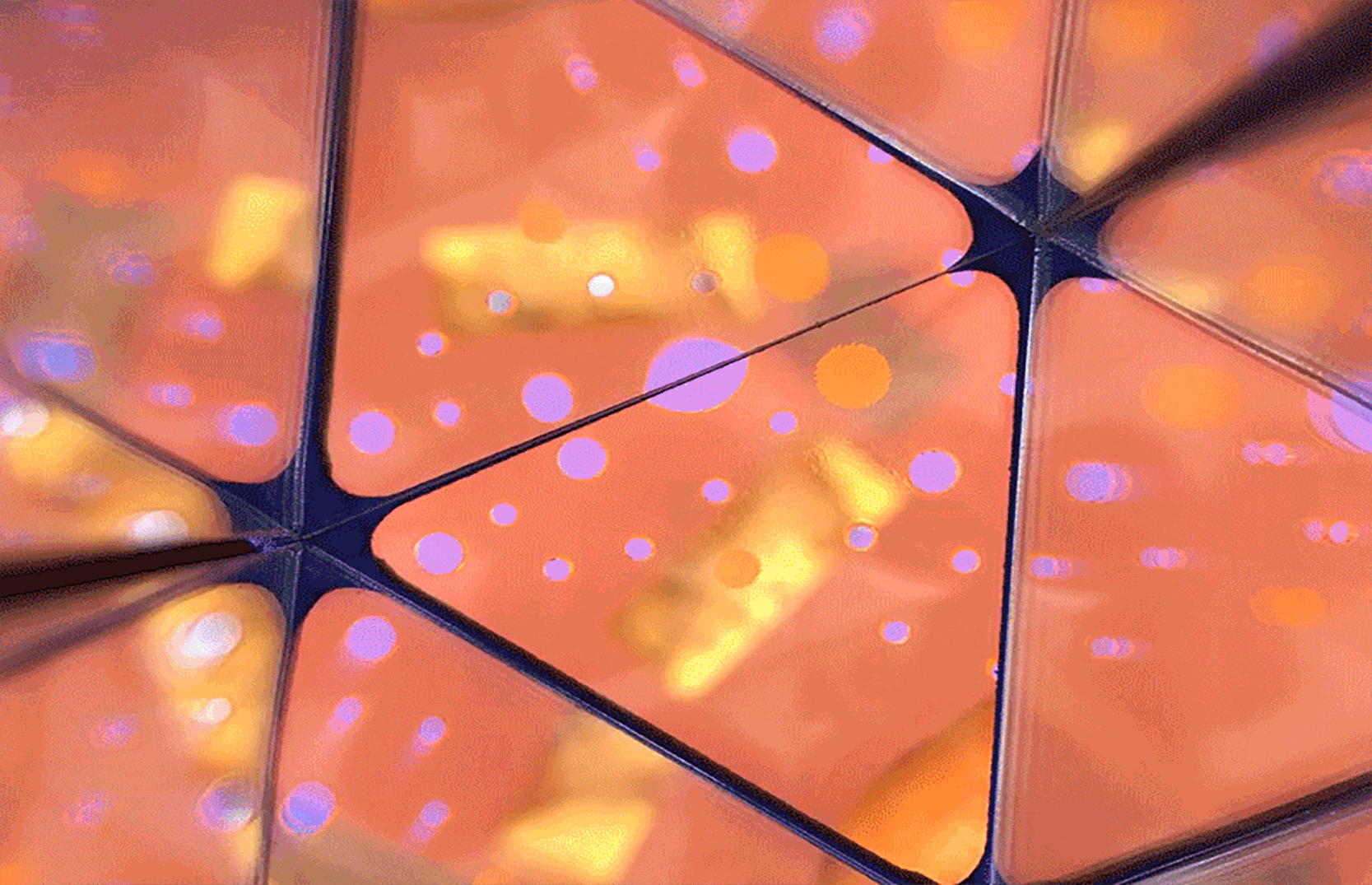 Alda is bang-on when she describes Infinity Scope as "giving you the opportunity to see the every day in new, playful ways."
We'd like to an extend a big thanks to our collaborators and to Alda for helping us shape this design.
We're waiting with bated breath for the next iteration of her Joy of Laser Cutting project.
Are you a TO DO Member? Members received 15% discount on Hot Pop Factory's laser cutting, laser engraving and 3D printing services. Discount applicable to orders up to $500 before taxes.
When you become a TO DO Member, you're directly contributing to our efforts to celebrate and support Toronto's design community through our annual non-profit festival.
Click here for more information about the TO DO Membership Program.