TO DO's Insider Series takes our readers into the homes, studios, and establishments of Toronto designers. We had the pleasure of scoping out the home of Meg Graham and Andre D'Elia, founders of superkül, one of Canada's leading architecture firms in the heart of a bustling Toronto west end neighbourhood.
Andre D'Elia started superkül 14 years ago, shortly after he met Meg Graham while working at KPMB Architects. A few years and one wedding later, Meg joined her husband's architecture firm which has received widespread attention for projects like Harbord Flats and Aesop Queen Street West.
Over the years, the husband-and-wife duo have built a home-slash-office in Toronto's Roncesvalles neighbourhood, with a family of four, and a team of 15 staff. See the photo gallery + full interview with superkül's founders, husband-and-wife duo Meg Graham and Andre D'Elia below.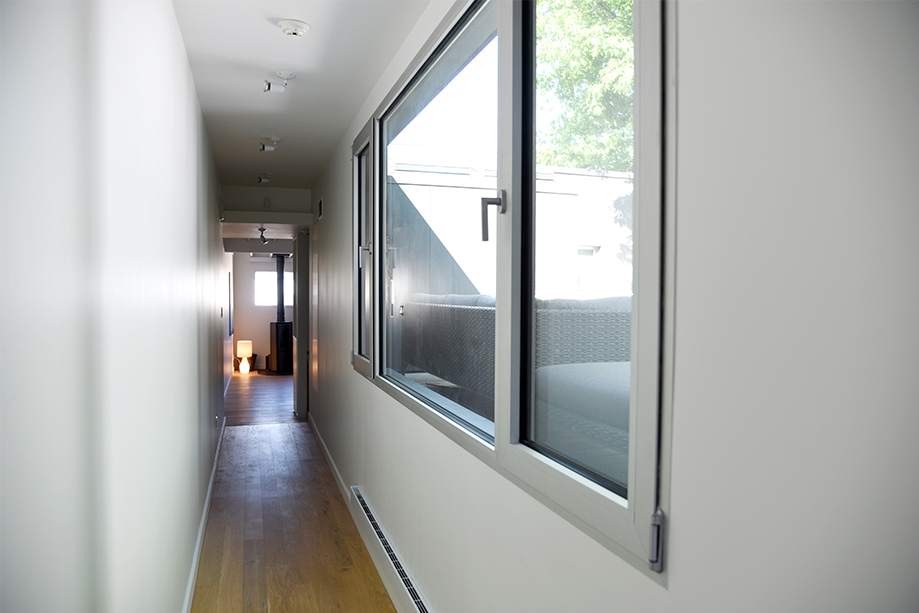 TO DO:  How would you describe your design style and taste? How is this reflected in your home-slash-office space?
MEG: Our design styles are a bit different – mine is more spare, and Andre's is more materially rich. I am big on abstraction, while Andre is more of a details person. But ultimately, our work is unified by a deep connection to context and a sense of quiet restraint that permits the natural character of both site and building materials to emerge. For both of us, great design is honest. It is just enough. Our house is very much about this idea of "just enough" in that it is pared down to the essential, allowing natural light, the volume of the space, and a few key materials to define the architecture.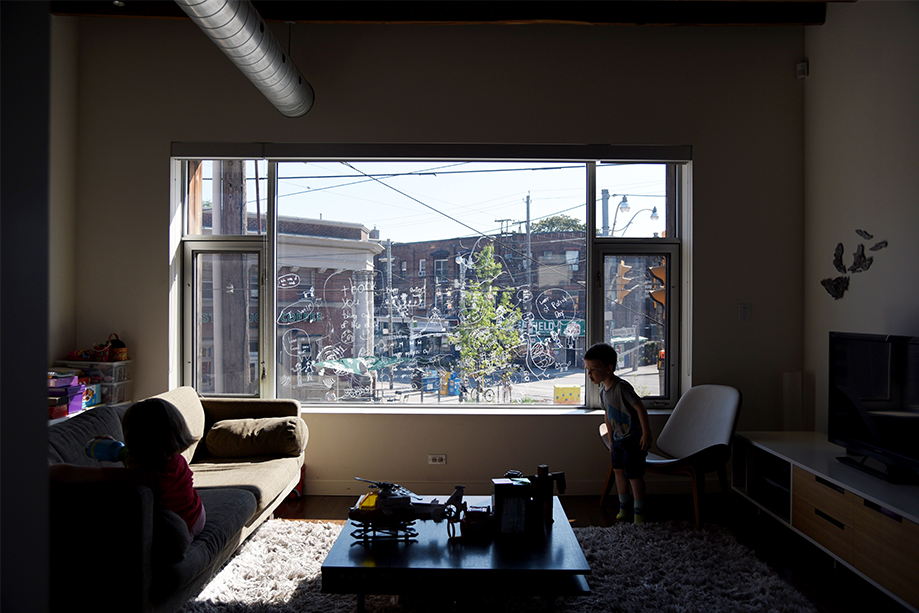 TO DO: What is your favourite room/area in your space?
MEG:  The family room at the rear of the house – for the quality of light and the proportion of the space.
ANDRE:  The street-facing living room because of the large window. It's more than just a window – our two children love it, and it really helps with their imaginations. They use glass-writing markers to draw on the large glazed surface, tracing objects in the distance like street lights or trees, and leaving cheerful seasonal notes for people walking outside: Happy Easter, Happy Hallowe'en, and Merry Christmas are a few of them. The window also has a deep sill you can sit on to read a book. Or, you can pull up a short stool and use the sill as a working surface for drawing or building Lego sets for hours on end. The window overlooks the corner of Dundas West and Roncesvalles, and basically functions as a big TV with the dynamic neighbourhood street life providing the content. Our kids watch the streetcars go by, cyclists pedalling past, people walking their dogs, and so much more. Now with the beautiful Dundas Roncesvalles Peace Garden across the street, it makes for even better viewing. It's a window of opportunity and a source of some wonderful memories.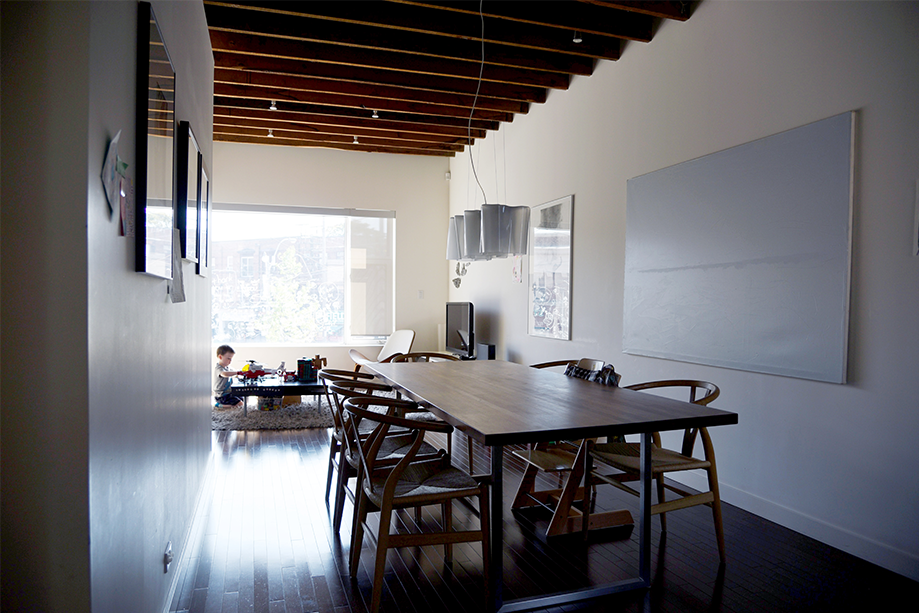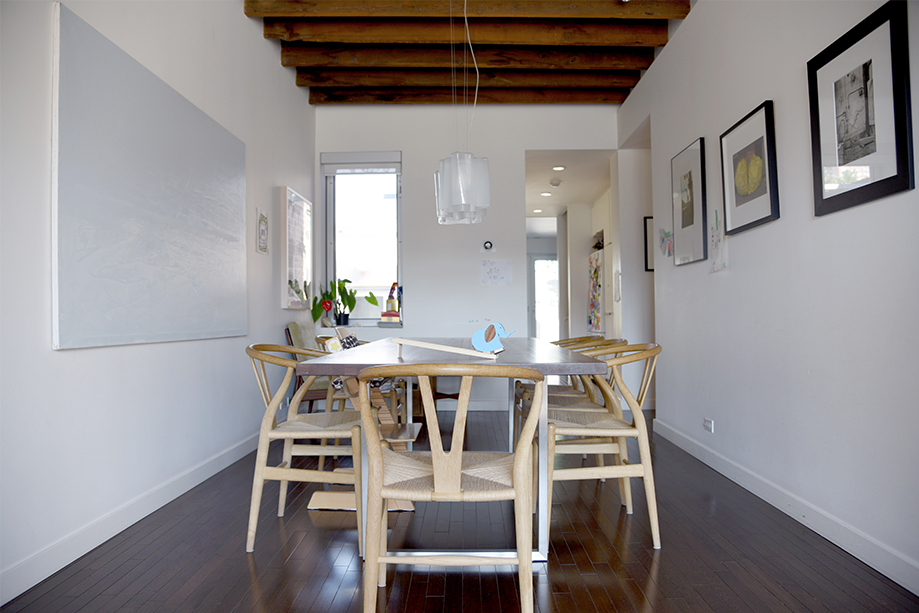 TO DO: Do you have a favourite piece of design & decor in your space?
MEG:  Our SPACE Copenhagen Spine Coffee Table from Mjölk.
ANDRE:  Our dining room table that we designed. It is very simple: the table surface is comprised of solid slats of walnut with a beeswax finish, and the legs are brushed stainless steel tubes welded into a square. What I love about this table is that it was designed to be used and used well; it's not a precious object only to be looked at. Like our living room window, the table is multi-purpose and is used for more than just dining – we write on it, sew on it, work on it, and the kids draw and make things on it. The tabletop has scratches and dents from all the activity it has supported, but the great thing about the solid wood construction is that a fresh coat of beeswax hides the flaws and imperfections, bringing it back to life again.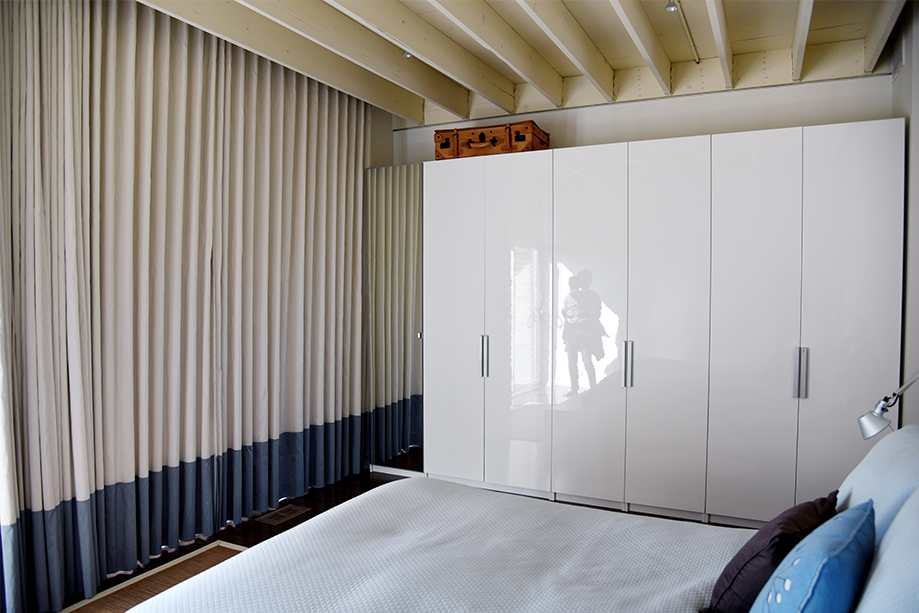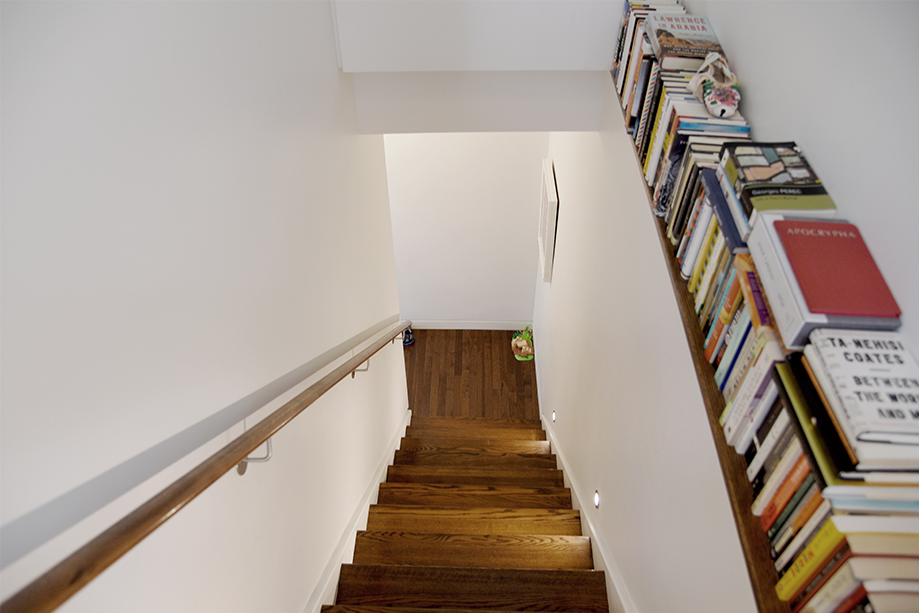 TO DO: What's the history behind this space (renovation, new build, etc.)? Can you tell us a bit about that?
MEG:  We bought the property in 2005; at that time it was a two-storey mixed-use commercial and residential building – typical of any main-street building in the old city of Toronto from 100 years ago. When we purchased it, the entire building was being used as a single-family residence, although the ground floor had once been a hair salon – where, incidentally, one of our clients used to get his hair cut when he was a child! Over the course of the next eight years or so, we renovated and added on to the building in four phases. In the end, we just about tripled the original square footage.
Learn more about superkül by visiting their website, and check out their Instagram account for your daily dose of design inspiration!
Related posts:
Inside The Home: Kilogram Studio
Inside The Studio: Guild Eyewear