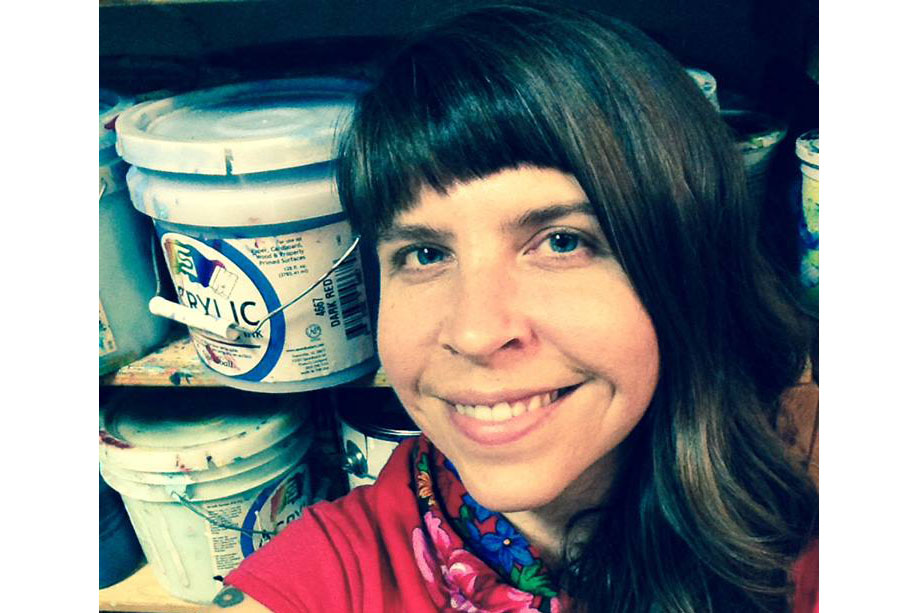 To celebrate Pride Week, we're sharing exclusive interviews with influential designers and artists in Toronto's queer community. This collection of interviews serves to acknowledge the power of creative expression in social movements, and highlight the personal stories of openly queer professionals in the cultural industry.
This series is dedicated to the lives lost in the recent Orlando tragedy, and those who continue to fight for visibility, acceptance, and equality. The Toronto Design Offsite Festival stands united with the LGBTQ2S community.
Q+A with Mary Tremonte, artist, printmaker, educator, and DJ based in Toronto.
TO DO: Can you tell us a bit about yourself? (This is for the TO DO readers that may not be familiar with the work of multi-talented Mary Tremonte).
Mary: I was rooted in Pittsburgh, PA for a long while before moving to Toronto four years ago to pursue an interdisciplinary MFA at OCADU (and also to fulfill a long-time dream of living in Canada!). In Pittsburgh, , I was the youth programs co-ordinator at The Andy Warhol Museum, where I co-created and facilitated many socially engaged art and publishing programs for many intersecting identities of young people, with a focus on young African-American women, underserved neighborhoods, queer youth and allies.
I am also a founding member of Justseeds Artists' Cooperative, a decentralized group of 30 artists making handmade prints and graphics in concert with movements for social and environmental justice.
As a DJ, I have collaboratively organized many large-scale-yet-grassroots benefit dance parties with different creative themes and beneficiaries. In Pittsburgh, I started Operation Sappho with another DJ, a monthly queer women/femmes/trans/allies dance party, that lasted for over 6 years, with a rotating core lineup of femme/female DJ's and guest artists.
These are the three intersecting main facets of my art and creative practice: pedagogy, print, and parties, and they all center around making space for social connection, for horizontal learning, for politics and pleasure.
TO DO: How does queer identity play a role in your work as a printmaker, artist, and DJ?
Mary: I started bringing queer identity into my print work with a silkscreen print about Roy and Silo, the gay penguins in the Central Park Zoo who fathered a chick. Interested in further examples of animal homosexualities, I found Bruce Bagemihl's paradigm-shifting book "Biological Exuberance: Animal Homosexuality and Natural Diversity" at the Providence Public Library, while doing a residency at AS220. I had the time and space to really dig into those ideas, and created an open-ended body of silkscreen prints that continue to examine these potentials.
Queer identity also plays a role in my work organizing thematic dance parties. Some of the Operation Sappho parties have played with gay and queer stereotypes, like "Giddyup Gay" a cowboi/grrrl theme (this was shortly after Brokeback Mountain came out, and we had the film projected in the bar), or a "Canadian Realness" queer Canadiana theme, which was my going-away party, complete with stump grinding sexy lumberjack dancers, a maple syrup kissing booth, and spankings with a handmade leather beaver tail paddle.
A lot of these parties have addressed specific timely issues, like a "Glamarchy" fancy dress party, with performances from Pittsburgh queens Sharon Needles, Alaska Thunderfuck, and Cherrie Baum, as a fundraiser for a queer self-defense project after one of the queens in their house was gaybashed in our neighborhood. This is also a stark reminder that while we can strive to create these safe(r) spaces in the context of an event, there is still the world outside of that space to contend with.
TO DO: We are obsessed with your Queer Scout badge! Can you tell us a bit more about this project?
Mary: The Queer Scout badge grew out of a theme for an Operation Sappho party, but the queer scout idea needs to be properly attributed to KT Tierney, an amazing wordworker/artisan/artist based in Braddock/Pittsburgh, who was talking about this idea of starting a queer scout troop for years.
For the Queer Scout Sappho party in 2011, I designed and silkscreened little badges to hand out. Those badges were then incorporated into a colorful silkscreen printed poster that we distributed through Justseeds, and I had some actual embroidered badges made, which seem to have hit a nerve and taken on a life of their own. I've now distributed over 3,000 of them out into the world! I'm really interested in the way that an artist multiple can allow an idea to move fluidly between different contexts, and also be a signifier for individuals to find one another, to battle isolation through a symbol of shared identity and solidarity.
The Queer Scout poster and badge are a prefigurative gesture, a queer world-making, of constructing the structures that help us survive and thrive in the here and now, rather than waiting for institutional change (which also needs to happen, but can be very slow!). I recently sent these badges to an actual queer scout troop that has started up in the Bay Area and Seattle, and am working with them to design some new merit badges based on their interests.
TO DO: Can you tell us a bit more of your art that focuses on queer liberation? Do you have a favourite piece? If so, what makes it so important to you?
Mary: My animal hankies are really popular, and so fun to make. They started with a bear hanky, a reference to gay bears and also cruising, and have expanded to other animals in the gay pantheon, such as otter, wolf, and beaver.
I think a lot about queer semiotics, how style and coding can signal to one another. I have a background in DIY punk, and feel the power in a button or patch as a way to signal an underground subcultural affiliation or political allegiance to one another. Maybe it's a bit of a nostalgic idea, but even as so many people use apps to hook up, the "irl" meetings are still possible, and the flash of recognition that these worn objects can signal to one another can be a powerful force in forging connection.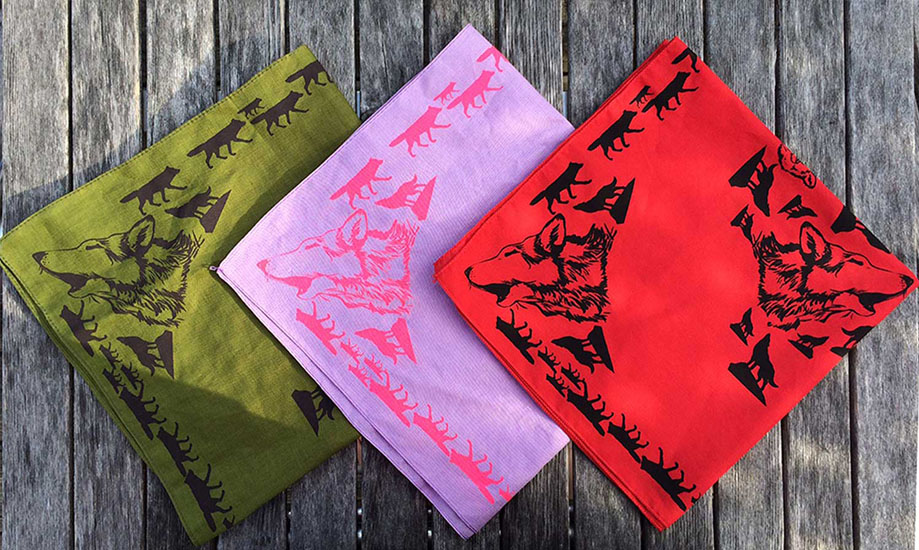 TO DO: How does Toronto's queer community compare to the queer community in your hometown of Pittsburgh?
Mary: After a steadily declining population since the steel industry moved elsewhere in the 1980's, Pittsburgh is becoming an increasingly popular place to live, but is still a relatively small city. It has a low cost of living, and people tend to be more generous with their time and energy to support one another and collective projects, and just have to do more to make things happen.
I love that communities based on identity and common cause intersect so easily there, so that you see queers, activists, punks, and other affinities mixing and supporting one another through events and grassroots organizing. Sexuality can feel very fluid there within these contexts, while also it can still be unsafe on the street to express affection in public or even "look gay," so people look out for one another.
Pittsburgh is also one of the most segregated cities in the US, still, you see that in the racial makeup of neighborhood public schools, and you see that in queer nightlife as well. There is a long history of African-American gay nightlife and ballroom culture that I have barely intersected with, as a female-bodied white person, only through doing intersectional youth support work.
In Toronto I have continued to DJ and organize events, though it's a much different social landscape than the small city of Pittsburgh. There are so many people making art and music and organizing queer spaces, which means one can have less of a deep impact than in a smaller community. But this also means that there are so many AMAZING people to work with! While there may be one or two events on a given night in Pittsburgh, in Toronto there is an excess of abundance of cultural activities to engage in – sometimes it's overwhelming! I really appreciate the strong communities of QTPOC's making art, performing, and making space for one another here, as well as the awareness around accessibility.
TO DO: Is there anything else you would like to share about your work, queer liberation or identity, or Pride Week?
In its origins, Gay Pride was called Gay Liberation. In the corporate co-opting and sanitization of pride, let's not forget its roots, the lived struggles that the most marginalized queers continue to face, and the potential that queer liberation has for all people to resist and transcend the white supremacist capitalist heteronormative settler-colonial patriarchy. Much respect to bell hooks! Much love to the QT's <3
Want to chat with Mary? Connect with her on social:
Twitter MaryMack_PGH
Instagram chickpealady
Justseeds www.justseeds.org