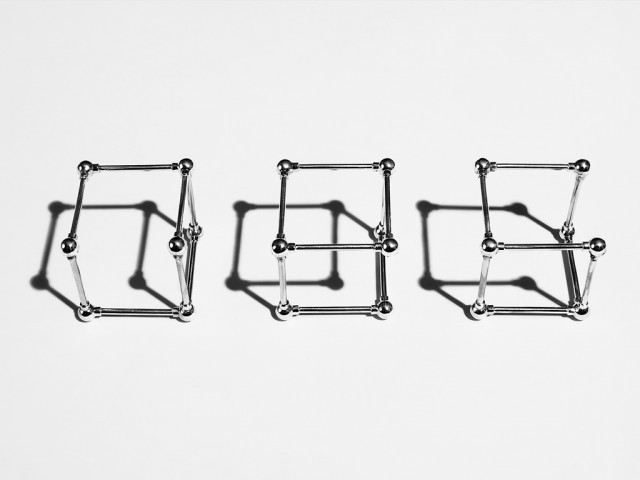 For metalsmith Jay Joo, design is all about connecting the dots. Literally.
Jay manipulates lines and existing shapes, and connects them with wire to create one-of-a-kind jewelry, armour and linear structures. His work is inherently unique, using metal materials and hard lines to juxtapose the smooth beauty of its environment.
Whether he's commissioned to create a metal engagement ring or a piece for a photo shoot, Jay says his inspiration always comes from architectural structure and theatrical drama. TO DO Instagram followers will have a front-row look into the life of Jay and his collaborators, as he takes over our @todesignoffsite account from Nov. 13 – 15.
We caught up with the OCAD-graduate to discuss his design style, upcoming projects and how Toronto's energetic design scene keeps him motivated.
TO DO: You're a self-proclaimed jeweler, but your recent work also includes installations. Can you describe how your work has changed over the last few years?
Jay: My work has changed a lot in the last three years since I graduated from OCAD. I used to exclusively design jewelry, and while that it still one of my passions, I've expanded my scope and have learned to play around with materials to create meaningful installations.
I attribute most of this change – or my willingness to take risks – to the time I spent in Harbourfront Centre's artist-in-residency program. I met with community members and other artists who really inspired me, and helped me to focus on new design.
TO DO: You've said before that you get your inspiration from the theatre, which is very obvious in your formations that include metal masks and armour. Can you tell us more about this?
Jay: When it comes to my formations and body pieces, I'm inspired in some ways by the theatre. As you said, it's very obvious. But more so than theatrical influences, I'm inspired by architecture. Architecture deals with structure – hard lines and shapes. These elements are at the core of my work.
TO DO: Is it this infatuation with architecture what drives you to work with metal materials?
Jay: Metal is at the center of architectural design and structure, but it's also a very precious material and I think that's what draws me to it. I also love that it allows me to push the boundaries; while metal is very hard, it's also very flexible when manipulated.
I do work with other materials, but I think my intrigue with metal is simple: I'm a boy and most boys have a fascination with metal, armour and machines.
TO DO: Downtown Toronto is crawling with metal and clean architecture. Would you say your work is inspired by this city?
Jay: I wouldn't say I'm inspired by Toronto's buildings or style, but the community here is what keeps me going. The design scene here is small, and we're taking baby steps to make it on a global scale, but the community is so supportive and collaborative which I find extremely inspiring.
TO DO: You'll be taking over our Instagram account for a few days this week. What can our followers expect to see?
Jay: I'll be giving followers a look inside my new studio at Bloor & Shaw, which is currently showing a small exhibit featuring some of my work and the work of other Toronto designers.
I'll also be introducing three other artists – Lizz Aston, Anouk Desloges and Micah Adams – who I'll be exhibiting with at TO DO 2016. We all have different takes on how we use lines, and when our work comes together it's very interesting.
Don't miss Jay's #TODOigtakeover from Nov. 13 – 15, 2015. You can check out the work of the metalsmith-jeweler here or visit his studio at 825B Bloor St. W.