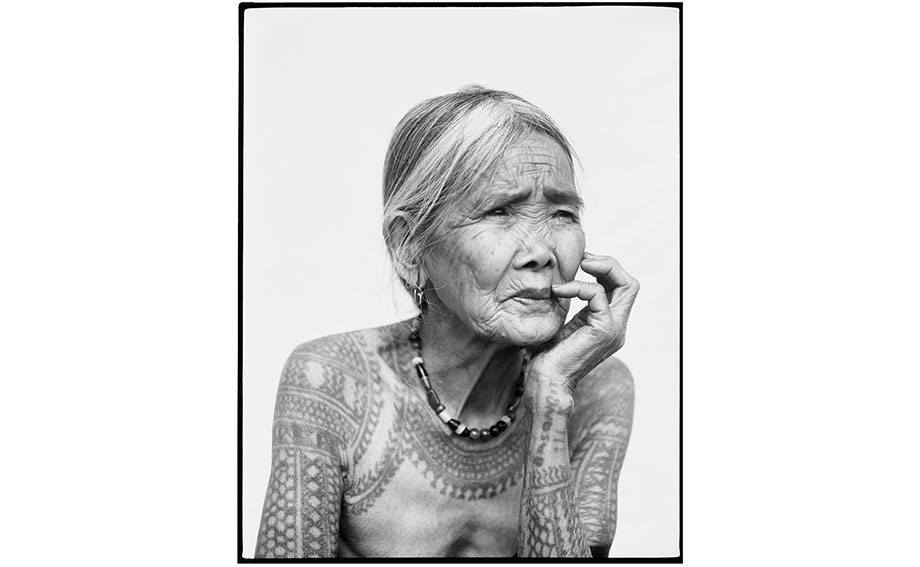 As fans of tattooing culture and history,  we were stoked when our friends at the Royal Ontario Museum (ROM) invited us to an exclusive preview of the highly anticipated exhibition Tattoos: Ritual. Identity. Obsession. Art.
Greeted by a massive banner of Filipino Kalinga tattooist Fang-Od draping from the ROM's exterior, we knew right then and there that this exhibition would leave a mark on us.
The preview kicked-off with opening remarks from key individuals that helped bring the exhibition to Toronto,  including curators of the original French exhibition Tatoueurs, Tatoués,  Anne & Julien.  Shortly after, we were led into the Roloff Beny Gallery — this is where the magic happened.
The first thing that caught our attention was a silicone arm hanging in a vitrine, emblazoned with tattoos by Montreal tattoo artist Yann Black. This is one of 13 silicone body parts within the exhibition, tattooed by international artists — a means of display that effectively allows visitors to explore various tattoo styles, as well as the ancient origins of tattooing and the cultural exchanges that have led to the body-art phenomenon we're experiencing today.
Silicone arm tattooed by Yann Black
As we walked through the gallery, we were taken on a journey through time and place to learn about tattooing practices across cultures, including the ancient tribal ceremonial tattoos of the Kalinga tribe of the Philippines. The exhibition showcases tattooing as a sacred practice that goes back more than 5,000 years, making it pretty clear that the rugged biker often associated with body art only represents a small fraction of tattoo culture.
In addition to ancient tattoo practices, the show also sheds light on the rise of tattooing in western society, paying particular attention to flash, sailor, and prison tattoos.
Tattoo machine made in prison
On until September 5, 2016, the ROM will also host a number of events in conjunction with the exhibition, including these:
Friday Night Live: #ROMInk: Musical performances, food and drink, and gallery activations. ( April 29 at  7p.m.)
Tunniit: Retracing the Lines of Inuit Tattoos: A film by Alethea Arnaquq-Baril (May 20 at 7 p.m.)
Art Fusion: Partnership with Northern Ink Xposure, featuring international tattoo artists, live music, and entertainment. (June 16 at 7 p.m.)
*Main image – Fang-OD Oggay (Whang Od, B. 1920) – Jake Verzosa, 2011