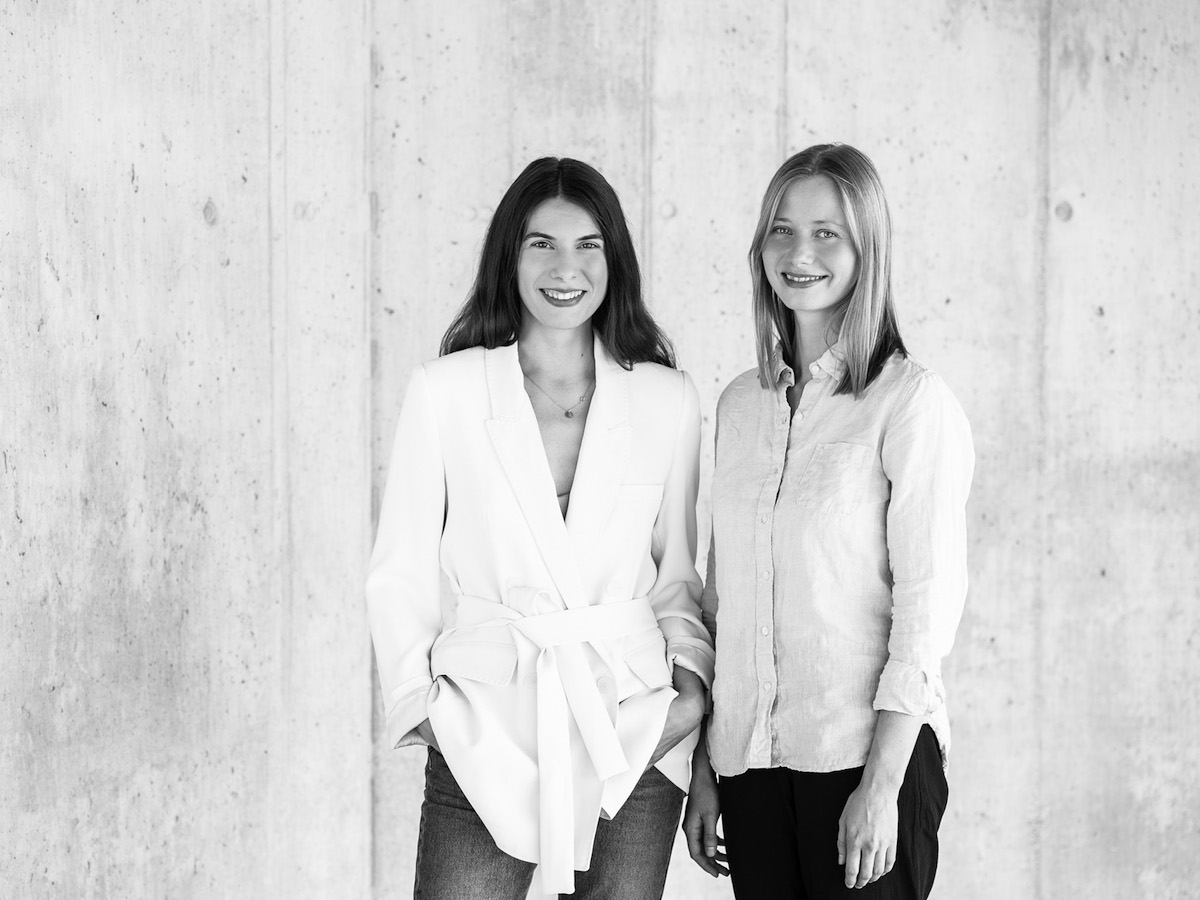 When a building is torn down much of it ends up in the landfill. But what if construction debris was considered a repository of valuable, reusable material? That's the idea behind Urban Terrazzo, a bespoke countertop and flooring surface made by Berlin collective They Feed Off Buildings, which repurposes discarded concrete, brick and metal. Founders Luisa Rubisch and Rasa Weber are this year's DesignTO Festival's International Guest Speakers.
Don't miss DesignTO Talks: They Feed Off Buildings on Friday, January 24. In a lead-up to their Toronto visit, we asked them about the deeper context — and performance aspect — of what it means to recycle old buildings.
Tell us a bit about yourselves. Where did you study, and what inspired you to start working together? 
Rasa Weber: Luisa and I met while working on our masters at the Berlin University of the Arts. That was also when I started to move toward material research and architecture.
Luisa Rubisch: I come from the field of urbanism and worked as an urban designer before finding my way into product design. I was looking for a way to implement urban ideas on a smaller, more one-to-one scale. What also brought us together was a shared interest in doing something practical, but also combining theory. We were looking for ways to do some sort of experimental preservation. It was very abstract, initially.
RW: You could say, we snuck into architecture. There's no paper proving we can do what we do, we're learning by doing. We aren't developing spaces as an architect does, we're developing materials out of old buildings by taking demolition debris and refabricating it into terrazzo, what we call Urban Terrazzo. For us, it's really a nice way of translating material development on a larger scale, because in architecture, you have a bigger playground than you do in product design.
Where did the idea of making terrazzo out of construction debris come from?
RW: It originated from breaking into construction sites illegally. We were curious about demolition waste and what happens to it, so we started to experiment with these discarded materials, not with a particular aim of turning cement bits and such into anything usable. It was more like an open laboratory, you could say. Only later did we start to think about how we could actually create a product, or develop a strategy for working in architecture using construction debris. Essentially, we take chunks of cement and run them through a crusher machine, which breaks them into smaller pieces. We work with a terrazzo company to form them into surfaces. It's custom work, and we generally collaborate directly with clients and architects on particular projects.
There's a sustainable element to Urban Terrazzo. Is part of your interest in reusing materials so they don't end up in the landfill?
RW: That's a red thread that runs through the work, for sure, but what's more interesting for us is to break from the common idea of what a sustainable product looks like, or what a sustainable strategy looks like. We deliberately wanted to play with this perception and twist it a bit. One essential idea for us is to create a different aesthetic in our work. For instance, our photography, or how we dress up in white coveralls and respirator masks when we are making the terrazzo. It has a certain look. That's very much on purpose, and sometimes people are kind of irritated by it. They're a bit confused. But we rather like it when people come to our talks looking for "those guys in the white suits," and then there are these two young women standing there. I see our disguises as developing a kind of aesthetic language. I believe the narrative is, in the end, much more essential than just a nice piece of recycling.
LR: I would say we think of it another way: we're not only producing a sustainable material solution, we're preserving history and transforming it into something new.
RW: We like to think of architecture as being metabolic, as though architecture is digesting itself, you could say, where we're turning an old building into a new one, and then into an old building again, so that an extended cycle is established. We know that nothing is for eternity, but everything can be renewed. I think this could be a kind of building practice, in fact, to build buildings that are made for being demolished and reused.
In one of your videos, you talk about imagining a building lasting for 1,000 years. I think that ties in with what you're saying.
RW: There is a really interesting research project happening in the EU right now called the Material Passport, which is trying to actually do exactly that, of having a building last forever. It's a set of data that gives a new kind of identity to a building, as a material bank. Basically, you can start to look at the urban landscape, and at buildings, very differently when you begin to consider them more or less as storage units for making something new later on. I think there is an urgent need to shift the perspective towards this way of thinking. We need to spend more time thinking of buildings as recycling sites that can be taken apart and rebuilt. But we also believe you don't need to get rid of architectural traces in the process. Every building that is demolished can also be read as a piece of history, and that's why it's interesting for us to work with material like Urban Terrazzo, where pieces of the old buildings are preserved.
Is that the evolution of your work, to rethink buildings as material banks?
RW: Yes, at the end of the day, we are trying to implement something that is actually realizable. Our work is not only a nice thought, we want to develop something that can exist in a house, or is something that people can surround themselves with.
LR: I would say, the main goal of our work as the collective They Feed Off Buildings is to bring some sensitivity to those kind of subjects. That's another reason why are creating an image-based language with our work, through videos and photos. We're not just promoting a new product that's coming to the market. There's a whole story to tell.
By Catherine Osborne
Hear Luisa and Rasa at DesignTO Talks: They Feed Off Buildings, Friday, January 24, 6:30pm at Harbourfront Centre.