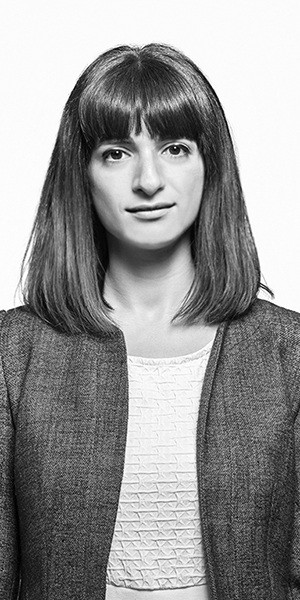 How can design make a difference? This is the focus of our first-ever TO DO Talks Symposium on Jan. 23, 2016. Hear from eight influential, multidisciplinary designers as they get us thinking about how the world is made, where design fits in and how design can bring about change.  
The event will be held at MaRS Centre from 2 p.m. – 6 p.m., and will kick-off with a talk from keynote speaker Joanna Choukeir. The afternoon will consist of three sessions, each with multiple presentations from a diverse group of designers.  
We'd like to formally e-introduce our keynote speaker, her background and teaser of what she'll be speaking about at the symposium.
Keynote Speaker Dr. Joanna Choukeir // Social designer, lecturer & COO at Uscreates
A bit about Joanna
Joanna comes from a family of designers in Lebanon, so it's no surprise that she pursued a career in the creative industry. After attaining a Bachelor of Arts in Graphic Design and a Master's of Arts in the same subject, Joanna landed a gig as a designer at Uscreates: a design consultancy for social change.
Joanna worked alongside the co-founders of Uscreates on some of the most pioneering projects that applied design processes to address social challenges in the UK public sector. About one year into this position, Joanna started a part-time PhD to explore the topic of communication design methods to enhance social integration in post-conflict societies, using her home country as a case study.
Joanna is recognized as an influential social designer, and spends most of her "spare time" lecturing at various universities
(Okay…that wasn't "a bit" about Joanna, but her career path is too interesting to spare any details!)
What exactly is a social designer?
Joanna describes a social designer as "any person who applies a design approach to innovate solutions that aim to tackle 'wicked' intractable social problems." FYI: A design approach often involves deep human understanding, a mix of disciplines and a collaborative approach from a range of people who are affected by or affect the social problem. This group reframes problems to focus on the root causes, conducts constant experimentation and validation, and uses rapid action to deal with issues before they escalate.
Joanna's number one tip for designers who wish to "do good design"
"Be mindful of design."
Joanna explains that every designer, whether they're aware of it or not, are designing things that have an impact on society, the economy, technology and/or the environment. "It's the responsibility of a designer, regardless of their discipline and role, to understand and to positively influence the impact of their work," says Joanna.
What Joanna will bring to TO DO Talks
Social design is an emergent field, so Joanna will start by defining the discipline. Attendees will walk away with an understanding of social design, and a contextual history of how design paradigms have shifted in the last few decades to get us to this point.
Joanna will suggest some processes, principles and approaches that frame social design, before moving on to practical examples of projects that had significant impact on pertinent social issues. She will conclude with challenges and opportunities for designers generally and social designers specifically.
Interested in learning more about Joanna? Check out her CV! Warning: it might make you feel slightly unaccomplished.
Click here to RSVP to TO DO Talks Symposium on Jan. 23, 2016. Trust us – this is an event you won't want to miss.