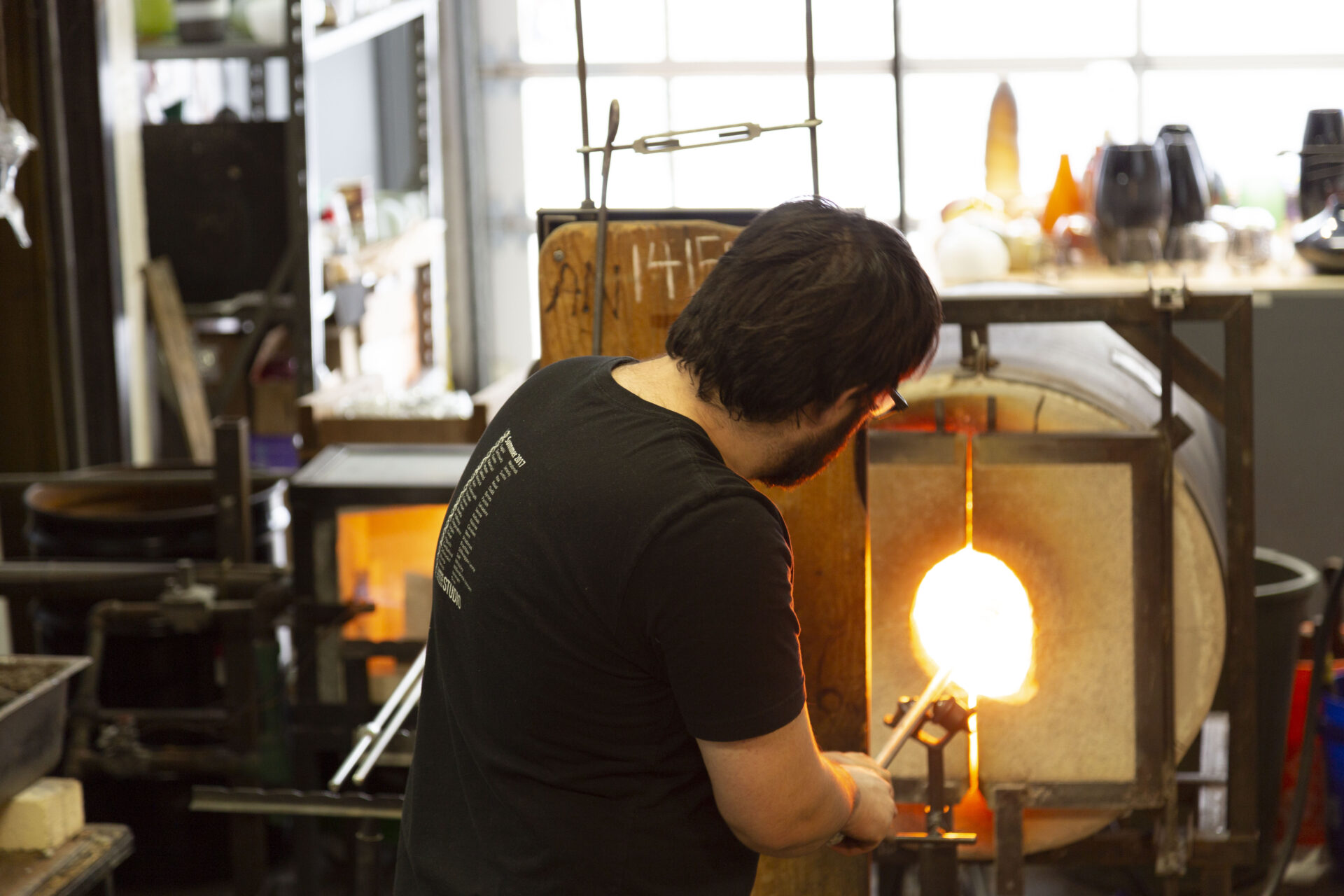 Design, visual art, and craft are three creative fields that profoundly impact contemporary culture. Although often perceived as distinct disciplines, they share numerous similarities and intersect in fascinating ways.
As an organization celebrating the rich intersection of these fields and the infinite possibilities for creative exchange, DesignTO emphasizes the importance of understanding the interplay between design, visual art, and craft to fully appreciate their value and beauty.
"At its core, design revolves around problem-solving, aiming to create aesthetically pleasing, functional, and practical solutions," explains Paddy Harrington, founder and creative director of Frontier, a Toronto-based branding agency. Design can take various forms, such as architecture, product design, and graphic design. The key distinction between design and visual art is that design, while expressive and values-driven, is always aimed at solving a problem or anticipating the future, whereas art is primarily focused on self-expression.
Harrington further elaborates on the role of art and craft in design: "Art and craft are sources of inspiration for us. When creating something out of nothing, which is what designers do, we often look for sources of inspiration. Craft, and visual art – which is mostly liberated from the need for practical purpose – are great sources."
Visual art, on the other hand, is centered around personal expression and communication. It encompasses diverse forms ranging from painting and sculpture to performance art and multimedia installations. "My definition of visual art is the creation and presentation of an organism that asks questions while simultaneously communicating thought," expresses Toronto contemporary mixed media artist Jordan Sook. "I think of art as a vehicle to our conscious and subconscious that somehow interacts with the different human disciplines and the world around us presenting things that we have thought both individually as well as collectively."
Sook also provides insights into the role of art in design: "The role that art plays in design is very important as it serves as an aesthetic contrast and upholds a standard of creativity and appeal. To me, art and design are two sides of the same coin. Art asks questions, where I believe design answers questions. Design is a means to an end, whereas art is the beginning point of consciousness that eventually becomes digested in the psyche of the viewer."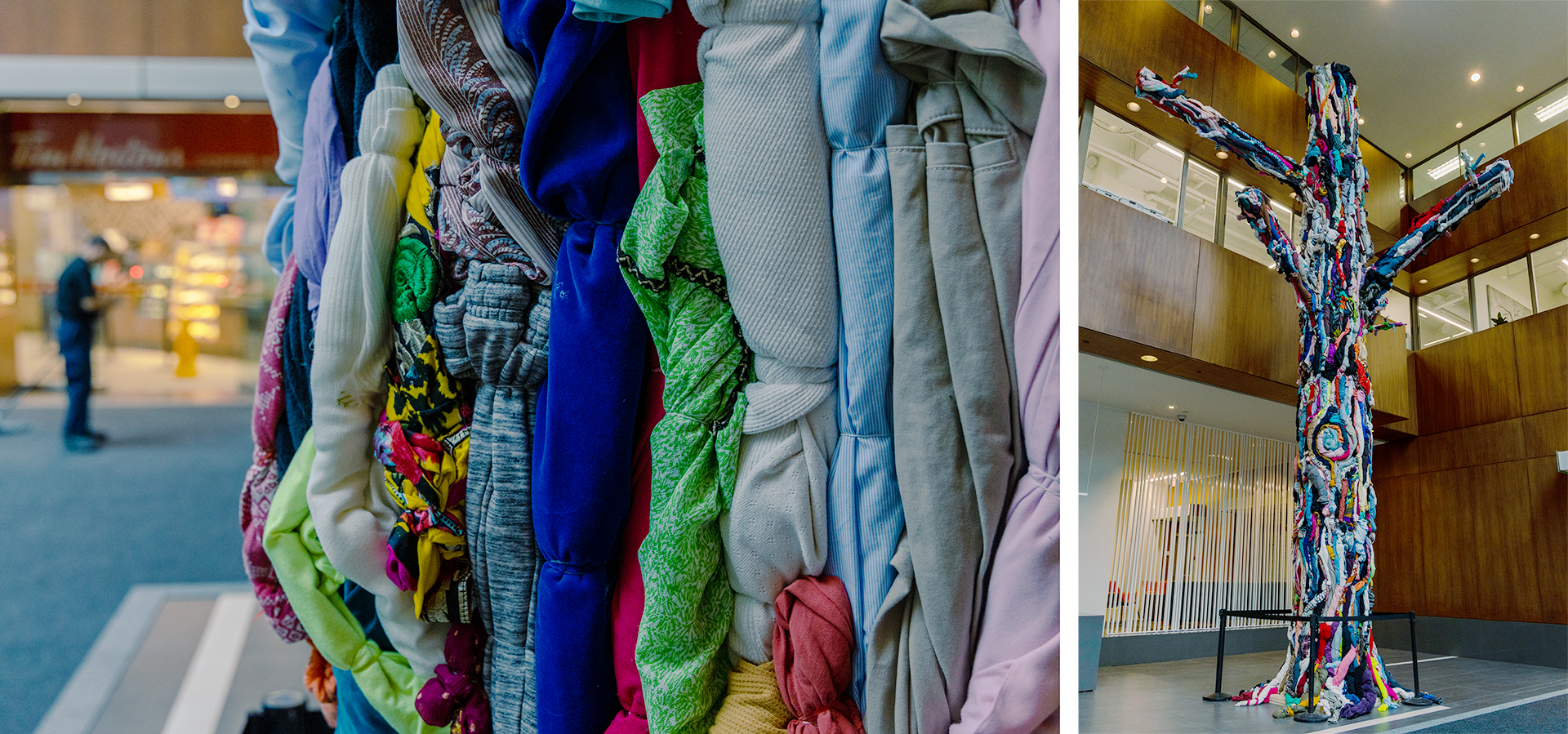 Craft, in contrast, embodies a hands-on approach to creativity, involving the use of materials to create handmade objects like pottery, textiles, and furniture. Melanie Egan, the director of Craft & Design at Harbourfront Centre, describes craft as an embodied practice that engages with materials fluently and intentionally, exploring the intersections between making, culture, and material innovation. "One of my favourite quotes about craft, albeit not definitive," says Egan, "comes from Edmund de Waal, a British ceramist. He said, 'Craft is the great otherness in our culture. It's little understood. It's extraordinarily relevant and powerful. It goes deep into people's lives. It's catalytic. It changes the world. It reaches deep into unknown histories that we are only beginning to understand. It crosses identities and genders and ethnicities in incredibly powerful ways. It's in profound need of celebration and critical collaboration."
Despite their differences, design, art, and craft share commonalities. All three involve creativity, imagination, and a dedication to the act of making and conceptual thinking. They also possess rich cultural and historical contexts that inform contemporary practices.
Western design has its roots in the Industrial Revolution, a period marked by mass production and the rise of consumer culture. This era gave birth to design movements like Art Deco (1920s) and Bauhaus (1930s), which emphasized clean lines, geometric shapes, and functionalism. Present-day designers often build upon these traditions while exploring new technologies and materials.
Art has an extensive and diverse history dating back to cave paintings. Throughout the centuries, artists have explored various styles and techniques, from the Renaissance (1400s) to Abstract Expressionism (1940s) in the Western Canon, which is often a frame of reference in Canada that is being expanded by artists bringing global perspectives. Contemporary artists like Jordan Sook continue to push the boundaries of art by combining traditional techniques with cutting-edge technology.
Craft also boasts a longstanding history, originating in early civilizations. Craft skills were highly esteemed and passed down through generations in many cultures. Today, craft thrives as artists and designers embrace traditional techniques and materials while experimenting with new forms and approaches. Jordan Sook explains how craft and design intersect with his art, and vice versa: "I look at the three of them like cousins in many ways. In the process of making a given artwork, I am engaged with its craft. Whether it's found objects of interest or familiar materials like wood or metal, the physical quality of the outcome is based on the crafting process. As I continue to engage my work in public spaces, I find that I am interacting with design in many ways, especially when it comes to something being 'site-specific.' I may have an idea in which to communicate; however, when constructing said work, there are many factors that come into play, such as height, weight, accessibility, and environment. This is the point of intersection where design fuses itself within my practice."
The interplay between design, art, and craft is prominently showcased in events organized by DesignTO. Through exhibitions, talks, and collaborative projects, DesignTO provides a platform for exploring the intersectionality of these fields. The organization recognizes that by embracing the interplay between design, art, and craft, new possibilities emerge, leading to innovative solutions and enriching experiences.
The relationships between design, visual art, and craft are intricate and multifaceted. While sharing similarities, each field possesses distinct characteristics and purposes. Understanding their historical and cultural contexts is crucial to appreciating their contemporary practices fully. Exploring the intersections of design, art, and craft allows for a deeper appreciation of the beauty and value of creativity and the endless possibilities it offers. Jordan Sook, Frontier, Harbourfront Centre, and DesignTO exemplify individuals and organizations that celebrate and promote this interplay, fostering collaboration, inspiration, and the advancement of these creative fields.
---
This article is part of the new DesignTO 101 series aimed at providing valuable insights on the role of design, craft, and art in promoting sustainability, social justice, and joy.