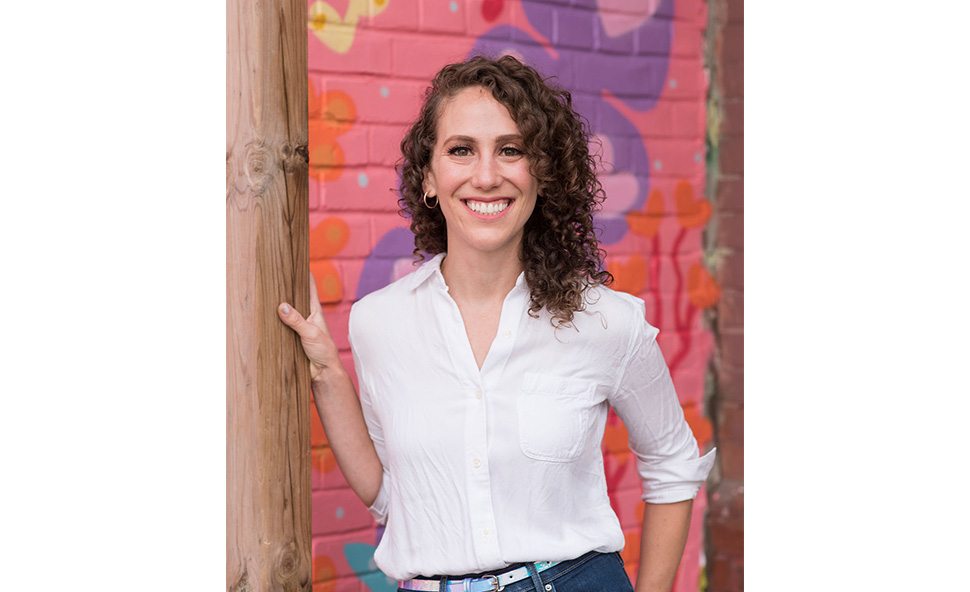 Meet Bareket Kezwer, 2018 DesignTO Festival Week Volunteer
"I wanted to volunteer because the Festival is awesome and I want to support great initiatives in my city! The festival highlights such a wide range of creative activities going on around Toronto. My favourite part was getting to meet all the people at the events I volunteered at and learning about their practices and what they love about the festival." – Bareket Kezwer
Bareket Kezwer is a Toronto based visual artist, muralist, curator and eternal optimist. Her work is motivated by a desire to spread joy, nurture present minded living, cultivate gratitude, and foster new social interactions.
Kezwer works with bright colours and bold patterns to captivate people's attention and fill them with delight. She is passionate about creating art that both aesthetically and psychologically brightens the streets and wants to build a community around positive living. This is what inspired her to start the ongoing SMILE project—since 2007 she has created SMILEs all over the world, including in Canada, Cuba, Germany, India, Israel, Mexico, Nepal, Singapore, Spain, The Netherlands, Malaysia, USA, and Vietnam.
I wanted to volunteer because the Festival is awesome and I want to support great initiatives in my city!
Over the last five years, Kezwer has been creating custom large-scale artworks for clients including The New Yorker, Destination Canada, Facebook, Airbnb, the City of Toronto, the City of Mississauga, the Consulate General of the Federal Republic of Germany in Toronto, the award winning public art group STEPS Initiative and private clients. For two summers, she has organized Womxn Paint, an all female street art jam.
––
Volunteers are important to DesignTO's Festival Week activities. They bring skill, time, and enthusiasm to the annual celebration of design.
Volunteer with DesignTO, a non-profit arts organization best known for its annual DesignTO Festival. Help us to further our mission of advancing design culture in Canada through our many public programs.
During these challenging times, we are grateful for the continued support of our volunteers who help to create a welcoming festival atmosphere.
Interested in becoming a Festival Week Volunteer? Click here for more details.
*This post was originally published on September 25, 2018.