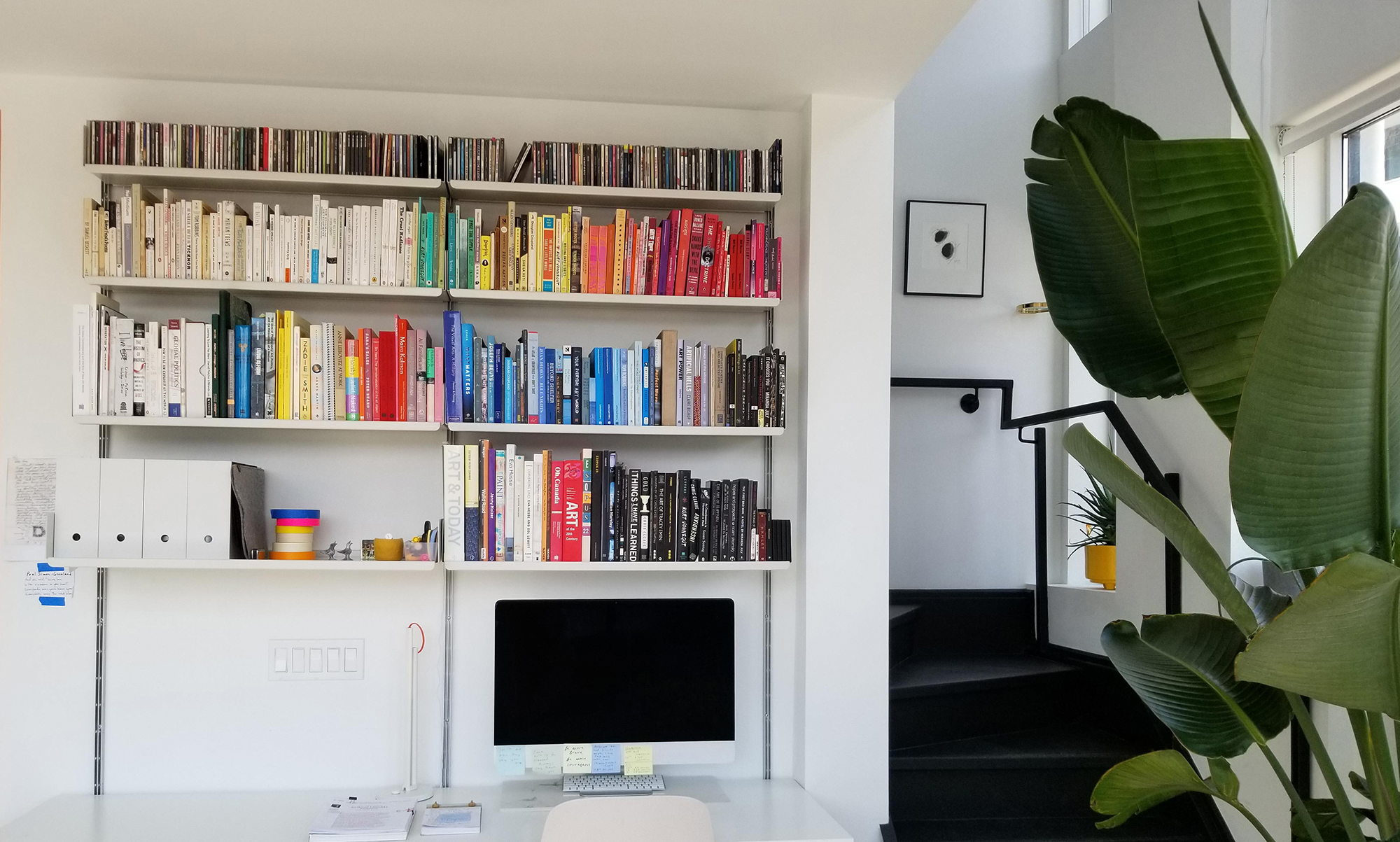 As individuals and organizations take on proper physical distancing measures due to the COVID-19 pandemic, many of us have found ourselves spending more time at home for many reasons. What was once a common place to eat, sleep, and unwind, our homes also double as remote workspaces for those of us that have the option of working from home. With this significant change, we need to adapt to become more flexible with how we use our homes. We're asking people in our community to share their work from home (WFH) spaces, routines, and coping mechanisms.
Name
What is your profession?
From 9-5 (and beyond), I help develop arts and culture programs or I'm an artist. I usually work out of a studio in Waterloo. I suppose people would likely say that I make sculpture, but I don't know if I'd believe them.
Tell us about your workspace.
I live in a small loft apartment in a pretty uninspiring environment. On the ground floor, it's a catch-all: where I sit on the couch, where I eat, a small kitchen, where I make things, and where I do computer work. Upstairs is the bedroom and bathroom. I have a lovely patio where I've recently planted some carrots, radishes and lettuce, but it's been too cold to use that space. It's nearly the size of my ground floor, so it significantly impacts my live/workspace. When the weather is nice, and if we're still isolating, then I'll do most of my work out there.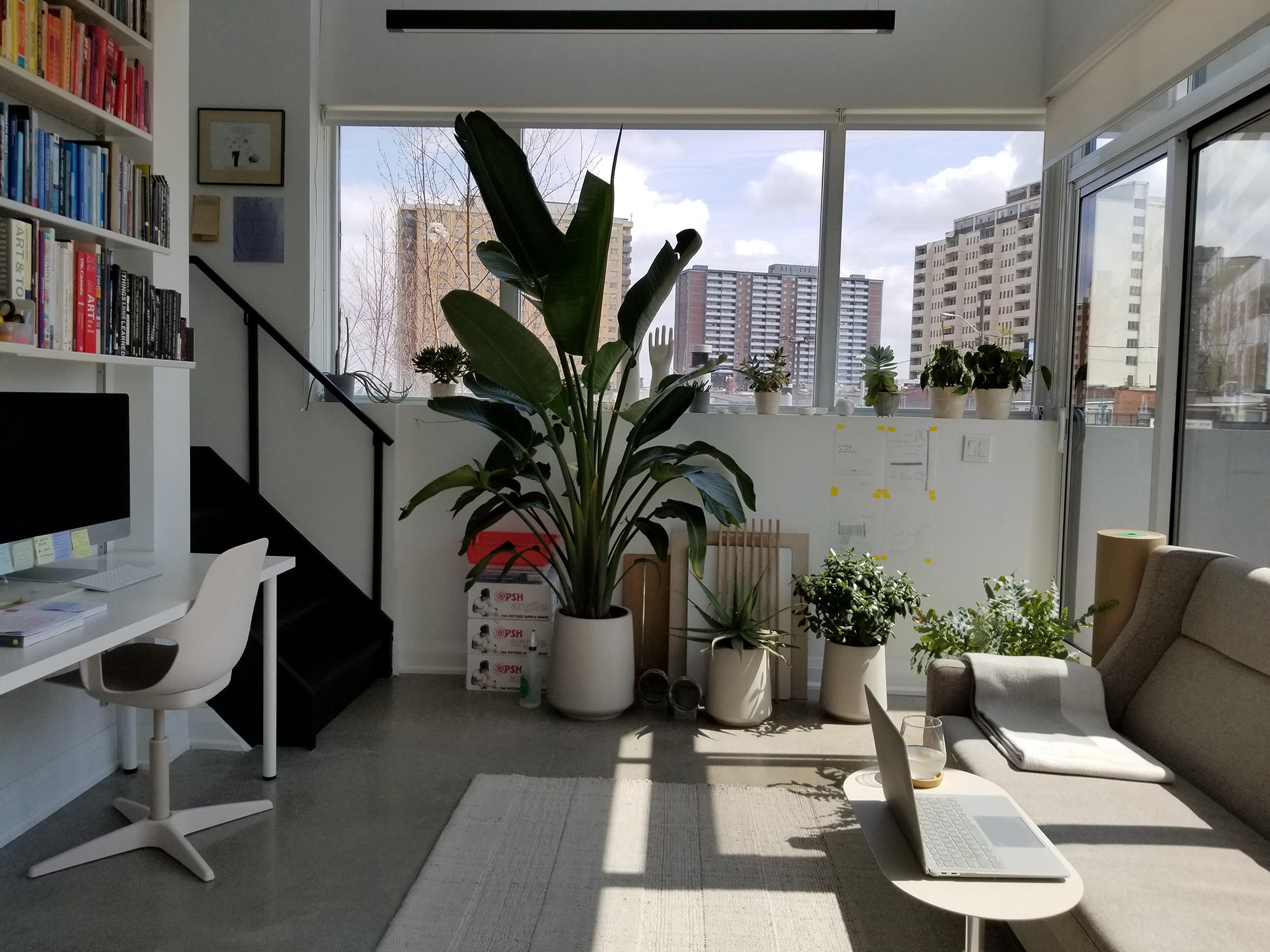 What are some important aspects of your WFH space?
The couch has become a pretty important part of my workspace. I've seldom sat on it, but now I use it as my alternative workstation with my laptop and as a tabletop when I'm making work. (You should not do this—bad idea. If you live with someone they will surely hate this, especially when you get crusty Gorilla glue on it.) Otherwise, sitting on the couch is definitely more chill than sitting at a formal desk. Moving back and forth between making and administrative work helps to keep me motivated—seeing lateral progression. By the end of the day, everything I've been working on is everywhere—a real clusterf–k. I make sure to tidy before I go to bed. Starting my day with a sense of organization keeps me focused.
Do you have a WFH routine or tips?
With the new WFH phenomenon, I've been able to listen to my body in a new way. I often work until 3am or later because of the volume of work I'm meant to get done, but also there's reprise in the middle of the night when I can finally be reflective. Since working from home, I've had in some ways, less to do, and people's expectations of each other have relaxed. This has allowed me to listen to my physical body, which is something I often overlook. I now sleep when I'm tired and don't negotiate with myself about it, and I eat when I'm hungry and not "after I do this" or "after I do that." My time now revolves around these two things—everything else in the day is a type of noise. This slowed down way of being suits me just fine.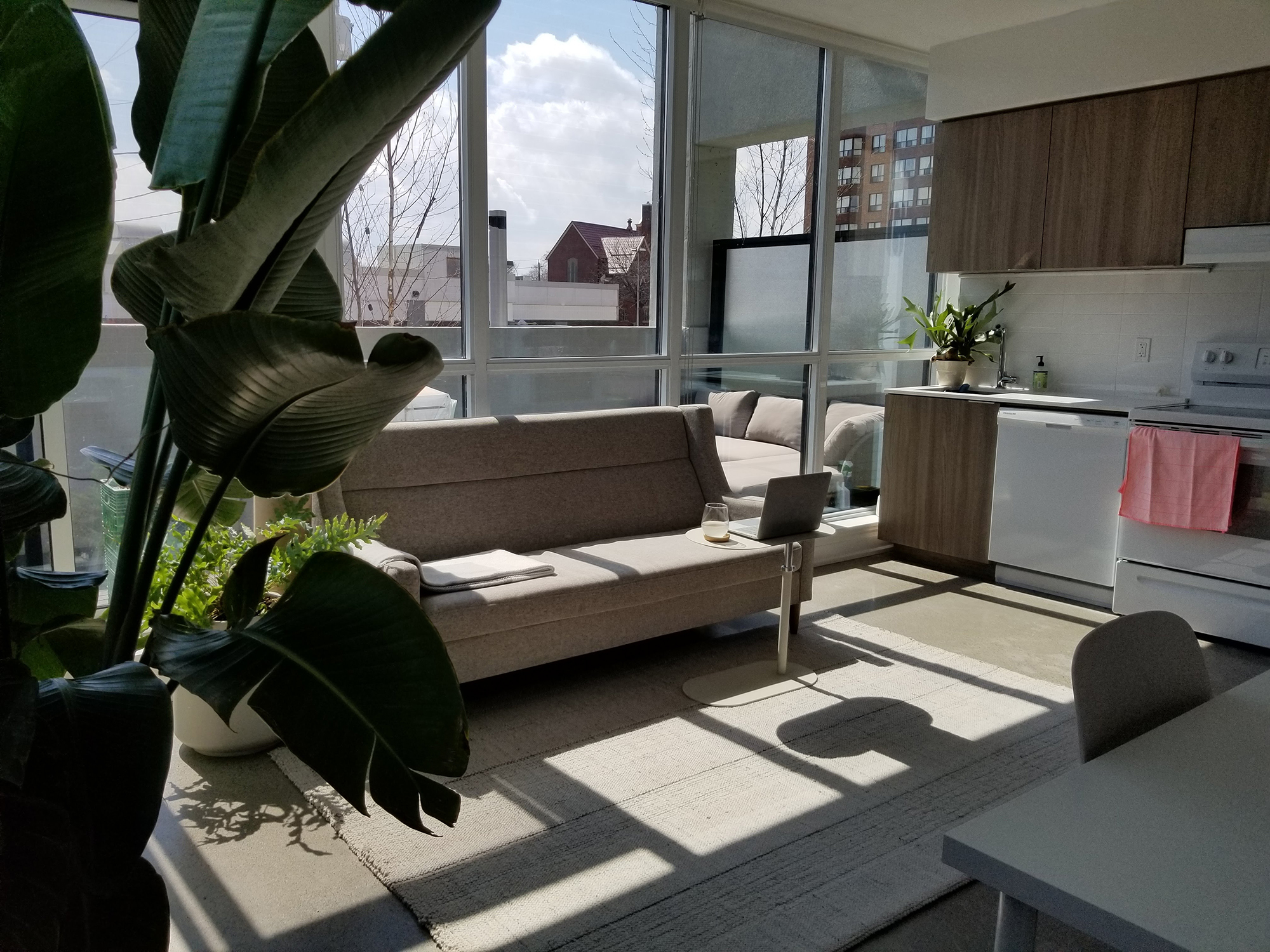 Do you have any WFH coping tips?
I don't think I have any hot tips on how to transition to working from home. I regularly spend a lot of time by myself, so I haven't had large social parts of my day affected. If that's what you're used to, and like, I imagine that's a tough one. It's just the withdrawn studio access and supplies that have me feeling at a loss. Acknowledging that things have changed quickly, and we've all just been thrown into the deep end is pretty crappy.
When times are tough, gratitude is an integral part of keeping balanced. What are the things you are grateful for?
Everything around us feels unnerving, and things are definitely bad, but I think quite a few opportunities have presented themselves. One of the things I'm most thankful for is that people are suddenly more open with their feelings, and there seems to be a new respect for them. Emotions appear to have more validity in places where they might otherwise have been discouraged and frowned upon. I think that people are more open and accepting of the ways and times in which we emotionally shift, and are respecting that others are processing too. This is what I'm grateful for.
Sending and receiving love right now is important. How are you expressing your love for the people in your life?
There's a good chance that my friends are better than your friends, and part of what makes them so, is just how much they've flooded me with love especially since the great isolation. At least a few people a day check in on me—so much so that it feels like they're the ones pulling the weight. FaceTime has been fantastic, and phone calls are now a thing. My neighbours and I have developed a greater sense of community, and we're doing more things for each other—someone made me French fries because they heard I was literally dreaming of them. I made little paper pots and planted seeds for others. I think our slowing down and understanding each other more fully has provided a sense of care we might have been missing for quite some time. I received a postcard last week from a near stranger, and it made me feel so good. I should start doing that too.
––
*Are you working from home? Want to share your WFH space, routine, or coping mechanism? We'd love to hear from you.