As individuals and organizations take on proper physical distancing measures due to the COVID-19 pandemic, many of us have found ourselves spending more time at home for many reasons. What was once a common place to eat, sleep, and unwind, our homes also double as remote workspaces for those of us that have the option of working from home. With this significant change, we need to adapt to become more flexible with how we use our homes. We're asking people in our community to share their work from home (WFH) spaces, routines, and coping mechanisms.
Name
Dori Tunstall
What is your profession?
Dean of Design, OCAD University
Tell us about your workspace.
I have a home office, but prefer to work in the kitchen/living room. The beautiful sunlight and view of the lake (and construction) from my condo windows motivate me. I also love the warmth of the natural wood of my bookshelves and kitchen table, so prefer to spend all day in this room.
What are some important aspects of your WFH space?
I sit on a kitchen bench not chairs to maintain better posture. My arms are easily able to just reach into the fridge for a drink of water or snack in between my back-to-back Zoom/Teams/phone meetings. My laptop is elevated on two boxes, including a beautiful red box from the York Club, so that I can see people at eye level during virtual meetings. Mostly, I try to keep this room very clear. (My main bedroom is epically messy, but this room is always clean.)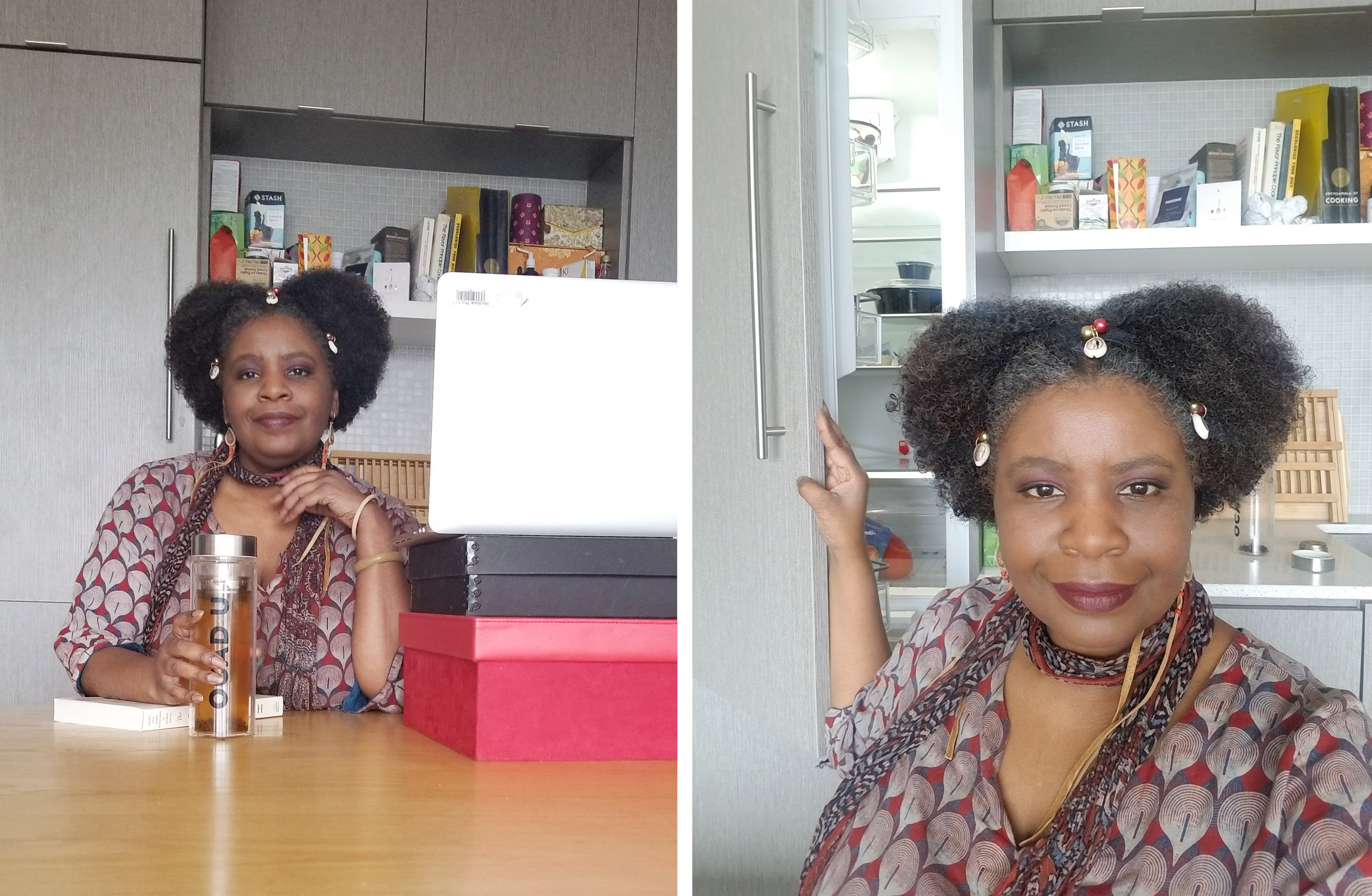 Do you have a WFH routine or tips?
I maintain a similar schedule as my pre-COVID-19 routine, just that it is all online now. I get up around 7:00am to shower, dress, and put on my makeup. I post my #deandrag on Instagram. Then, I call my executive assistant around 8:30am to 9:00am to see what changes have happened to my meeting schedule for the day or week. I then go into back-to-back-to-back Zoom, Microsoft Teams, and/or phone meetings from 9:30am to 6:30pm with faculty, students, administrators, committees, and/or community members. I may or may not have the opportunity to go to the bathroom frequently or eat a full meal, so snack reach is important. If I do have actual lunch breaks, I try to either draw or do a binaural beats power nap, as well as eat. Go figure how I find time to go onto social media in between calls. In the evening, I try to write longer emails, eat dinner, and watch movies, until bedtime at 11:00pm. Repeat. On weekends, I still work from home, but with less (not zero) meetings, evening online dance parties on Friday or Saturday, and more focus on writing projects.
Do you have any WFH coping tips?
Coping with WFH is much easier for me because I live alone and am pretty introverted anyway, despite my social calendar. I do three major things to help me cope. First, I keep my work space clean. I have found that I get anxious if my kitchen table is too cluttered with things. Second, I actively stay hydrated with water, teas, and juices, and symbiotically, make sure my plants are well watered. My plants tell me when I have not had enough to drink. Third, I maintain a dedicated twice a week streamed yoga and dancing schedule. Dancing is my joy drug of choice, so integrating it seriously into my life is key to maintaining well being.
When times are tough, gratitude is an integral part of keeping balanced. What are the things you are grateful for?
I am grateful that I have a place to live, friends and family who love me (and check up on me, too much, and vice versa), the income to have food delivered once a week, a strong Internet connection, good health, meaningful connections to community, and the feeling of the sun on my face.
Sending and receiving love right now is important. How are you expressing your love for the people in your life?
My schedule is strangely busy even with the pandemic, so my love language is always about showing up and being present in people's lives in meaningful ways, and then donating/supporting people financially when I can.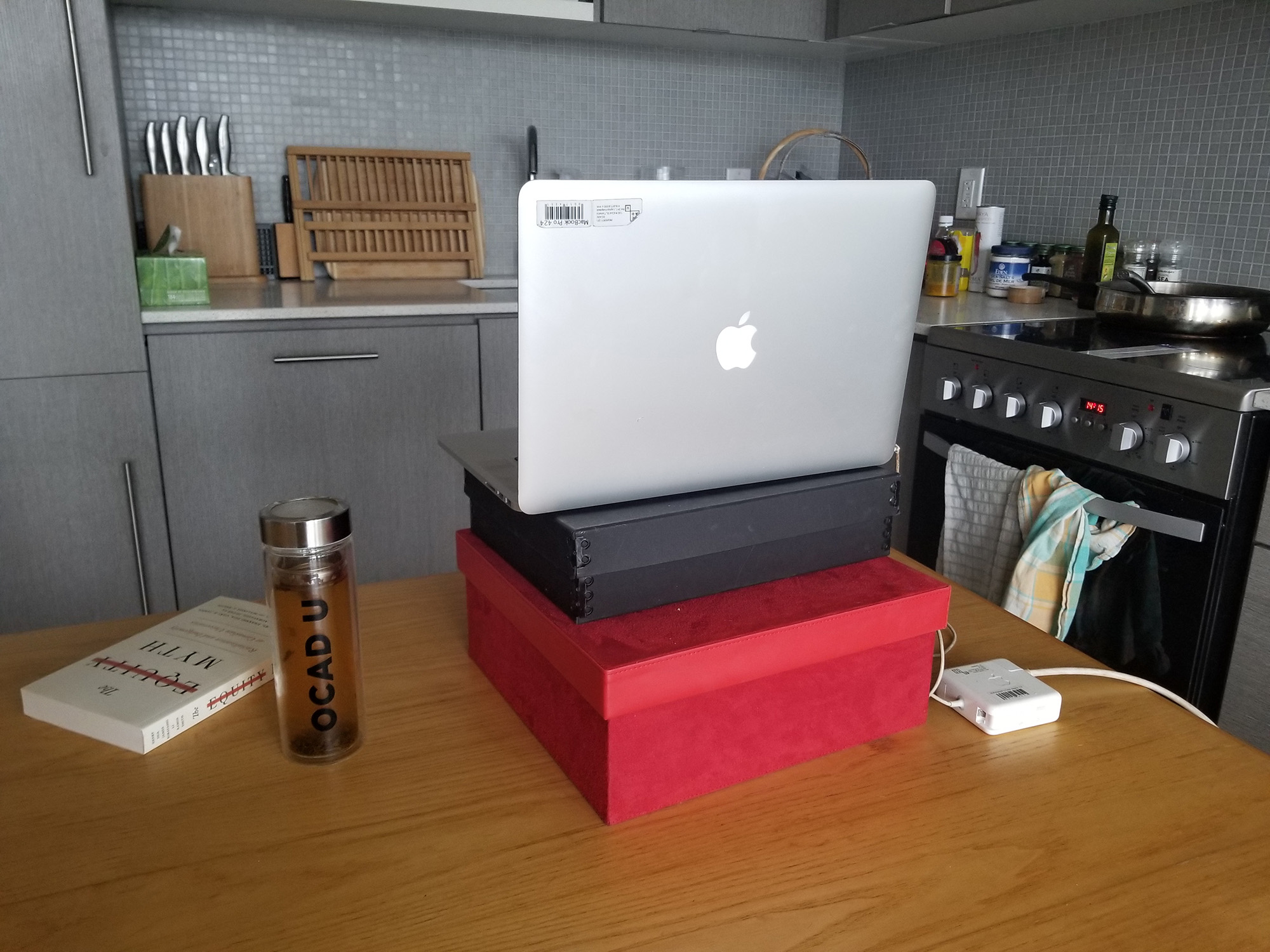 ––
*Are you working from home? Want to share your WFH space, routine, or coping mechanism? We'd love to hear from you.