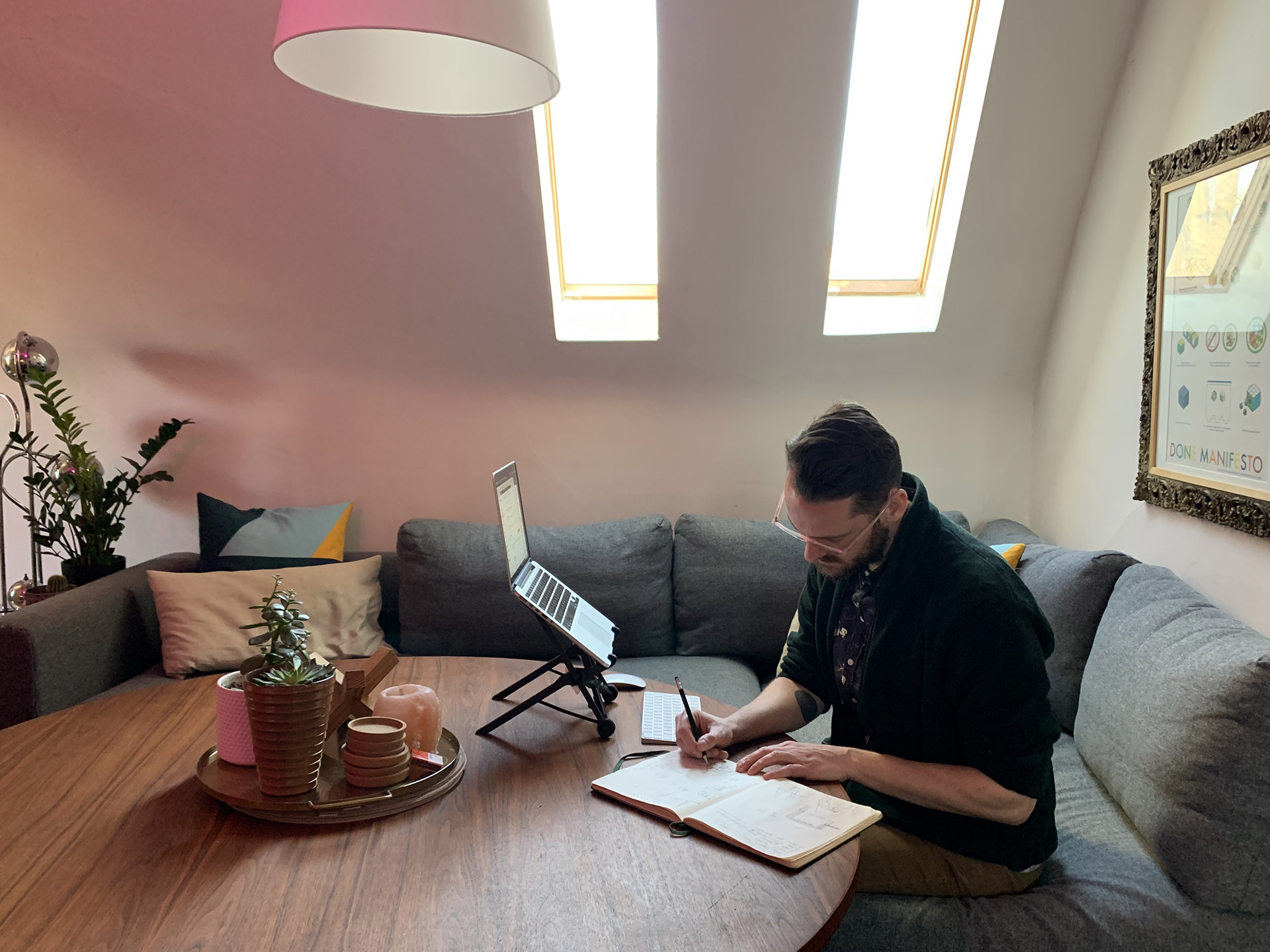 As individuals and organizations take on proper physical distancing measures due to the COVID-19 pandemic, many of us have found ourselves spending more time at home for many reasons. What was once a common place to eat, sleep, and unwind, our homes also double as remote workspaces for those of us that have the option of working from home. With this significant change, we need to adapt to become more flexible with how we use our homes. We're asking people in our community to share their work from home (WFH) spaces, routines, and coping mechanisms.
Our WFH series starts with DesignTO Executive Director and co-founder, Jeremy Vandermeij.
Tell us about your workspace.
My home office is in my dining room, which I share with my roommate. Luckily, he has an office space in his bedroom so I have space to spread out. I work at a large round vintage mid-century modern dining table, with chairs by Burke Inc., which helps my WFH space feel a bit more professional. I have ample space when I need to spread out for larger and more complex projects. I have two seating options to mix things up, the dining chairs and an IKEA sofa, which doubles as a bench for the table. I custom built legs to raise the sofa up to chair height, so it's more ergonomic when working and eating.
What are some important aspects of your WFH space?
The most important part of my setup is my portable laptop stand by Roost. It reduces strain on my neck (especially since I'm tall) and is easily collapsible, making it quick to clear the table for dinners with my roommate.
Do you have a WFH routine or tips?
To keep myself focused and motivated, I act like it is a typical day at the office. On good days, I try to get up at the same time each day, meditate, shower, eat breakfast, and dress in something appropriate for in-person meetings.
On bad days, I roll out of bed, keep my pyjama pants on, put on a dress shirt, comb my hair, and jump onto my sofa for my first meeting. Since my meetings from home are on video, I only have to be presentable from the waist up.
Remote work can be challenging from a team coordination and training perspective. Loom has helped with this. It's online software that allows you to easily record videos of your screen and your microphone audio so you can quickly create task-based how-to videos. If our team is working in the office together, it's much easier to show someone step-by-step how to do a computer task, for example, because they can watch you as you do it. Now that we are working remotely, we have to find other means to explain computer tasks.
By clicking Loom's Chrome extension, I can start to record my screen and audio to walk someone through a task. Just as quickly, I can share the link of the video with my team. If you don't require audio, Loom also automatically generates animated GIFS for each video, which you can easily embed into emails, blog posts or social posts. Loom also stores the video in your profile library, so you can continue to share videos for future training.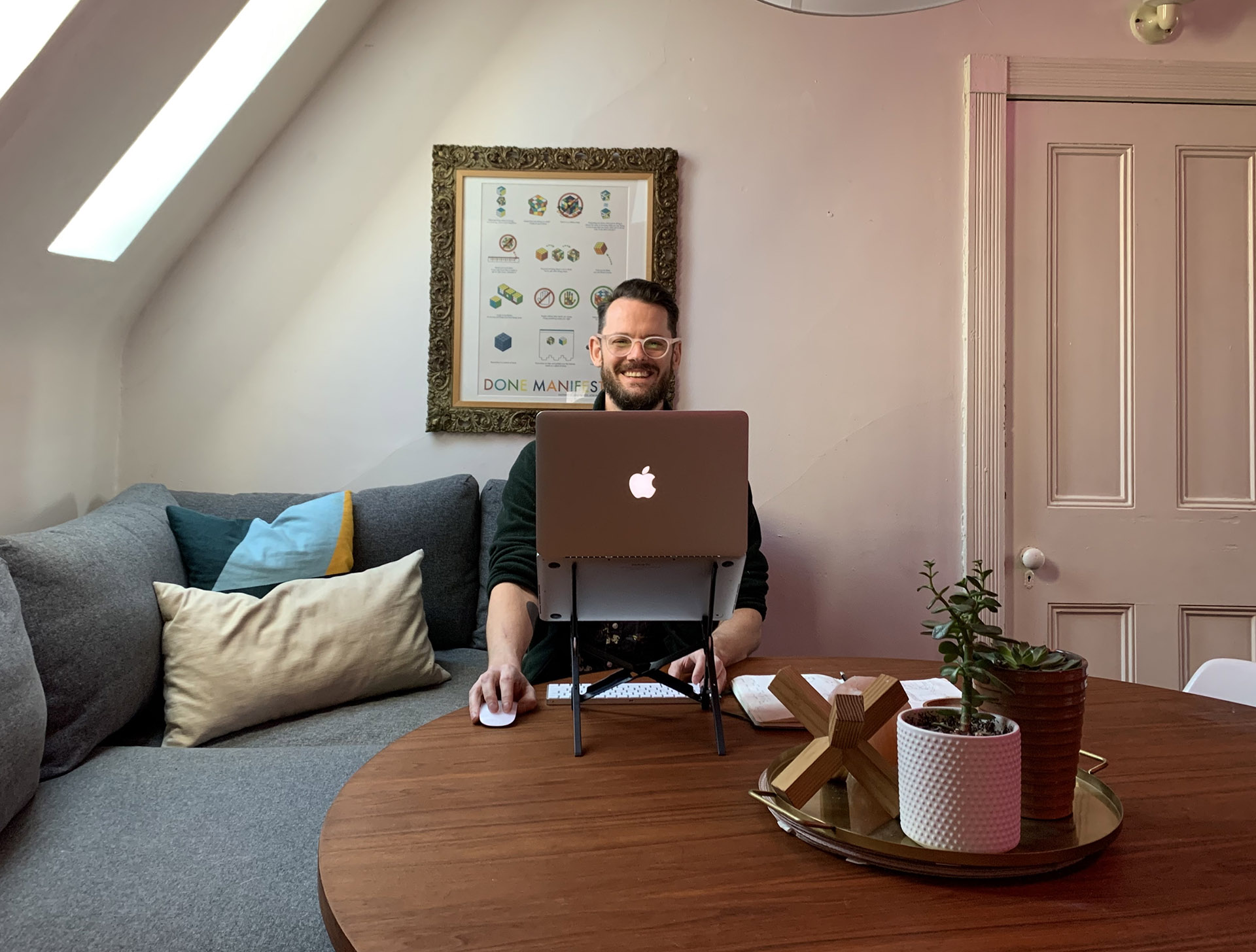 DesignTO Executive, Jeremy Vandermeij, in his home workspace.
Do you have any WFH coping tips?
Every day I video chat with a friend or family member. On special days, we do a group chat. I'm lucky enough to have a roommate whose company I enjoy, and two cats who are cuddle monsters, so my need for touch is satisfied.
With the globe in a state of flux, it can be tough to manage the extra stress. For me, meditation is the most effective tool for reducing stress. Particularly, I practice Vipassana meditation which is more commonly known as mindfulness meditation. My Vipassana practice involves first focusing on my breath in order to focus my mind. For the next 45 minutes, I do body scans while maintaining the same seated position. During a body scan, you are observing without adding any narrative thought. This helps you to experience reality as it is. You can read more about my Vipassana experience in Toronto Life, an article about my meditation practice.
When times are tough, gratitude is an integral part of keeping balanced. What are the things you are grateful for?
I'm grateful that I have spent most of my professional life helping to build DesignTO. Its warmth and sense of community are helping me get through these stressful times, making me feel like I've spent my time on a worthy cause.
I'm also grateful that I have a very comfortable place to live, with food and water. I'm thankful that I have video chat so that I can stay in touch with the people I love.
Sending and receiving love right now is important. How are you expressing your love for the people in your life?
I am reaching out to my friends, family, colleagues, and neighbours who are more anxious because of their vulnerability. Some have been laid off of work, have precarious financial positions, or are vulnerable to the virus and its symptoms. I've offered to help these friends, for example by doing their shopping so that they can stay away from busy public places.
*Are you working from home? Want to share your WFH space, routine, or coping mechanism? We'd love to hear from you.