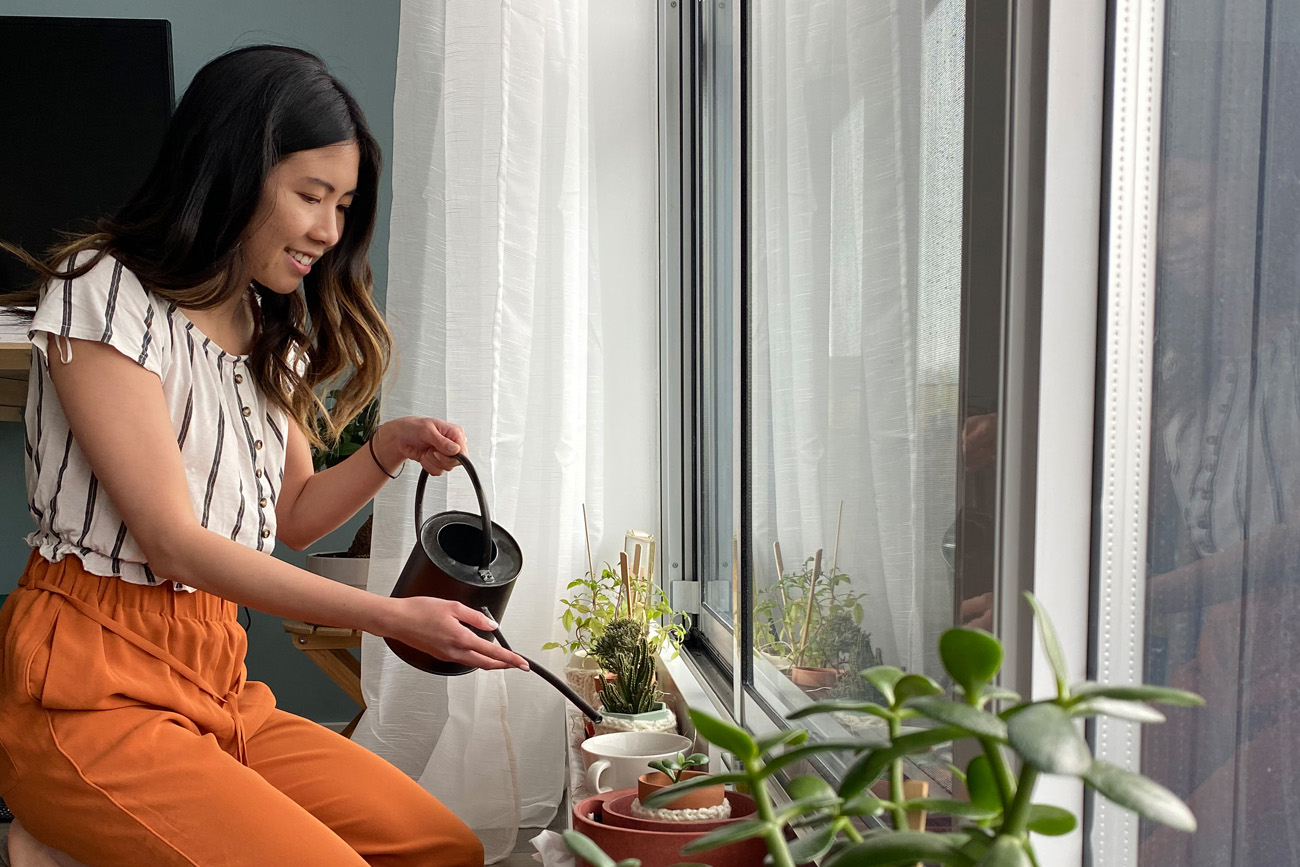 As individuals and organizations take on proper physical distancing measures due to the COVID-19 pandemic, many of us have found ourselves spending more time at home for many reasons. What was once a common place to eat, sleep, and unwind, our homes also double as remote workspaces for those of us that have the option of working from home. With this significant change, we need to adapt to become more flexible with how we use our homes. We're asking people in our community to share their work from home (WFH) spaces, routines, and coping mechanisms.
Name
Pansy Cheung
What is your profession?
Strategic Graphic Designer at Klick Health
Tell us about your workspace.
Our condo space has to be set up for maximum versatility, so our vintage MCM table from Furniture 1950 functions as a desk, dining space, and (sometimes) food prep counter! Extendable leafs are handy for those days where you need to take up a bit more space.
What are some important aspects of your WFH space?
A cushion to support my back has been helpful with long stints at the computer. Having more plants and greenery nearby also helps to bring the outside in.
Do you have a WFH routine or tips?
Morning yoga, 20-minute lunchtime meditation, homemade drip coffee in the afternoon, and baking. (Yes, banana bread.)
Do you have any WFH coping tips?
Getting dressed for the workday as you usually would helps me to stay motivated throughout the day. It helps to counteract the urge to crawl back into bed with pajamas!
When times are tough, gratitude is an integral part of keeping balanced. What are the things you are grateful for?
The ability to be able to connect with family (even halfway across the globe) through technology.
Sending and receiving love right now is important. How are you expressing your love for the people in your life?
Sending funny e-cards and video calling to celebrate their special occasions with them. The party must go on! 
Instagram: @panserotti, @panalog.cam | Website: pansycheung.com
––
*Are you working from home? Want to share your WFH space, routine, or coping mechanism? We'd love to hear from you.