DesignTO Talks: Dematerialized
DesignTO projectevent: talk online
DesignTO's ninth annual symposium brings together eight multidisciplinary experts to explore the complexities of dematerialization in an increasingly digital world. Speakers include Lynne Heller, Austin Houldsworth, Alex Yueyan Li, Neo-Futuristic Walks, Joel Ong, Justin Kyung In Park, Skawennati, and Ruby Thelot, covering such topics as the future of digital artifacts, the ecological impact of computation, spaces for Indigenous self-determination, walking as an immaterial urban practice, material representation in digital environments, and more.
The free symposium runs online over two days: Wednesday, January 25 and Thursday, January 26, 2024, from 6-8pm EST each day.
Design has no future, because matter has no future. We enter now the era of dematerialization and bionism, that is to say the alliance of the body with integrated high technology. In the upcoming years, all the useless things around us will disappear, they will directly integrate our environment and our body.

– Philippe Starck
The idea of dematerialization is provocative. It gestures towards a condition where we are free from physical matter. Dematerialization methods run the gamut of materials, systems and experiences, which are not strictly a product of the digital age. People have always been trying to do more with less; however, advanced technologies have enabled dematerialization on an unprecedented scale in recent decades.
This symposium invites designers and thinkers to explore the complexities of dematerialization: both its benefits and drawbacks. How do we mitigate the ecological impacts of computation? What is lost or gained in a move toward immateriality? What is the capacity for digital technologies to represent personal identity or create space for self-determination? What does equitable access look like in a dematerialized future? How can speculative design help us understand and address the climate crisis?
––––
'DesignTO Talks: Dematerialized' is organized by DesignTO, and supported by the Ontario Cultural Attractions Fund, Government of Ontario, Teknion and EQ Bank, with media partner AZURE Magazine.
DesignTO is a non-profit arts organization that brings people together to design a better future, one that is more sustainable, just, and joyful. We curate exhibitions, presentations and educational programming to increase the public's knowledge and appreciation of design.
Schedule
Session 1: Wednesday, January 24, 6-8pm
Neo-Futuristic Walks
Austin Houldsworth
Joel Ong
Justin Kyung In Park
Session 2: Thursday, January 25, 6-8pm
Lynne Heller
Alex Yueyan Li
Ruby Thelot
Skawennati
A video recording of the symposium will be available to all ticket holders after the live event.
Speakers & Topics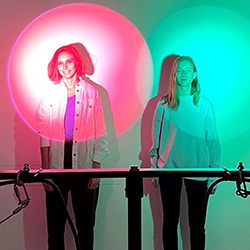 Neo-Futuristic Walks
This talk will introduce the project Neo-futuristic Walks as an immaterial urban practice. By unfolding its artistic principles and in-flux nature, it will question how such spatial practices can help us experience cities from completely new perspectives and form new urban habits.
Neo-futuristic Walks is a series of "walkable" city inspections that gather a community of neo-futurists to collectively imagine new ways of urban co-existence. Through the act of walking, neo-futurists explore the primal bodily experience's role in creating new relationships in and with urban environments. Drawing inspiration from the principles of the Degrowth movement, they generate context-sensitive speculative scenarios to live in constant preparations for the inescapable urban futures.
The Neo-futuristic Walks project was initiated in 2020 by Lithuanian spatial designers Aušra Česnauskytė and Goda Verikaitė, who are currently based in The Netherlands. They started the project as a collective laboratory to combine architectural and speculative design with performative practices. As a series of "walkshops," Neo-futuristic Walks has already visited such cities as London, Vilnius, Brussels, Amsterdam, New York, Rotterdam and Antwerp. The project was also presented in multiple design festivals and events, including Dutch Design Week (2021), London Festival of Architecture (2021), Politics of Space symposium in Vilnius (2022), Walking as Research Practice conference in Amsterdam (2022) and WantedDesign Manhattan in New York (2023).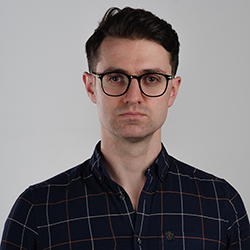 Austin Houldsworth
The scale and ubiquity of socio-technological systems like money or telecommunications limits alternatives in every sense, not only practically, but also in our ability to imagine or dream of something different.
This talk will introduce Redefinition Design as a specific method within Speculative Design. This method focuses on the underlying axioms of a given socio-technological system, and creates a framework to step outside the slow and seemingly uncontrollable evolutionary development of large-scale systems, to redefine and design socio-technological systems from altered fundamentals. To exemplify this approach, Austinw will share a recent counterfactual project that radically redefines personal telecommunication devices to resonate with alternative notions of identity.
Dr. Austin Houldsworth (PhD, MA RCA Design Interactions) is an interdisciplinary design researcher with a focus on critical and speculative design. Currently, he is a lecturer in the MA Design program at Sheffield Hallam University. His research strives to leverage change through the application of design within unfamiliar disciplines, like redesigning monetary systems, building prototype human fossilization machines, or creating the 'Intergalactic Space Agency' at the Eden Project and founding the 'FOM' design awards.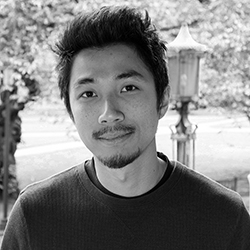 Joel Ong
The relative invisibility of the air puts it within a common "neglect," a kind of lofty imagination of ascent and buoyancy. It is no wonder that the nascent dematerialization of analog forms through virtual databases and other cloud-based technologies has appropriated such elemental metaphors as inspiration for their form and function. Joel's talk provides one approach to the "materialization" of air, offering examples in a history of ideas through a cornucopia of wondrous artworks, stories, scientific innovations and "failed experiments" lost in the drive toward streamlined and marketable technologies, providing a lineage for the emerging aesthetics of meteorological art today.
Joel Ong's work concerns art-making at the "end of the world," inspired by creative and academic practices that are attuned to human and more-than-human social justice by shaping cultural imaginaries through and despite the urgency of the Anthropocene. As an artist, his works have been shown internationally at the Currents New Media Festival, Nuit Blanche, Seattle Art Museum, the Gregg Museum of Art and Design, the Penny Stamps Gallery and the Ontario Science Centre. Ong is currently an Associate Professor in Computational Arts and the Helen Carswell Chair in Community Engaged Research in the Arts at York University, in Toronto.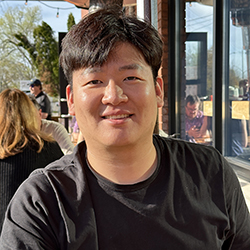 Justin Kyung In Park | Mutual Existence
We are in the midst of a change into a new world that blurs the distinction between the tangible and the digital world. Dematerialization presents us with new technologies like crypto-currency, metaverse, augmented reality and virtual reality. However, their reliance on computing power confronts us with the issues of greenhouse gas emissions and global warming. It is important to assess their environmental and ethical implications in the Technological Anthropocene to indicate a method of relationship building-thinking for designers. This talk will present the concept of contemporary mutualistic relationship building by drawing re-established relationships between natural forces, energy, computing, ecosystems and the human species.
Justin Kyung In Park is a multidisciplinary designer who fuses environmental consciousness with design excellence in a world where conscious innovation defines the future. He is a Master of Architecture candidate at the University of Waterloo, but beyond architecture, Justin is a designer and craftsman in leather-working and woodworking. He fabricates jewelry, bags, and wallets that seamlessly blend aesthetics with ethics. As a co-director of F_RMlab, a student-led design and research collective, he has previously led installation projects as part of the DesignTO Festival and Unsilent Night. He has a strong interest in data-centric architecture, the Technological Anthropocene and the position of designers in the new époque of dematerialized living.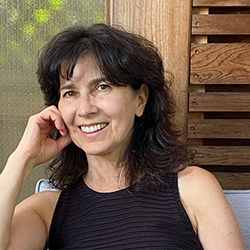 Lynne Heller
Lynne Heller is a post-disciplinary artist, designer, educator and academic. Her interests encompass both material and virtual culture, textiles, performance, graphic novels and sculptural installation. Heller completed her Master of Fine Arts at the School of the Art Institute of Chicago (2004) and her PhD at University College Dublin, Ireland (2016). Her research was practice-based, with a specialty in Digital Media Arts. She is an Adjunct Professor at OCAD University, co-director of the Data Materialization Studio, Affiliate Member of Graduate Studies at the University of Toronto and Reviews Editor of Virtual Creativity. She is the Principal Investigator of the SSHRC funded project, 'Thinking Through Craft and the Digital Turn'.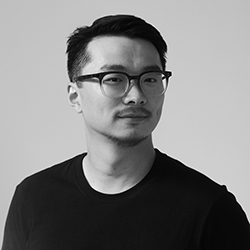 Alex Yueyan Li | On Rehearsing
'On Rehearsing' examines the issue of dematerialization through the lens of material representation. It questions how ideas of materiality emerge through a digital working method, and highlights the types of material concerns often overlooked within it. Can computational biases be subverted beyond representing materials at face value? Can a focus on material scarcity and construction practices inform new criteria for design? As computation continues to dominate the design field as a mediating force between material worlds and abstract thinking, 'On Rehearsing' presents a collection of design-based research that argues for a process-oriented framework, with critical considerations for engaging with material reuse, experimental preservation and the environmental crisis.
Alex Yueyan Li is a Chinese designer and co-principal of 11×17, a design practice based in Toronto and Boston. His work centers on historical and contemporary material techniques, the production of adaptive reuse, and how the preservation of buildings can be reconsidered as a full-scale rehearsal of existing materials and their extended lives. Prior to establishing an independent practice, he worked internationally in the U.S., Canada, Japan and China, and has held teaching positions at Syracuse University and Harvard University's Graduate School of Design, where he was named the 2021-2022 Irving Innovation Fellow. He is currently a JEDI visiting assistant professor at the University of Colorado Denver.
Ruby Thelot | To the Unsaved: A Eulogy for Lost Digital Memories
'To the Unsaved: A Eulogy for Lost Digital Memories' delves into the critical junction where technology and human memory intersect, raising alarming questions about the future of our digital artifacts. The talk introduces innovative concepts such as Mnemophagy, the Shock of Alteration, and the Shock of Deletion, to scrutinize the ephemeral nature of digital spaces and the resultant loss of cultural and personal histories. As we tread further into the realm of dematerialization, 'To the Unsaved' calls for urgent collective contemplation and action. It challenges scholars and industry leaders to rethink current digital infrastructures and to develop resilient systems for the preservation of our evolving digital legacies.
Ruby Thelot is a designer, cyberethnographer and artist based in New York. He is an adjunct professor of Media Theory at New York University. He is the founder of the award-winning creative research and design studio 13101401 inc. His work focuses on the interactions between humans and artificial intelligence, the metaverse and the implications of being-on-line. He has given talks and shown works in Tallin, Berlin and Abuja, amongst other places. He holds a Master of Fine Arts in Design and Technology from Parsons School of Design and a Bachelor in Business from McGill University.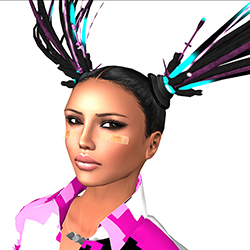 Skawennati
Skawennati investigates history, the future, and change from her perspective as an urban Kanien'kehá:ka woman and a cyberpunk avatar. Her machinimas, still images, textiles and sculpture have been presented internationally and collected by the National Gallery of Canada, the Musée d'art contemporain de Montreal and the Thoma Foundation, among others.
Recipient of a 2022 Hewlett 50 Arts Commissions Grant and an Honorary Doctorate from the Minneapolis College of Art and Design, she is also a founding board member of daphne, Montreal's first Indigenous artist-run centre. She co-directs Aboriginal Territories in Cyberspace, a research-creation network based at Concordia University, where she received her Bachelor of Fine Arts. Originally from Kahnawà:ke Mohawk Territory, Skawennati resides in Montreal. She is represented by ELLEPHANT.
Participants
Lynne Heller, Austin Houldsworth, Alex Yueyan Li, Neo-Futuristic Walks (Aušra Česnauskytė and Goda Verikaitė), Joel Ong, Justin Kyung In Park, Skawennati, Ruby Thelot
Accessibility
Who should visitors contact with questions regarding accessibility?
For projects with auditory components (e.g. talks, film screenings, tours), will there be sign-language interpretation, captioning, and/or live audio description?
Live captioning