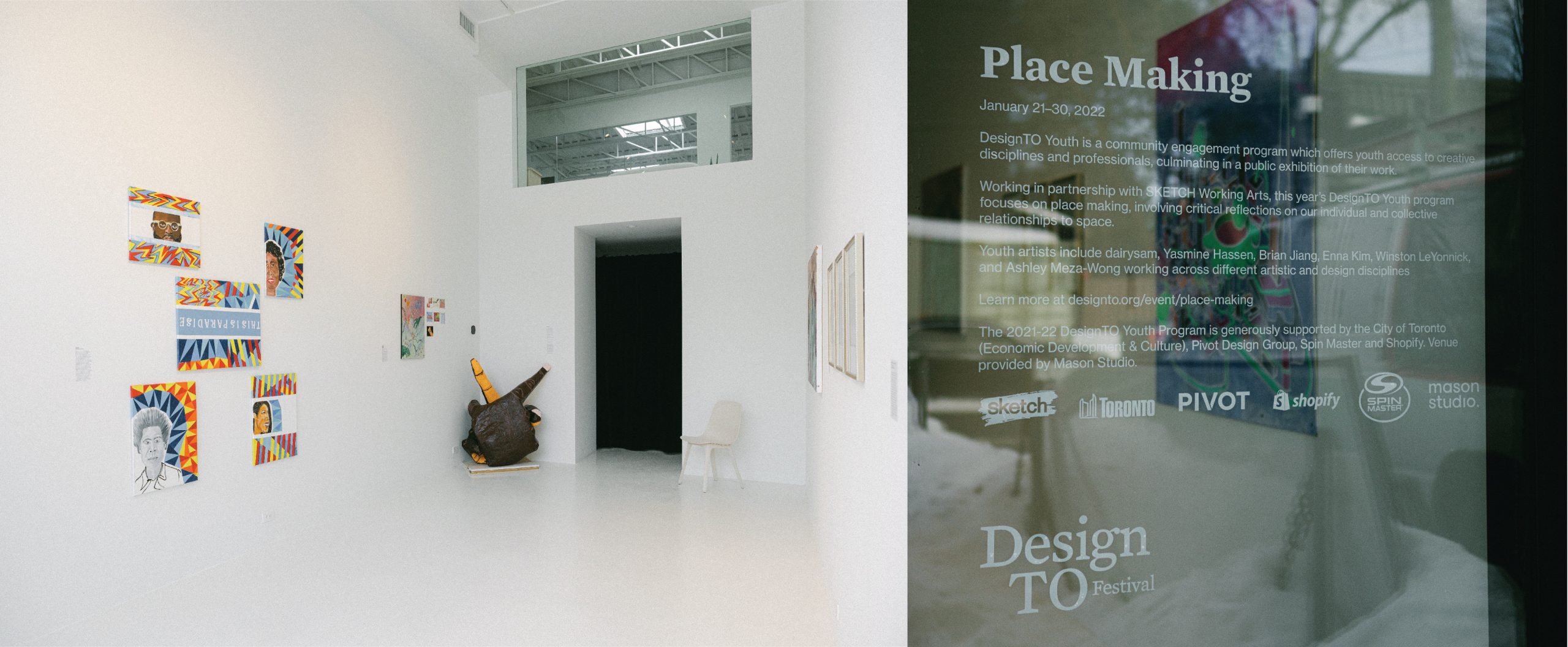 January 21–30, 2022
The Gallery at Mason Studio, 91 Pelham Avenue, Toronto
'Place Making' is a group exhibition that critically reflects on our individual and collective relationships to space. It is the culmination of the six-week residency program, part of DesignTO Youth – a community engagement program which offers youth access to creative disciplines and professionals.
Youth artists include dairysam, Yasmine Hassen, Brian Jiang, Enna Kim, Winston LeYonnick, Ashley Meza-Wong working across different artistic and design disciplines.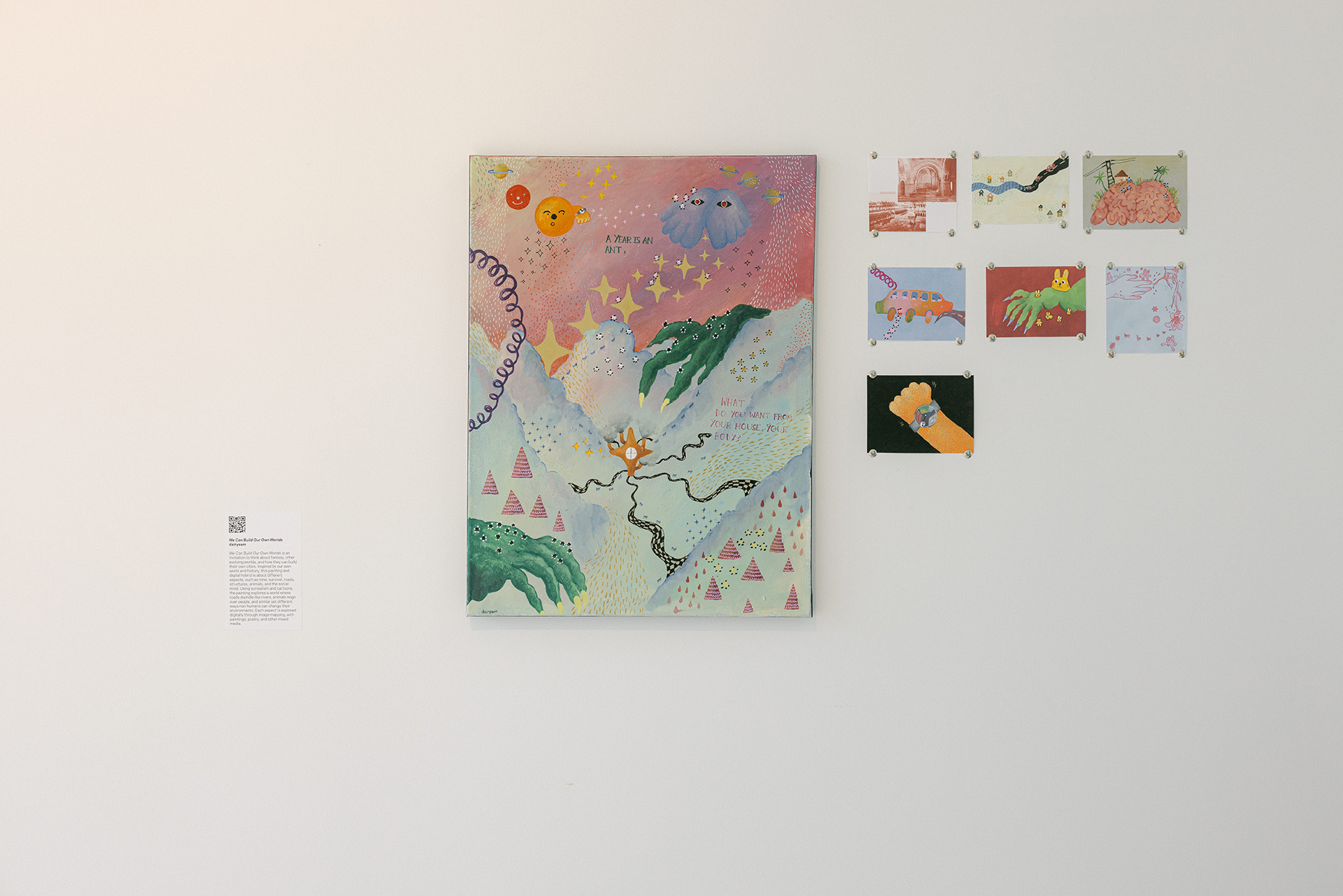 dairysam
'We Can Build Our Own Worlds'
'We Can Build Our Own Worlds' is an invitation to think about fantasy, other evolving worlds, and how they can build their own cities. Inspired by our own world and history, this painting and digital hybrid is about different aspects, such as time, survival, roads, structures, animals, and the social mind. Using surrealism and cartoons, the painting explores a world where roads dwindle like rivers, animals reign over people, and similar yet different ways non-humans can change their environments. Each aspect is explored digitally through image mapping, with paintings, poetry, and other mixed media.
dairysam is a brown, disabled and queer artist who loves working with all mediums, such as illustration, print, ceramics, poetry, textile arts, and much more! They play with colours, character and stories.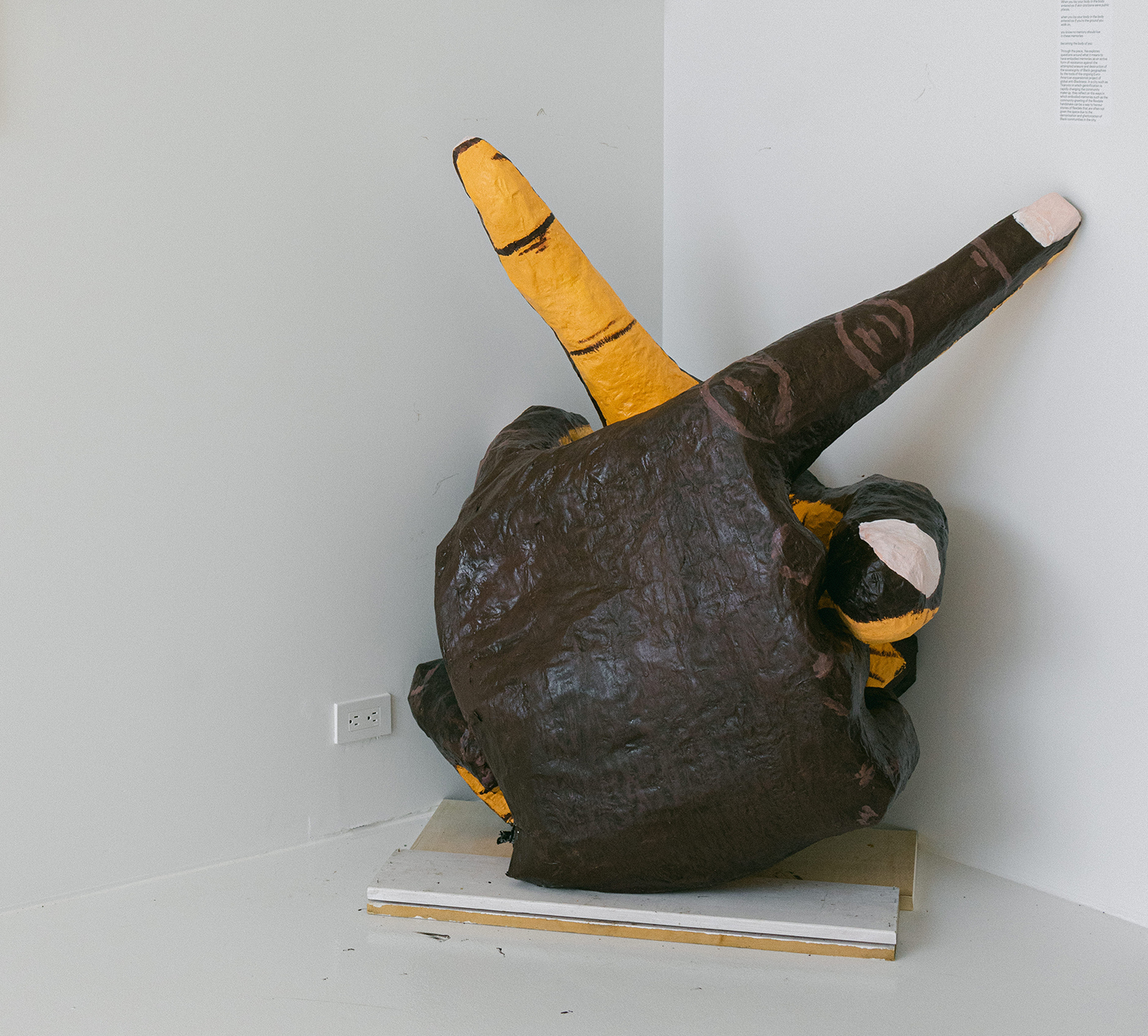 Yasmine Hassen
Untitled
This paper maché clay sculpture is a dedication to Rexdale. Through this piece, Yas is illuminating the well-known Rexdale handshake that has connected them and their community members for decades. Yas explores what it means to embody public spaces, belonging, and community in a time in which systemic community-breaking, displacement, and gentrification are actively and rapidly changing predominantly Black, racialized, immigrant, and lower-income neighborhoods. They were inspired by Claudia Rankine's book Citizen: An American Lyric in which Rankine notes:
When you lay your body in the body
entered as if skin and bone were public places,
when you lay your body in the body
entered as if you're the ground you walk on,
you know no memory should live
in these memories
becoming the body of you
Through the piece, Yas explores questions around what it means to have embodied memories as an active form of resistance against the attempted erasure and destruction of the sovereignty of Black geographies by the tools of the ongoing Euro-American expansionist project of global anti-Blackness. In a city such as Tkaronto in which gentrification is rapidly changing the community make-up, they reflect on the ways in which embodied memories such as the community greeting of the Rexdale handshake can be a way to honour stories of Rexdale that are often not given the space due to the demonization and ghettoization of Black communities in the city.
Yasmine Hassen is a multidisciplinary artist, mover, and maker rooted in decolonial approaches to bridging gaps and finding intersections between Black liberation, belonging, and community. They live and create on the stolen land of Turtle Island on the traditional territory of the Haudenosaunee, Anishinabewaki ᐊᓂᔑᓈᐯᐗᑭ, Wendake-Nionwentsïo, and Mississaugas of the Credit First Nation, which has been the meeting place and land of Indigenous, Inuit, and Métis peoples from across Turtle Island since time immemorial. Yas stands in solidarity with land defenders, water protectors and Black freedom fighters. Their work is often grounded in multisensorial mediums as a way to tell stories that centre 2SQTBIPOC experiences of resistance through the intersections of movement, sonic production and collaging.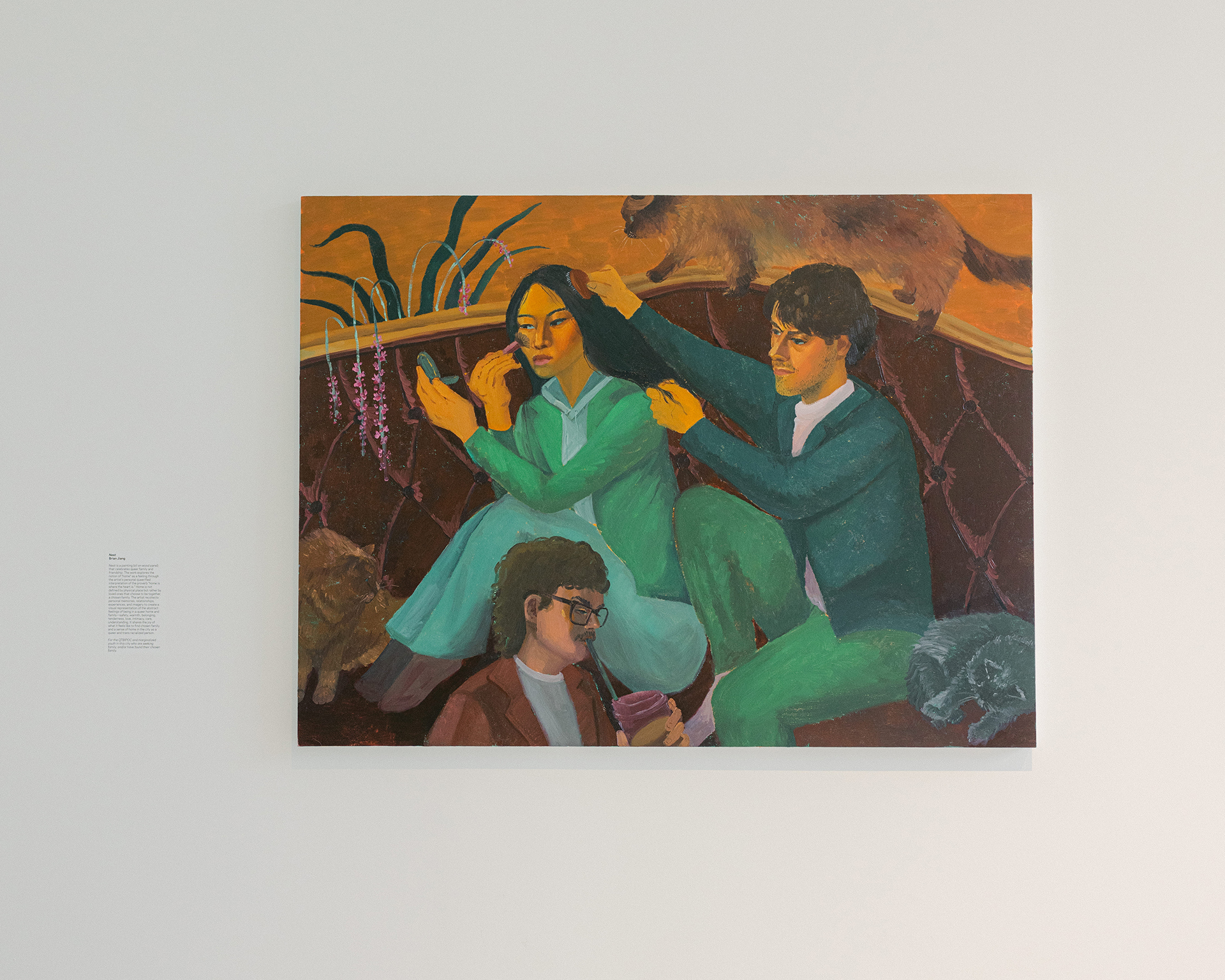 Brian Jiang
'Nest'
'Nest' is a painting (oil on wood panel) that celebrates queer family and friendship. The work explores the notion of "home" as a feeling through the artist's personal queerified interpretation of the proverb "home is where the heart is." Home is not defined by physical place but rather by loved ones that choose to be together, a chosen family. The artist recollects personal memories, relationships, experiences, and imagery to create a visual representation of the abstract feelings of being in a queer home and family – safety, warmth, belonging, tenderness, love, intimacy, care, understanding. It shares the joy of what it feels like to find chosen family and a sense of home in the city as a queer and trans racialized person.
For the QTBIPOC and marginalized youth in this city who are seeking family, and/or have found their chosen family.
Brian Jiang (they/them) is a queer Tkaronto-based multidisciplinary artist and designer of Chinese descent. Their works explore topics such as identity, queerness, and community building through illustration, painting, and animation media. Brian finds inspiration in the formal qualities of folk art, 60s Japanese graphic design, Surrealism, print ephemera and the natural world. They hold a Bachelors of Design (Illustration) from OCAD University. Brian has created work for LinkedIn, StreetARToronto, Pride Toronto and more.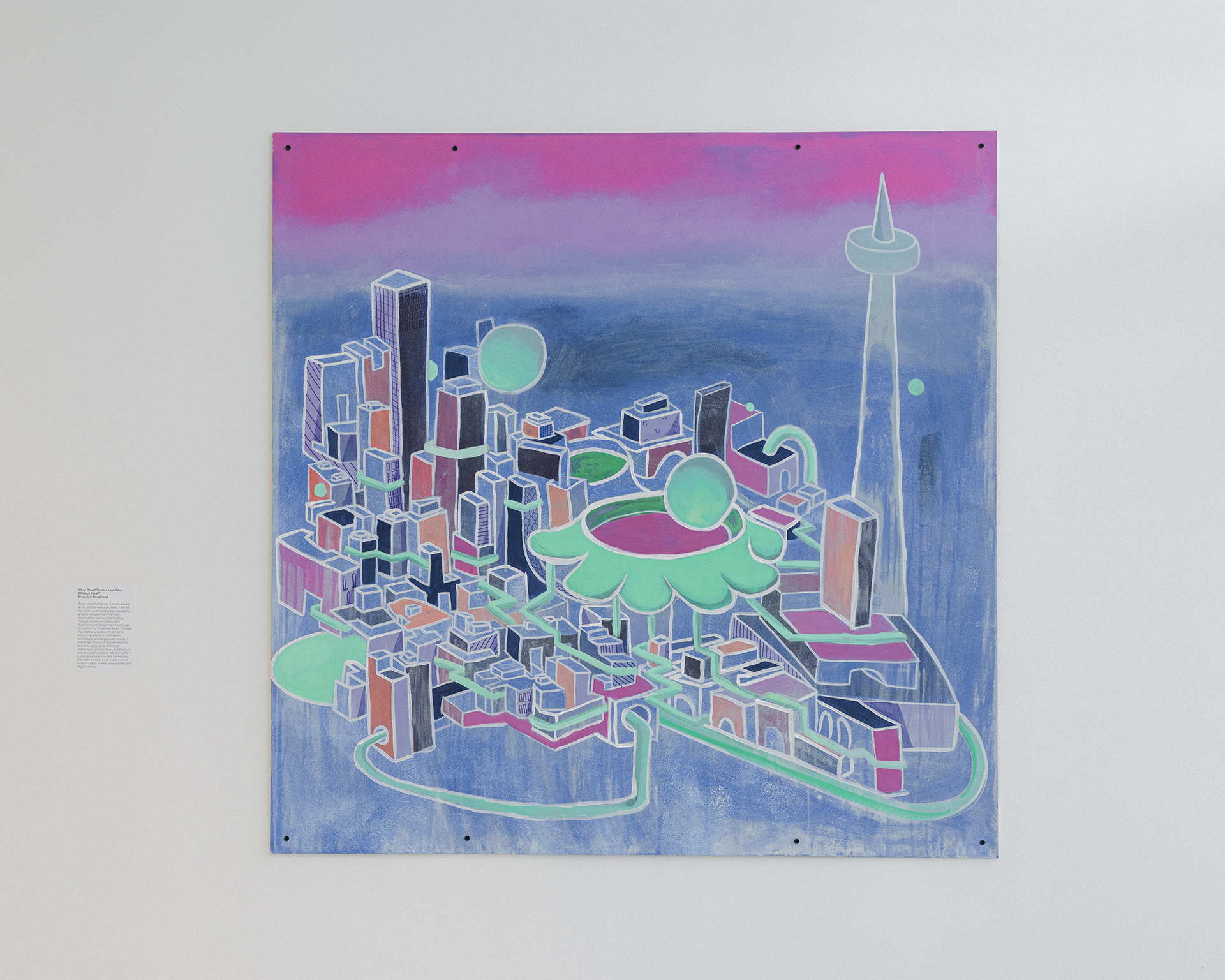 Enna Kim [fongkikid]
'What Would Toronto Look Like Without Cars?'
As an interdisciplinary Toronto-based artist, athlete and storyteller, I aim to transform public and urban spaces to amplify perspectives from non-dominant narratives. Storytelling through murals, animation and illustration are the primary tools I use to explore my in-betweenness. Through my creative practice, my dynamic bouts in academics, community workshops, and large-scale murals, I challenge notions of cultural identity and belonging using whimsical characters, environments, bold colours and speculative fiction. My work offers a unique perspective that reimagines alternative ways of our current world, such as public transit, accessibility and digital literacy.
Enna Kim (fongkikid) is a Toronto-based interdisciplinary artist, researcher and storyteller. Enna explores the dimensions between her hyphenated Korean-Canadian identity through animation, world-building, long-distance running, murals and zines. She has painted outdoor murals for The Patch Project, StreetARToronto, STEPS Public Art, Riverside BIA, Cabbagetown BIA and Burning Man. Enna has exhibited work at the Art Gallery of Ontario, CNE, Trinity Square Video, InterAccess Gallery, OCAD University and Xpace Cultural Centre. Enna is currently pursuing a master's degree at York University.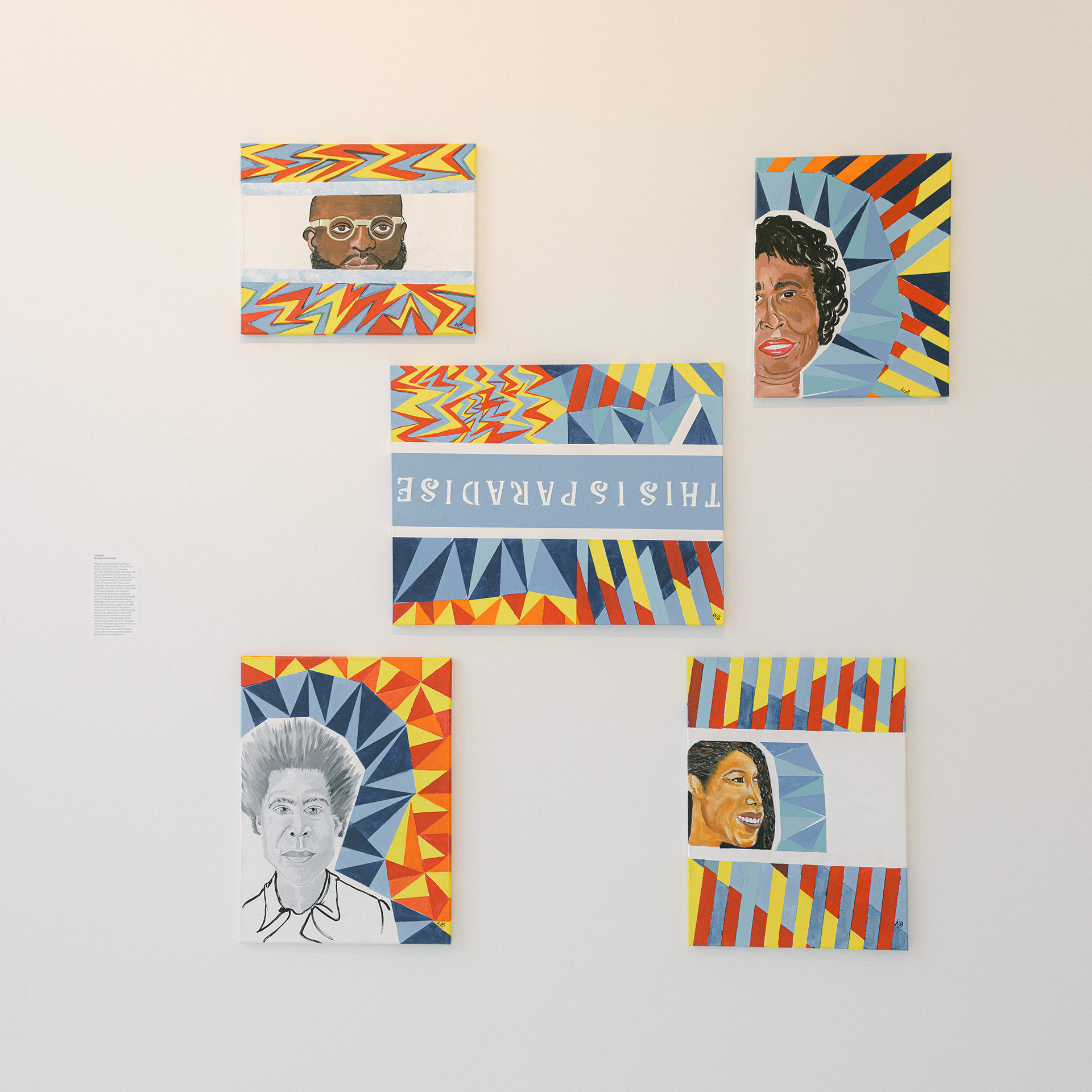 Winston LeYonnick
Untitled
Winston is a Canadian Caribbean artist, currently living in Tkaronto on Treaty 13 Territory. He creates portraits of Black people that illustrate the complexity and diversity of the African diaspora through colourful and bold street inspired art. Fascinated with the freedom and ingenuity of street art, Winston is especially pulled to graffiti and urban murals. The murals he creates embody varying Black experiences as a way to create an entirely new Black experience through his art. The pieces he shares act as reminders to his communities of their accumulated power, dignity and noble roots. As a black artist, Winston is influenced in particular by Dr. King and Malcolm X, using brazen colors and angular lines to tell the stories and experiences of the diaspora. As he continues to understand his roots and the fight for Black Liberation in the civil rights movement and beyond, centering Black life in the Parkdale's Queen West community has recently become a focus in this work.
View the Parkdale Talks interviews.
Winston LeYonnick is a multidisciplinary artist from Toronto. He began taking art lessons from an underground art school on Queen Street, where he learned realism. He organized an art fundraiser for "LGBT hotline" where he auctioned images of the African diaspora and their identities through portraits. As a multidisciplinary artist, he expresses himself through paint, digital art, photography, graffiti and film. Winston navigates and adapts to new techniques, skills, and technology naturally as needed, while staying authentic to himself, his roots and the arts he displays to the public.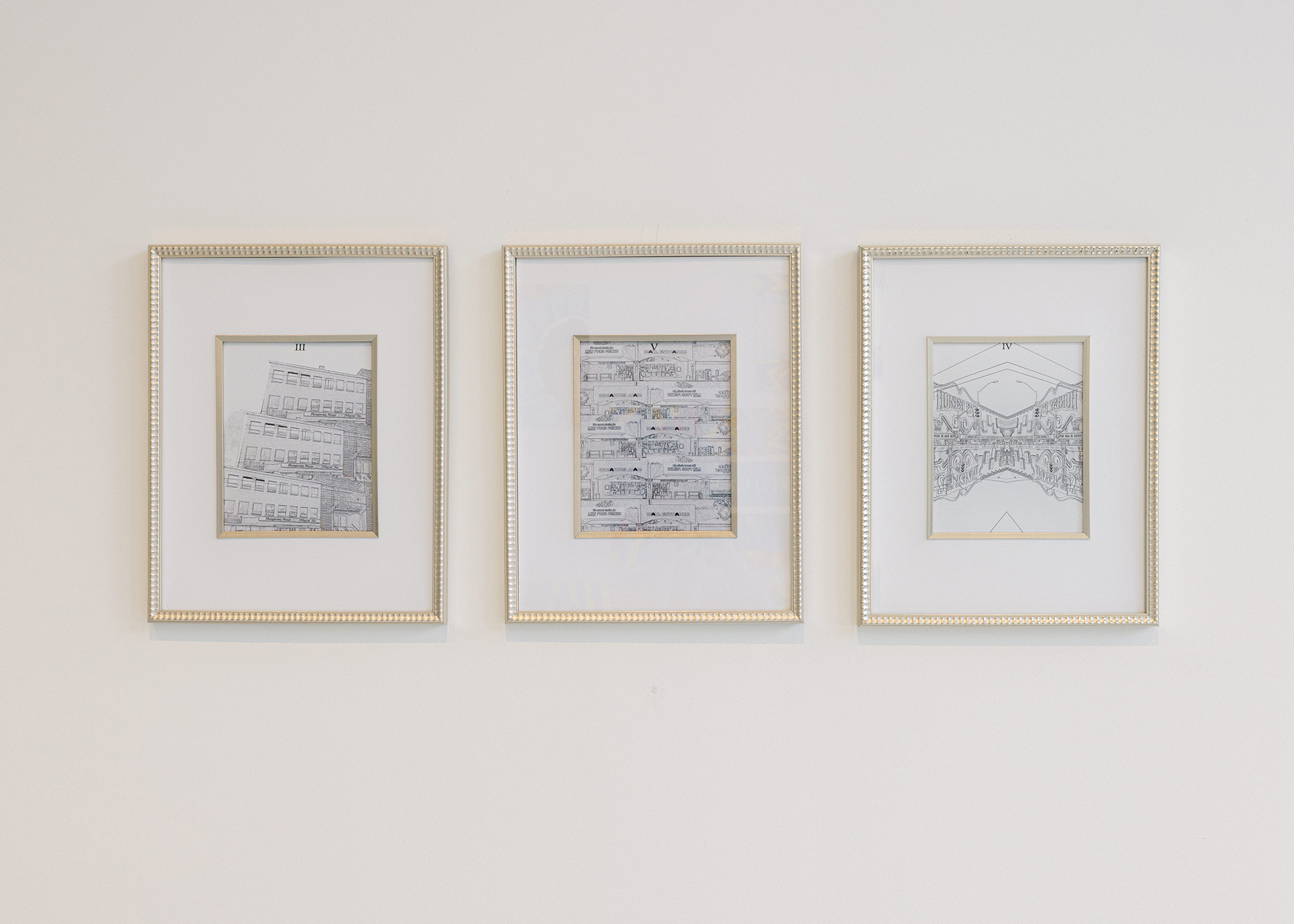 Ashley Meza-Wong
'Past Present Futures'
Observing the numerous construction sites in my neighbourhood, my focus is on three landmarks that have been, are currently being, or are scheduled to be, removed. These locations include the Hungarian House on St. Clair Avenue West, Honest Ed's on Bloor Street West, and the Galleria Mall on Dupont Street. Cryptic imagery highlights patterns of replacement and relocation, spotlighting cultural hubs once meant for communing and building rapport, which have now dwindled to the hundreds of upcoming mixed-use residential and commercial structures in the City of Toronto. The possibility for developing increased affordable rental housing, accessible parkettes embellished with flora, and entrepreneurial community markets is my desire for the land witnessing my blossoming. Grateful and hopeful, this triptych is a reminder of the unforgettable, the contemporary, and the envisioned hereafters.
Ashley Meza-Wong is an Ecuadorian Canadian artist based in Toronto/Tkaronto, Canada. Her work encompasses a mixture of images, sounds and writing. Driven by curiosity, her pieces explore the complexities of identities and belonging through stories seldom represented. Ashley's projects have been exhibited at Gallery 44, Inside Out Film Festival, and Ryerson University. She is currently forging design pathways using several materials as an inquiry towards equitable urban systems.
About DesignTO Youth
Established in 2019, DesignTO Youth is a program that provides youth with access to creative disciplines and professionals. The program works with local artists and designers and community collaborators like schools, non-profit organizations, and community groups that are already actively engaging with youth.
'DesignTO Youth' is organized by DesignTO in partnership with SKETCH Arts, and supported by the City of Toronto (Economic Development & Culture), Pivot Design Group, Spin Master and Shopify.