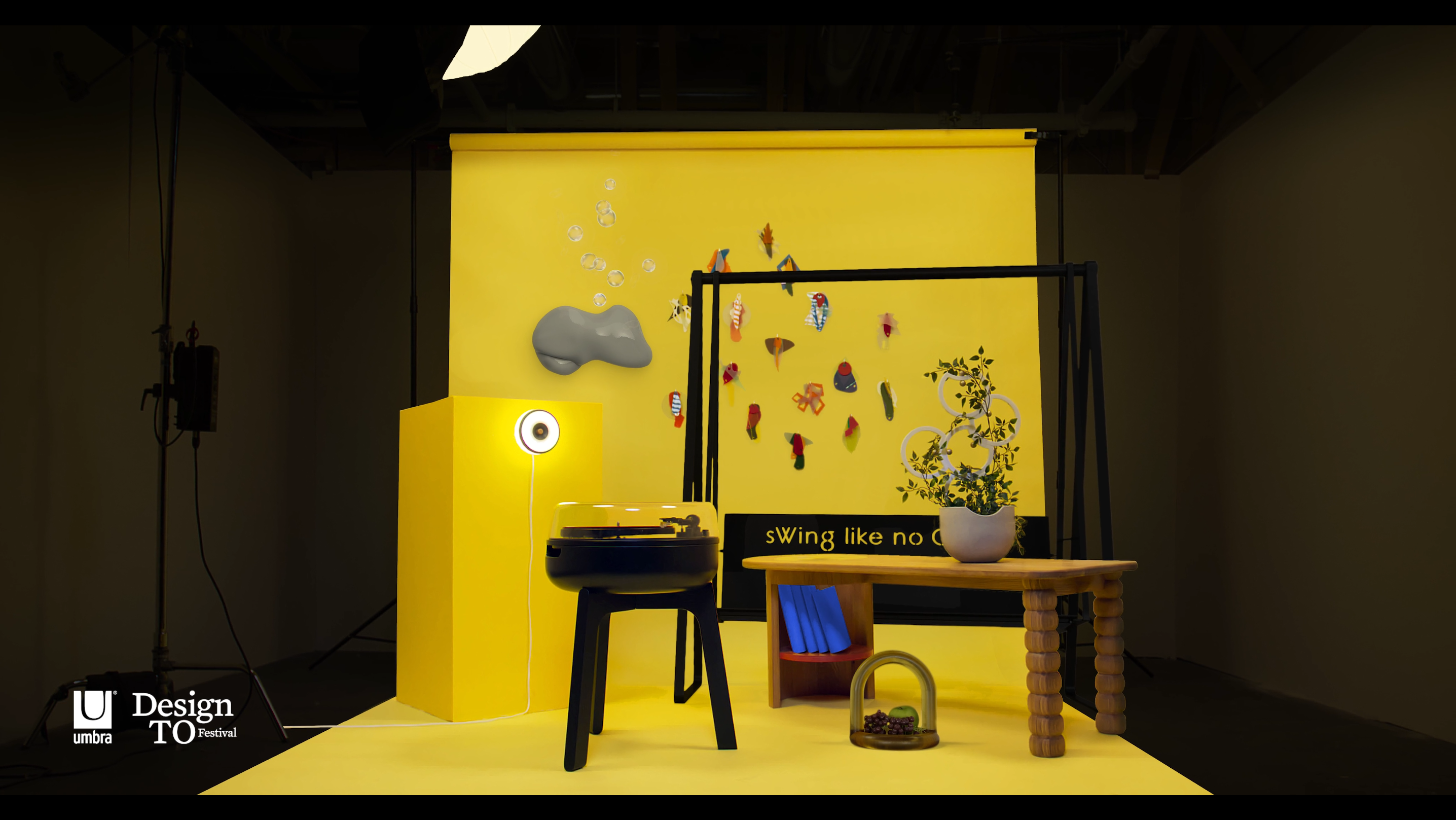 Submission Deadline
Friday, August 26, 2022
Prototype Exhibition
'Purpose & Play'
Going into its eighth year, 'Purpose & Play' is the latest edition of the annual prototype exhibition organized by DesignTO in partnership with Umbra. A dozen new prototypes by Canadian designers are shown each year at the Umbra Store during the DesignTO Festival. 'Purpose & Play' invites any Canadian designer (living here or abroad) to submit to this open call for submissions.
About the exhibition
Showcasing the work of Canadian designers, 'Purpose & Play' is an exhibition that explores fresh and original housewares and working products for contemporary life. Previous editions were 'Work/Life' and 'Compact Living'.
'Purpose & Play' will run January 16-February 5, 2023, overlapping with the annual city-wide DesignTO Festival, January 20-29, 2023. All selected prototypes will also be considered for addition to Umbra's growing roster of quality products, to be manufactured, distributed, and sold through the Umbra brand, with royalty. For example, The Bolo Planter by Simone Ferkul has been in the Umbra collection since 2018, and the Cono Lamp by Allstudio is being produced by Umbra and will soon be available for purchase globally.
Call for submissions
The ongoing global pandemic has prompted us to reconfigure many aspects of day-to-day living. From the beginning, individuals were tasked with the challenge of adapting their lives to fit the ever changing conditions posed by the pandemic. Spaces previously reserved for specific activities took on multiple purposes with many of them still holding on to these new identities today. 
In a time when everything is changing, how can we ensure that our environments remain up to date with our needs? What products of spontaneous innovation spurred by the pandemic should become staples in our homes? How can we experience our environments anew after so much time in confinement? 
Drawing upon these conditions, the exhibition invites designers to explore redesigning objects that are underdesigned or often overlooked in the domestic environment. What products are due for reinvention? Consider opportunities for joy, humour, experimentation and play as last year's Best Product Award recipient Hi Thanks Bye demonstrated with their design for Blob: a cloud-like bubble machine to distribute hand sanitizer. The exhibition invites designers to think about the whole environment that we live and work in, and welcomes creative responses to the theme.
Design considerations
An understanding of Umbra's core values: modern, original, casual, functional, and affordable

Opportunities for joy, humour, play, multiple functions, adaptability, personalization, entertaining, and other ways domestic objects can be fun to use and fun to own. (See Umbra's Strumba Kalimba as one example.)

Anticipate or integrate technological developments 

A product that can be used in multiple contexts

A

product with a long lifeline

A product that you want, and that you can afford

Aesthetics, functionality, manufacturability

Global appeal
Submissions of new work are preferred and strongly encouraged; however, we will consider submissions of work that have been publicly displayed before. Applicants can submit more than one entry using one submission per form.
All submissions must include the following:
A description of the product (max. 150 words) — please be sure to include the following details: title, function, materials, dimensions;
A short bio on you and/or your creative practice (max. 150 words);
2-3 images of the prototype, such as a digital rendering, drawing, or sketch (max. 2MB per image);
Your contact info (name, email, phone number, mailing address), and website URL and social media handles (if available);
Signed copy of Umbra's Design Submission Agreement (in PDF format).
Deadlines
All submissions are due Friday, August 26, 2022 by 11:59pm ET.
How much does it cost?
There is no fee for this submission or for participating in the Prototype Exhibition. However, if selected, you will be responsible for arranging drop-off and pick-up of your prototype to the Umbra Headquarters, 40 Emblem Court, Scarborough, Ontario at your own cost. Please coordinate accordingly, as Umbra and DesignTO are not responsible for shipping. Artist fees will be paid to designers selected for the exhibition.
When does the prototype need to be done?
The prototype does not need to be made when submitting to the call. Designers who are selected will be required to produce a prototype of their submitted design and ship the prototype to arrive by November, 25, 2022 latest. The Umbra Headquarters warehouse closes at 4pm. The last acceptance of delivery is at 3:30pm. Additional details will be sent to successful applicants.
Prototype Size Restrictions and Requirements
There will be size and weight restrictions on prototype submissions due to limitations on filming space (for marketing and promotions) and for display.
Size and Weight:
Fully assembled prototype (ships assembled and does not require assembly):

Prototype must not exceed 95 inches by 46 inches.

Knocked down prototypes (ships disassembled and require assembly):

Each disassembled part must not exceed 95 inches by 46 inches.
The fully assembled prototype must not exceed 4 feet wide by 8 feet long.
The assembly should require no more than 2 people.

Weight must not exceed 250 lbs.
Please note:
If the prototype needs to be wall mounted, designers must provide the wall mounting hardware.
If the prototype requires props to communicate its purpose and/or enhance its visual, the props must be provided by the designers.
If the prototype requires power/electricity, please let the team know in advance.
Who can apply?
All Canadian designers can apply. This includes Canadians living abroad, and anyone currently living in Canada. Students can apply as well.
When and where is the exhibition?
The exhibition will open Monday, January 16 and run until Sunday, February 5, 2023. An opening reception will be held during Festival Week if permitted by pandemic protocols. The exhibition and reception will be held at the Umbra Store, 165 John Street, Toronto. We reserve the right to modify dates and delivery formats if required.
We highly recommend the designers be present at the opening reception if permitted by pandemic protocols.
What happens next?
Successful submissions will be notified by email mid-September 2022.
Questions?
Email any questions to Robyn Wilcox, Head of Programming, at [email protected] with this subject line: Prototype Exhibition + your name.