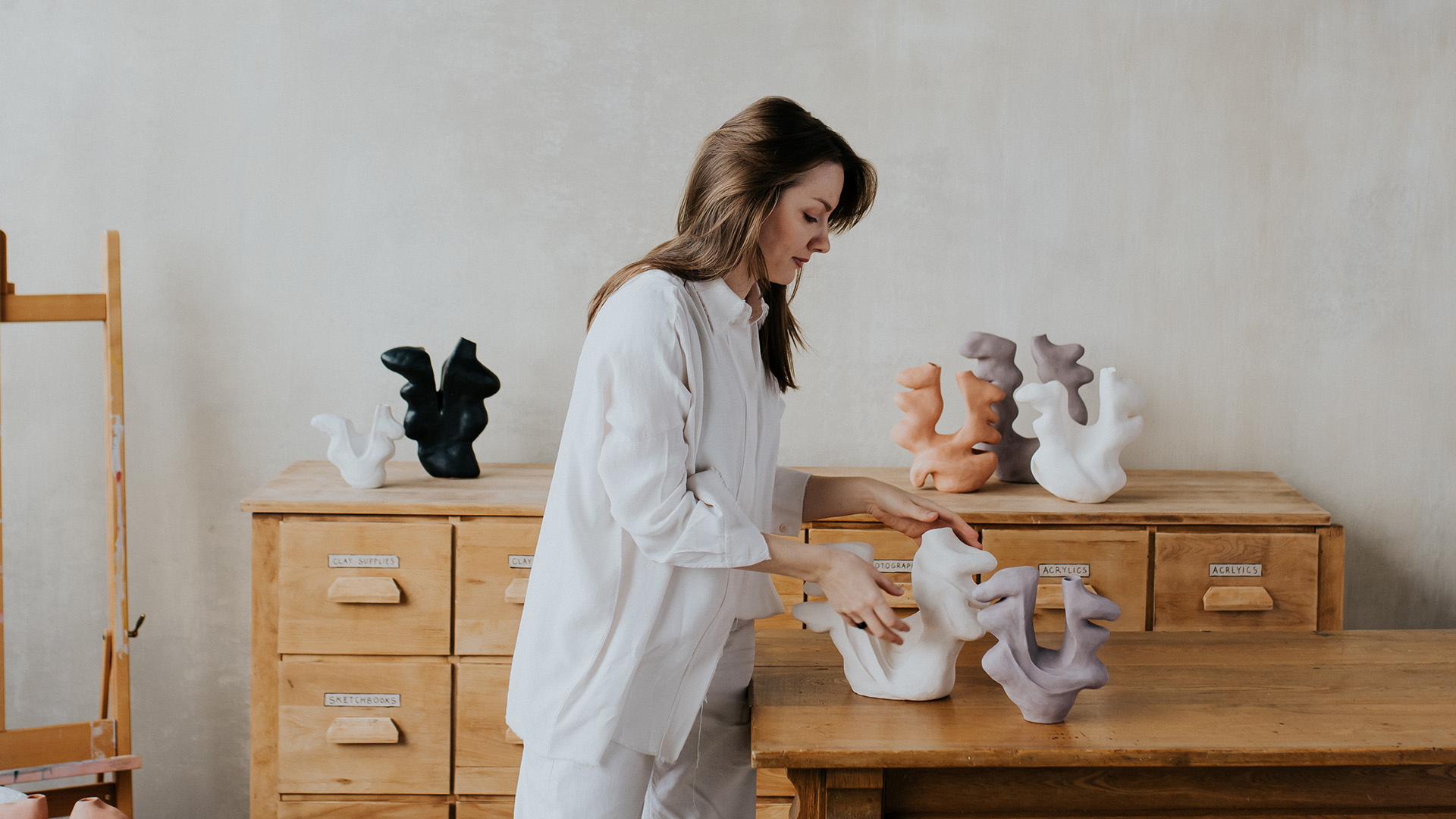 2023 DesignTO Festival Awards winner, artist Elena Mahno, discusses shifts in her career, the importance of wellbeing, and her X-Men blockbuster movie cameo.
How would you describe your profession and your practice?
I'm an artist currently focusing on ceramics as a medium. My practice straddles sculpture and craft, often looking to form to represent conceptual themes with a bit of sneaky utility. 
Has your work changed over the course of your career?
Significantly, actually! I started in a different field, studying biomaterials and manipulating their specific properties to help heal the body. After a career journey through design and adjacent industries, it's a full circle moment to be on the receiving end of materials-based healing but now from a wellbeing standpoint: many artists experience flow and a sense of groundedness when working with their medium. For me, originally, this stemmed from throwing on the wheel. Somewhere along the way I found I had more to say than I could fit into symmetrical shapes. I picked up hand building which is the technique I use to create the majority of my current work, however I wouldn't put it past me to mix techniques and broaden my repertoire of materials in the future.
What was your"eureka!" moment that made you realize that art/design was the route you wanted to take?
Growing up, I distinctly remember having a phase when I wanted to be an interior designer. Frankly, I doubt I knew what that entailed since it wasn't a typical career option in Eastern Europe in the early 90s. However, I was enrolled into art school and I spent most of my free time creating environments, props, and clothing. I learned how to sew and knit at a very young age and would race home after school to see whether I could beat my own time record for creating a doll garment – my dolls had extravagant wardrobes! In this sense, I think I always "knew" but it's a strange kind of knowing when it's not mirrored back to you by your surroundings. After immigration and a lengthy detour through other equally fascinating interests, I found my way back slowly, first by dipping a toe into communication design, then experiential, and finally into design innovation. Somewhere in the midst of the pandemic days, full of back-to-back client calls, I realized I was still playing it safe. Clay stuck because even in the process of learning, trying and failing, it felt like I'm that kid again, rushing home excited to work on a project. So maybe not a "eureka" moment but a slow burn back to myself.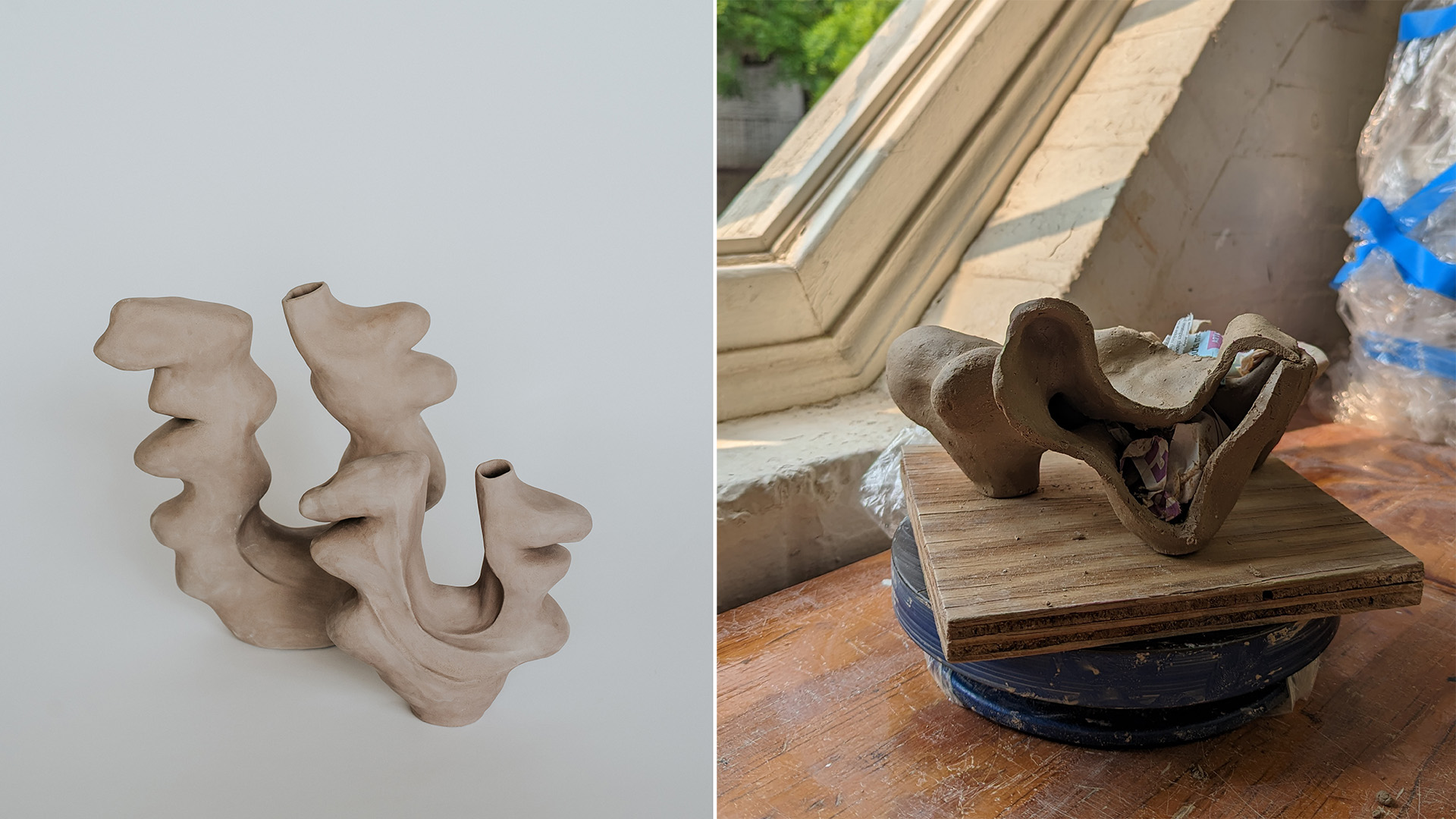 Is your work inspired by anything in particular? What turns you on creatively?
Conceptually, my work explores themes of identity, change and personal experiences of being a woman. I've been fortunate to live across several cultures and professionally try out multiple careers. I often borrow, cross-pollinate, and remix insights and observations from these experiences. Aesthetically, I reach for symbols that remind me of my roots, especially those that I see have different meanings cross-culturally. I like to bring the hidden to the fore with my work as much as possible, sometimes in a cheeky way. The careful layering of concept, references, and technique is the ultimate turn-on creatively for me.
Which designers or artists inspire you and why?
This is ever changing for me. Currently I find it important to look to examples of artist diaspora who've had to negotiate being from "elsewhere" with the aesthetics of their Western lives. I'm inspired by the fearlessness in Maria Pergay's (Moldovan) furniture and her ability to render metal into its most elegant form. On the sculpture side, Constantin Brancusi's (Romanian) lines and attention to space between the objects is something I always come back to; I'm interested in not just an object's form but also the negative spaces and group composition. I've also been reading more about Vera Mukhina. She's a Latvian-born sculptor who commanded presence through bronze sculptures in socialist modernism, art deco style with movement that's unexpected from that material. When it comes to contemporaries, I really appreciate the designs coming out of Rooms Studio (Georgia). They bring a lot of cultural authenticity to their work that still feels very accessible, relatable and forward looking. What was the name of your DesignTO Festival installation and what did attendees experience?
My window installation was named 'Eating Cherries, Braiding Hair', in a nod to leisurely hangouts and in juxtaposition to the theme explored. The ceramic vessels were inspired by silhouettes of a pinafore, a symbol of women's labor and part of school uniforms that were dominant where I grew up but I didn't get to experience due to relocation. It's a commentary of how much of women's labour often goes unseen and at the expense of personal dreams and aspirations – something we as a collective have once again been reminded of over the past few years. It was also a moment for me to memorialize these alternative selves that we leave behind when life asks us to pivot. I'm very proud that this installation was granted a DesignTO People's Choice award.
How long have you been involved with DesignTO? Why is DesignTO important to the creative community, here as well as abroad?
This is my first year having presented with DesignTO, however I've been attending the Festival's events for years. When I was a grad student studying sciences, I would wander around the city and admire the annual exhibits, feeling like I had something to contribute but also sad that this world felt so out of reach because I chose a different path. Having seen the variety of programming offered these days feels like there's home for everyone. It's an important platform for both the creative community and the audience at large as it elevates the overall design literacy by showing all facets of design from materials to systems, from personal to political. At the same time DesignTO fosters an appreciation for just how rich the design community is in our city. Oftentimes design work happens behind closed doors – DesignTO brings it to the fore.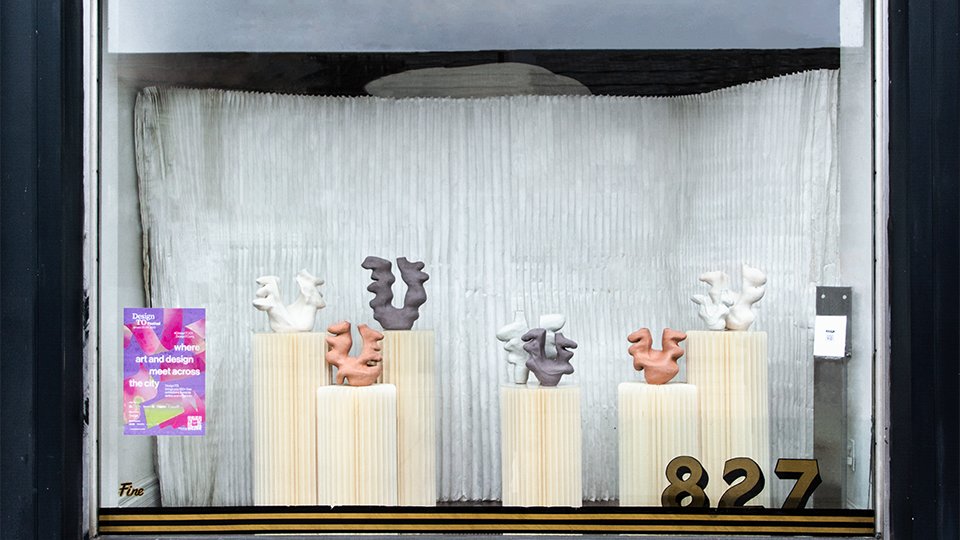 Do you have any memories from past DesignTO Festivals you want to share?
I think I'm eclipsed by the most recent one, when I spent the day walking the Dundas West corridor admiring the window installations and feeling lucky to be part of this group. I then headed to the Trinity Community Recreation Centre for a panel where I got to meet some of these artists in real life and it just felt like such a great balance of a remote/in-person experience. 
Lastly, what random fact about yourself would you like to share with the DesignTO community?
I once attended the Xavier School for Gifted Youngsters (X-Men, 2000). In the scene where Wolverine accidentally attacks Rogue, you'll find yours truly in the doorway full of curious onlookers.
---
Want to show your work at the 2024 DesignTO Festival? Visit our How to Participate in the 2024 DesignTO Festival page for more information.