DesignTO Tours: Building Blocks – CANCELLED
DesignTO projectevent: tour in-person
Due to the current pandemic restrictions in Toronto, the project has been cancelled.
–
Discover three installations in the Trinity Bellwoods neighbourhood that explore ideas of interconnectedness, modularity, and relationality. On this walking tour with DesignTO, hear from multidisciplinary artist/designer Norwin Anne, artist Tracey-Mae Chambers, and design studio Unitfive.
Self-described multidisciplinary artist/designer, eco-culture communicator and (re)maker of things, Norwin Anne's window installation 'Crisis of Convenience [w.a.s.t.e]' reflects on our toxic relationship with plastic. Their installation, consisting of bags handmade with pre-owned textiles and screen printed with abandoned paints to resemble the classic plastic bag, prompts us to consider our role within "waste culture" and posits the need for a system where everything and everyone has a purpose and value.
Through her Canada-wide project '#HopeandHealingCanada', Métis artist Tracey-Mae Chambers weaves red yarn into site-specific temporary installations in an effort to create connections between people and communities. Following the isolation of COVID-19 lockdowns and the discovery of the remains of 215 children buried on the Kamloops Indian Residential School grounds, Chambers aims to create moments of discussion, reflection, and healing.
Using the notion of building blocks as a conceptual jumping off point, Unitfive Design's site-specific installation 'OWEN' exists as a formal exploration of proportion, scale, and texture. Each sculptural "unit" functions as a singular element within a larger configuration, allowing the positioning of the works to be flexible and subject to change over the course of the exhibition
SPEAKERS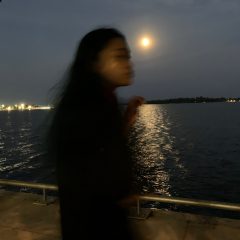 Norwin Anne is a Filipinx multidisciplinary artist/designer, eco-culture communicator and (re)maker of things. They studied Fashion Techniques and Design at George Brown College, primarily working with second hand materials. They started focusing on textile waste as a research study during school, which evolved to learning more about the concept of waste in general and visually translating these topics through culture jamming and creating work that always prioritizes using random discarded belongings.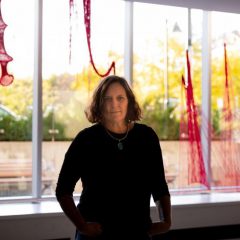 Tracey-Mae Chambers is a Métis sculptor and installation artist based in Simcoe, Ontario. Committed to art as a vehicle for social change, her work has been featured in solo and group exhibitions in Canada, the United States, and Europe. Her work is also included in numerous public and private art collections. Chambers has been awarded several artist residencies, including Artscape's Gibraltar Island Residency. Her work has also been the subject of feature articles and interviews by CBC News and CBC Radio.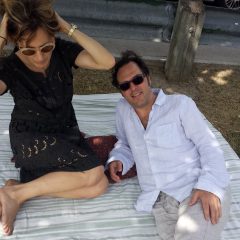 Founded in 1996 by Lisa Santana and Kelvin Goddard, Unitfive Design Inc. custom designs and handcrafts signature lighting, store fixtures, furniture and sophisticated objects for retail, hospitality and private clients worldwide. Their decades-old exploration of metalwork has allowed them to combine traditional techniques with modern manufacturing technologies. They have explored the transformative properties of metal in all of its forms and finishes. Both Lisa and Kelvin have a unique understanding of the creative process from a designer's perspective. The studio possesses a rare balance of architectural experience with a comprehensive understanding of production.
–
The walking tour will meet inside St. Agnes' Parish at 15 Grace Street (at the corner of Dundas Street West) for presentations by the artists and designers, before walking together to view the three projects. Please note that part of the tour will take place outside, so please dress warmly.
Organized by DesignTO. Supported by the Trinity Bellwoods BIA.
Participants
Norwin Anne, Tracey-Mae Chambers, Unitfive Design
Accessibility
Who should visitors contact with questions regarding accessibility?
Are designated parking spots for persons with disabilities close to the entrance of the building?
Yes
Can people get to the venue using accessible transit?
Yes