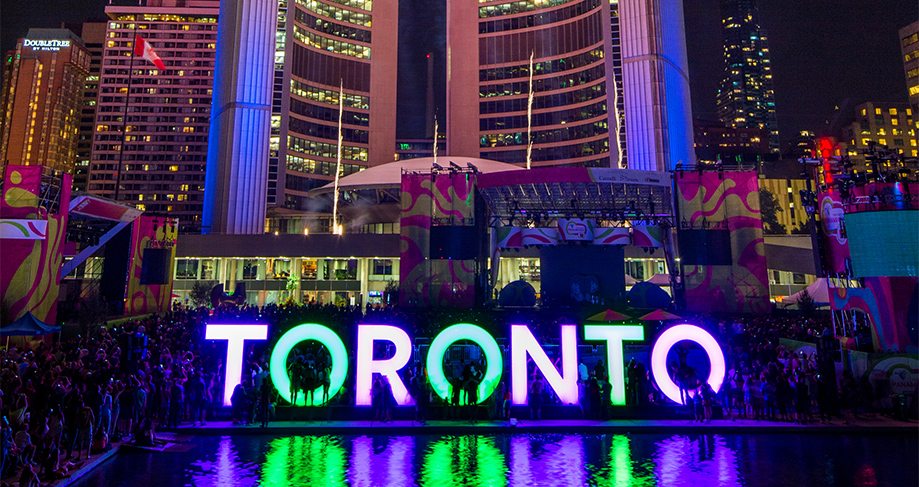 Cozy up to Toronto
DesignTO is where art and design meet at over 100 exhibitions and events across Toronto. We've made it even easier to enjoy Toronto with an incredible hotel package, guided bus tours, shopping discounts, travel info, and more.
Over 100+ events and exhibitions are free, and the rest require a ticket. It's easy to attend: browse the schedule and select an event to find out whether it is free, requires free registration or a ticket.
DesignTO 2019 Tickets
There are over 100 events, exhibitions, and window installations happening at DesignTO 2019, and most are free. Here are some events that require tickets:
DesignTO Festival Launch Party
Jan 18, 2019
DesignTO Guided Bus Tours
Jan 19, 20, 26, 27, 2019 (included in hotel package)
DesignTO Symposium
Jan 26, 2019
The Future of Work(ers)
Jan 24, 2019
DesignTO Talks: Studio Swine
Jan 25, 2019
TO DO or Die Dance Party
Jan 26, 2019
Visit the links above to learn more about these events and purchase tickets.
Staying in Toronto: Gladstone Hotel Package
Book an artist-designed hotel room at the historic Gladstone Hotel for stays between January 18-27 and get our design week special rate, which includes a welcome cocktail, complimentary access to the hotel-wide exhibition Come Up To My Room (Jan 17-20), as well as a DesignTO Guided Bus Tour of festival exhibitions. Rates are $179 for a Classic Room and $229 Gimme More Room. Book online by clicking here. Use the "Corporate ID" code DESIGNTO to access these rates.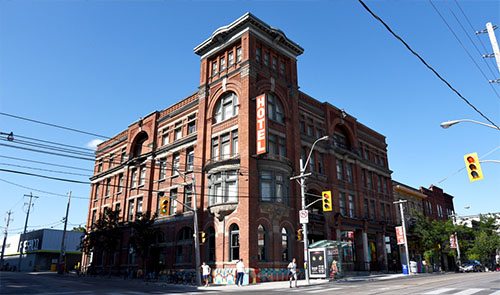 The Gladstone provides access to art 365 days a year. Partnering with community organizations (including DesignTO) and art curators, the Gladstone produces a wealth of exhibitions and programs for its visitors.
DesignTO is proud to partner with the Gladstone Hotel to present Come Up To My Room 17 and the Love Design Party, our official closing party.
Guests can call (416-531-4635) or email [email protected] to make reservations.
*Bookings are on a first come, first served basis. Holds on hotel rooms are not permitted. Offer valid only on rooms booked between January 18 – 27, 2019.
Getting to Toronto
By Car
Toronto is easily accessible by several highways, including Highways 2, 401, 407, and the Queen Elizabeth Way. The nearest Canada-U.S. border crossings are at Niagara Falls, Fort Erie, and Windsor.
By Train
VIA Rail and AMTRAK bring visitors directly into downtown Toronto's Union Station, which connects to the subway by underground tunnel.
By Plane
Toronto is served by two airports: Toronto Pearson International Airport and Billy Bishop Toronto City Airport.
Toronto Pearson International Airport is is Canada's principal airport with travel connections to every continent. When you land, there are a number of ground transportation options you can use to get to downtown Toronto.
Billy Bishop Toronto City Airport is located on Toronto Island, and is connected to mainland Toronto by pedestrian tunnel. Minutes from the downtown core, access into the city can be made by shuttle or taxi service. It is served by both Porter Airlines and Air Canada.
Shopping + Museum Discounts
Buy a DesignTO Membership to receive up to 20% off at museums like the Royal Ontario Museum, Gardiner Museum, and Design Exchange, and 15% off purchases at shops like MADE Design and Umbra, who sell Canadian-designed goods.
Learn more about Membership here
Festival Planning Tools
Festival Mobile App
Plan your DesignTO 2019 experience using our Festival Mobile App, available for iPhone and Android. The app features a complete list of Festival Week exhibitions, openings, parties, and events; photos and photo navigation; a Festival map and calendar; a news feed from the Festival website; and automatic updates for new events and photos.
Festival Map
Use the Festival Map to plan your festival week. Don't forget that there are usually several projects clustered together.
Printed Festival Guide
The Festival Guide is a detailed and informative design week tool. This printed guide is a handy companion, providing a comprehensive map of the city, and detailed information for all Festival Week projects.
Getting around Toronto
Toronto Transit Commission (TTC)
The TTC is $3.25CAD per ride and a quick, convenient, and safe way to get around Toronto. The subway system is linked with buses and streetcars to get you to your DesignTO destination. It operates on a "transfer" system, so don't forget to pick up a proof-of-payment when boarding.
Purchase a weekly pass for unlimited rides, or explore other pass + fare options.
Uber
Uber connects you with a reliable ride in minutes. One tap and a car comes directly to you. Download the app today.
Beck
Beck Taxi is an iconic part of the city of Toronto. The distinctive fleet of orange and green vehicles a
re instantly recognizable, citywide. Download the app, or call 416-755-5555 to order your taxi today.
Accessibility
Accessible Customer Service Policy
As outlined in our Accessible Customer Service Policy, DesignTO will accommodate service animals and support persons. People with disabilities may use their service animal in all parts of our events that are open to the public, unless the animal is excluded by law, such as in food preparation areas.  In this case, we will ensure that appropriate alternative arrangements are made to ensure that people can access the service.
Accessibility Requests
Our staff are assigned to respond to accommodation requests and barriers in advance of the Festival, working in conjunction with the venues that host the events. If you have an accessibility request, please contact our Volunteer Coordinator at [email protected] or call 647-309-5494. If you have an on-site request please find a DesignTO Volunteer or venue operator in order to make them aware of your requests. In the event that you need further assistance, please email Executive Director Jeremy Vandermeij at [email protected].
Accessibility Feedback
DesignTO welcomes feedback on its accessibility policies and practices.  Please relay feedback to our Volunteer Coordinator at [email protected] or 647-309-5494.
Wheel-Trans – Accessible Public Transportation
Wheel-Trans (run by the TTC) is $3.25CAD per trip, and provides registered users door-to-door accessible transit service for persons with disabilities using accessible buses, contracted accessible taxi minivans, and sedan taxis. To register as a user, contact Wheel-Trans Customer Service department at 416-393-4111 or [email protected], Monday to Friday 8 am to 4 pm.
Wheel Chair Taxi
Wheel Chair Taxi provides wheelchair and accessibility device friendly transportation in Toronto and the GTA. For the most expedient service, book your trip with Wheel Chair Taxi 12 hours ahead of time. Their drivers will meet at the prearranged location, ready to attend to your needs. For more information on our accessible taxi service, call them at 416-766-9922, email them at [email protected], or book online here.
Venues
90% of Festival Week projects are independently organized by designers, businesses, and institutions. In order to provide more information on accessibility at these venues, we have indicated on the Festival Schedule venues that offer accessible access from the street with an icon.
Please note that this icon does not mean venues have accessible washrooms. If you have a mobility device, or unique mobility, we recommend that you plan your route in advance, and contact each venue to ensure that they can meet your needs.
Stay in touch
Newsletter
Sign up for the DesignTO Newsletter to stay up to date with news, events, and all things design. DesignTO Newsletter subscribers will receive newsletters during the year, informing you of engaging exhibitions, innovative installations, exciting events, and more. You may unsubscribe at any time.
Sign up for the DesignTO Newsletter
Social Media
Share your #DesignTO19 experience with your friends back home! Tag us in your Festival photos and posts, and be sure to check out our social channels for live updates throughout the week.