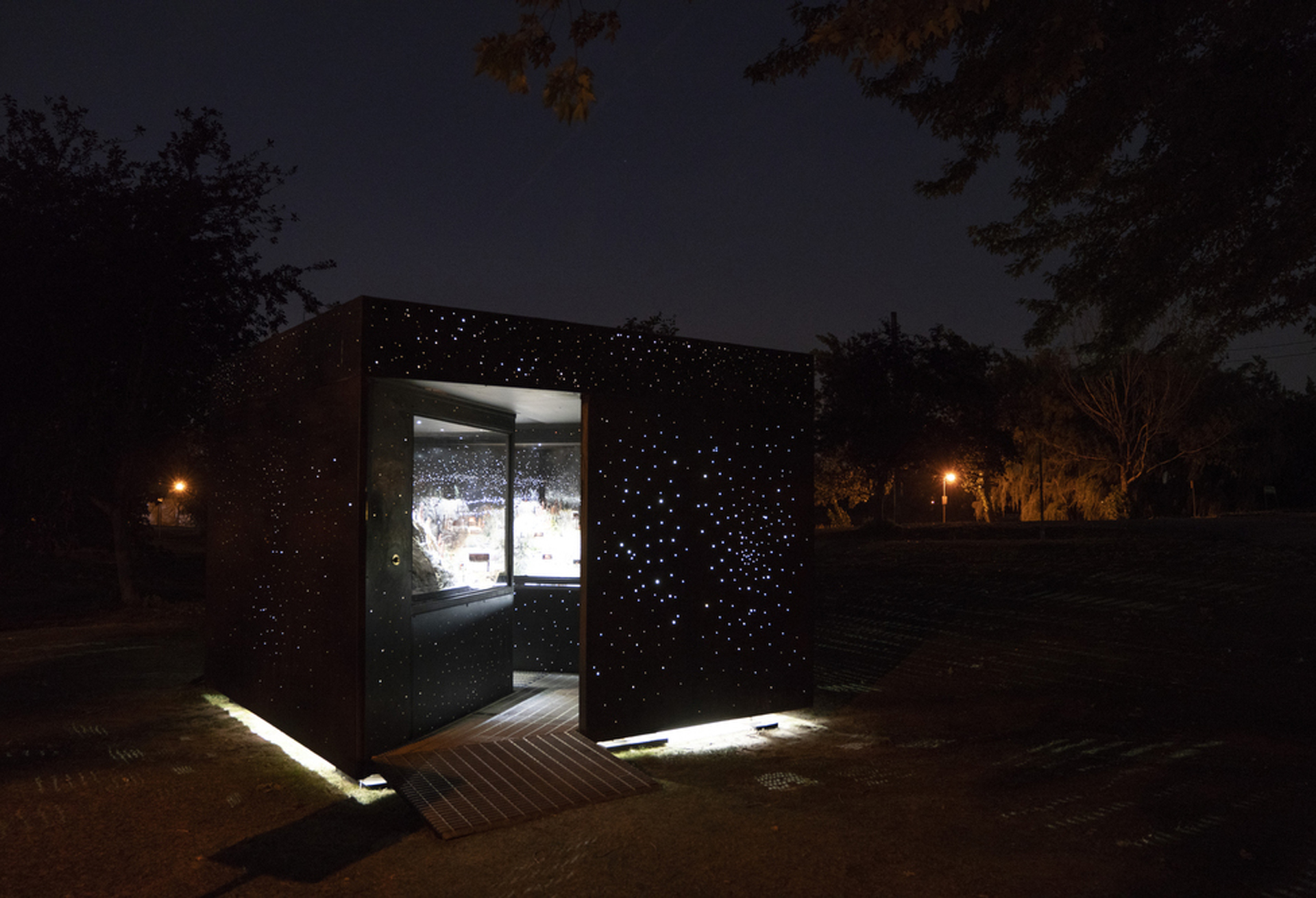 Feeling cooped up this winter? We're here to help invigorate. Get inspired, get those steps in, and fall in love all over again with Toronto's abundant creativity. See the city with fresh eyes, at exhibits and installations that can be viewed from outdoors 24/7.
Below we've highlighted just a few from across the city, but be sure to check out the full Festival schedule for more.
---
Dementia Miniature Suite
January 20 to February 3
Augustus Jones, 33 Davies Ave
An 18″ x 11″ x 10″ miniature room box of a kitchen. The room includes multiple miniature wall clocks, all showing a different time. But what time is it? This window display is about dementia, specifically the designer's mother's.
---
Territories 2.0
January 20 to April 2
Sugar Beach Park – North, 1 Lower Jarvis St
Located in Sugar Beach Park – North, a dark cube houses miniature landscapes by artist Olivier Roberge depicting a natural environment that has been transformed by human intervention and climate change.
---
---
Irresistible Indigo
January 20 to 29
Gravitypope, 1010 Queen Street W
Presented at Gravitypope, 'Irresistible Indigo' is a window installation by block printer and experimental textile artist Hyunjung Lee. This series includes indigo-dyed textiles Hyunjung reinterpreted and reinvented taking inspiration from indigo dyers across the globe.
---
Experimental Collage – Series 3 by Warren Steven Scott
January 21 to 30
Comrags, 812 Dundas Street W
Scott has returned to present a new body of artworks, his third in the series. These limited series of artworks, made from leftover acrylic sheet materials from his earring production, explore ideas surrounding the duality of tradition and modernity. 
---
What Was, Now Is
January 20 to 29
Capri Shoes, 820 Dundas Street W
In this first collaboration, 'What Was, Now Is,' artists-designers Hilary Arellano and Holly Chang combine their multidisciplinary practices to dream up new terms for the life cycle of natural waste.
---
---
Salt Frames
January 19 to February 2
Clementine's, 1054 Yonge St
Salt Frames, an exploration of the biology and geometry of salt fields using the medium of champagne glass. Inspired by aerial views of salt fields, art and design is merged into a series of screens and tables presented at CLEMENTINE'S.
---
STACKABL x The Lobby by Heaps Estrin
January 20 to March 31
The Lobby, 1120 Yonge St
STACKABL exhibits six in-house-configured pendants to spark conversations about the circular economy and the future of collectible design. See the lights 24/7 at The Lobby, a community-driven space where creativity, inspiration and expertise come together, and try the configurator yourself.
---
The 2023 DesignTO Festival runs January 20-29, 2023 at venues across Toronto. View the full Festival Schedule and start planning your Festival experience.