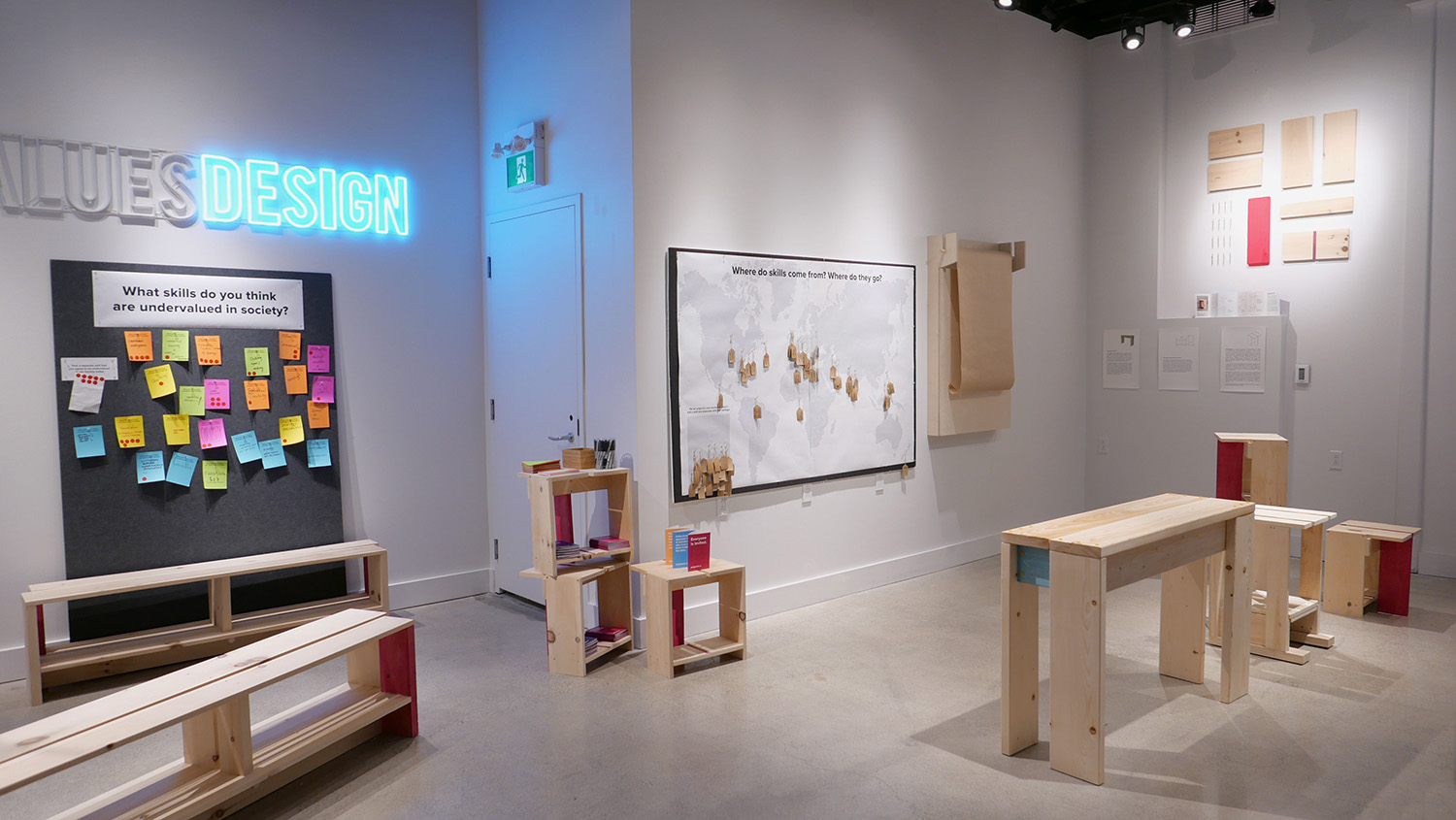 Design is an exciting field encompassing a wide range of industries and practices. According to the Interaction Design Foundation, an online school specializing in User Experience (UX) design, in its essence, design is about problem-solving, employing creative and critical thinking to tackle challenges and fulfill needs by developing products, services, systems, and spaces.
Although most commonly associated with the tangible, design is much more than the tactile elements for which it's known for. Design, whatever the output, is concerned with the human condition. As photographer Wolfgang Tillmans describes, "I'm aware that architecture is an expression of desires, ambitions, and hopes, as well as of myriad practical needs and limitations, and that only together do they shape a structure's design." In this article, we discuss design's unseen role in bettering society, the environment, and individual joy and well-being.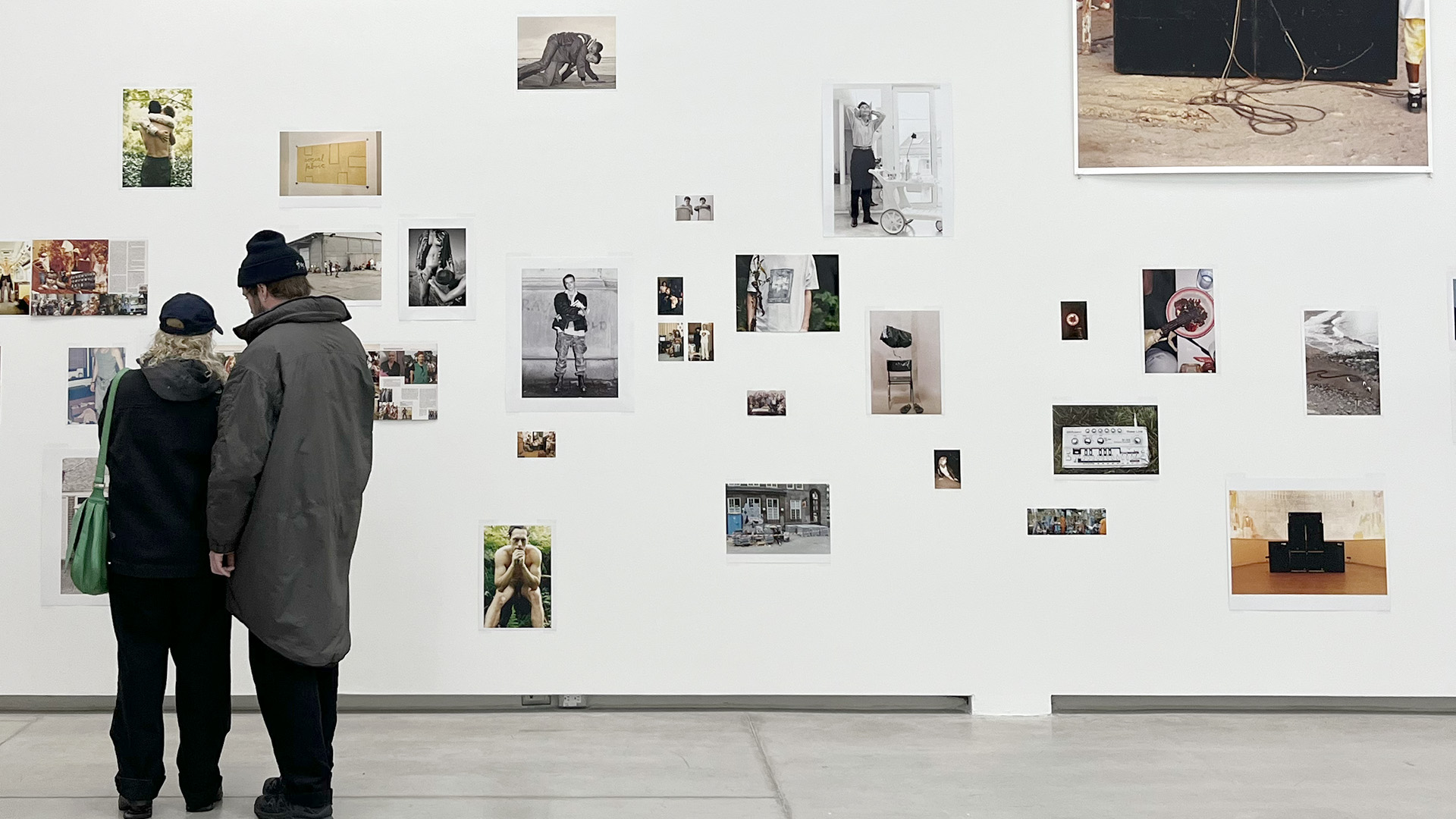 The Transforming Power of Design
When executed properly – through research, understanding context, and gathering insights – design has the power to make the world a better place. Here are some areas where it can have a positive impact:
Social Justice and Design
Typically seen as an industry focused on products and aesthetics, design can also be a formidable tool for the advocacy of social justice, creating solutions that promote diversity and inclusion, and address inequality, discrimination, and oppression. The social justice non-profit Creative Reaction Lab (CRXLAB), founded by Antoinette Carroll, is an example of an organization using design to empower youth to challenge racial and health inequities impacting Black and Latinx populations in the United States. Unlike more traditional design process models which utilize an observational approach, Carroll and CRXLAM developed the Equity-Centered Community Design (ECCD) method which encourages participation of the community and incorporates the cultural needs of this demographic. By considering the needs and wants of the community, designers can gain insight and develop the tools necessary to dismantle systems of oppression. The ECCD method has been incorporated into such community services as child health and wellbeing, criminal justice, healthcare, and employment and job access in 16 cities across North America and the United Kingdom.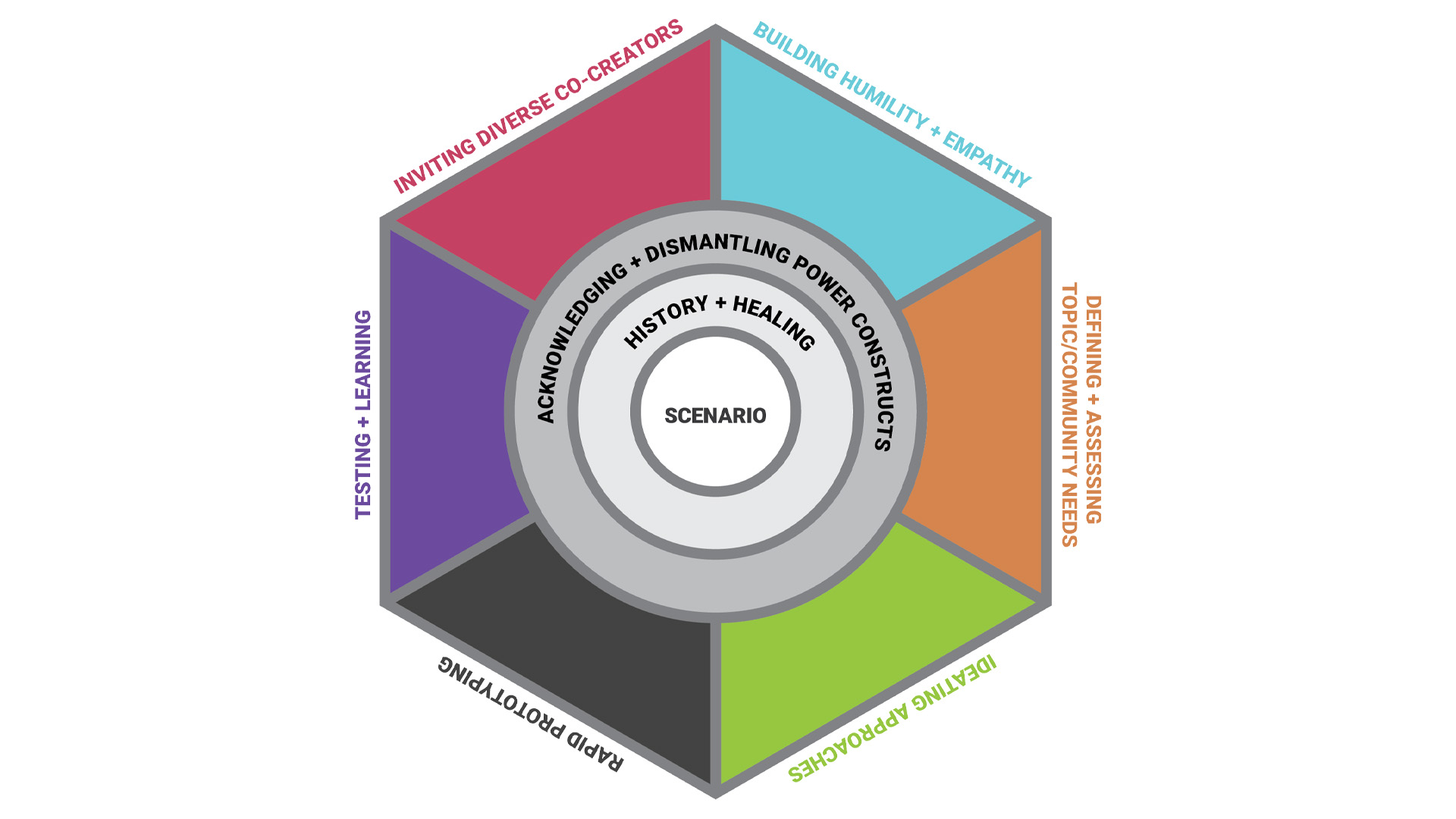 In Canada, organizations such as Black Architects and Interior Designers (BAIDA) and Building Equality in Architecture Toronto (BEAT) are working with the community to empower designers and architects. BAIDA is a non-profit organization made up of students, planners, interior designers, and architects. Through their work, BAIDA aims to support diversity, equity, and inclusion in the profession of architecture and interior design. "We want members of our community to be a part of the discussion in a way that will inspire the next pipeline of architects. The only way we can do that is through outreach and an element of understanding about which communities are, or were previously, Black-owned," explains BAIDA co-founder and architect Farida Abu-Bakare in a previous discussion with DesignTO (Caring for Community: Farida Abu-Bakare on her Personal Philosophy, BAIDA, and Placemaking).
The organization's goal is to provide spaces and social networks where Black urbanists feel safe and empowered to be vocal about topics they feel strongly about, such as a lack of inclusivity in their chosen fields. "We need to be aligned with other organizations that are formulating those professions. If we have places on boards, we are able to actually change how young Black professionals are perceived when entering the market," says Abu-Bakare.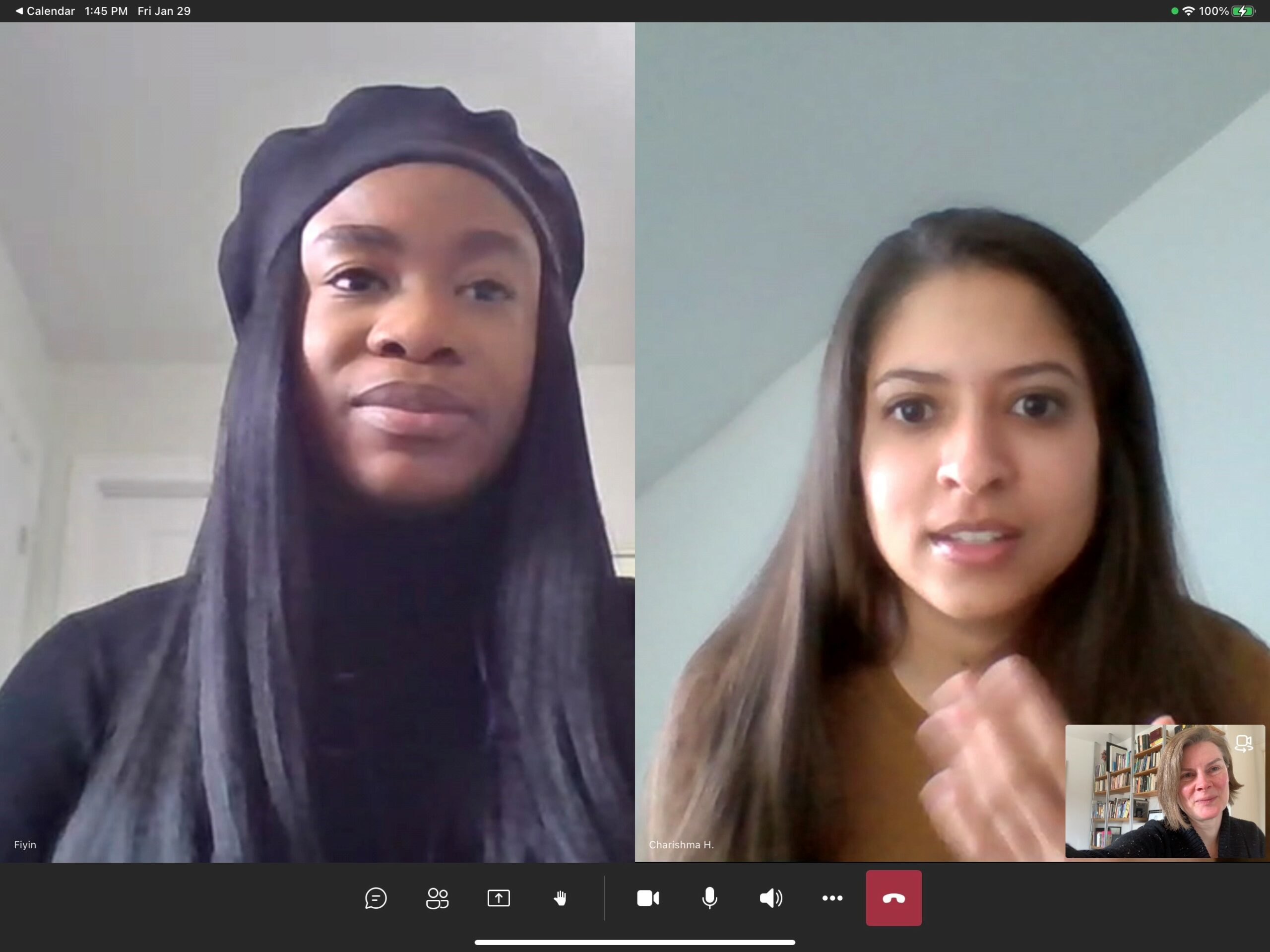 In March of 2015, during Women's History month, Building Equality in Architecture Toronto (BEAT) was launched under the leadership of Shirley Blumberg, a founding partner of KPMB Architects. Created as a response to the lack of representation of women in architecture, BEAT aimed to empower women in the design community. Through their work and events such as the BIPOC Portfolio Collaboration, where leading Canadian architects and designers review resumes and portfolios of BIPOC students, and BEAT//MIX, a networking event for underrepresented members of the architecture and design communities, BEAT is committed to creating lasting systemic and transformational change with purpose-driven action, openness, compassion, and respect for diverse perspectives. Today BEAT is joined by chapters across Canada including Northern Canada (BEANorth), Atlantic Canada (BEAA), and the Prairies (BEAP & BEACalgary).
At the 2021 DesignTO Symposium, 'Towards Inclusive Design', DesignTO invited speakers to discuss and promote the importance of inclusion and inclusive design principles, covering inclusive education, the business case for inclusion, accessible technologies, co-creation, decolonization, and other thought-provoking topics. The discussion brought together a diverse group of design professionals, educators, and community members to share their perspectives on creating more accessible design solutions.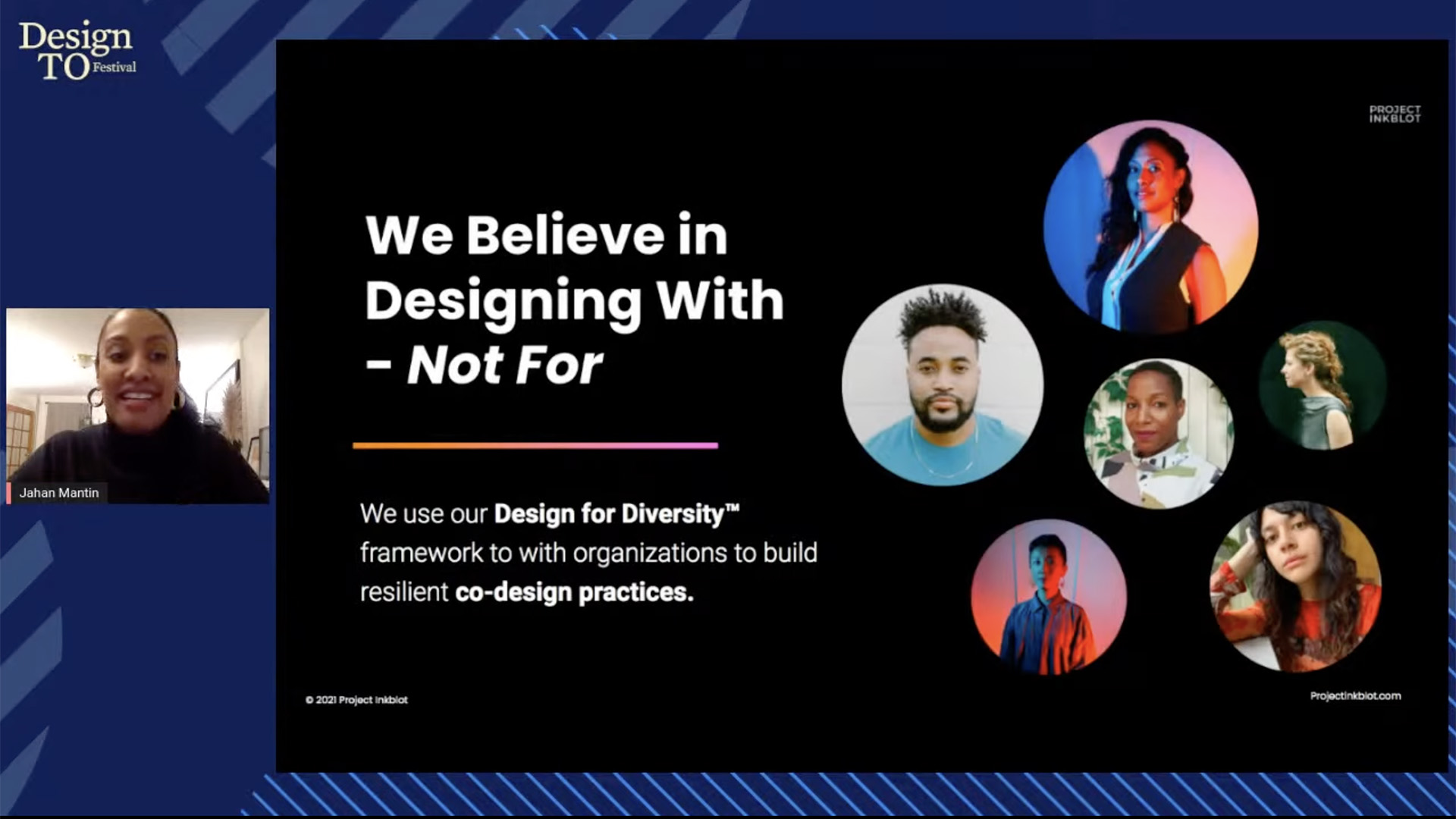 "How can we start to redesign so that the products, the services, the content we create have equitable outcomes, and most importantly, are centering those that are most impacted by the challenge at hand?" asked speaker Jahan Mantin, co-founder of Project Inkblot, who kicked off the 2023 Symposium. In her talk "Designing for Inclusivity," Mantin explains the importance of designing with and not for as a means of creating racial equity. Using a strategic framework that sheds light on cultural defaults, systems and processes created by the dominant culture, and addressing the root causes, Project Inkblot centres those most impacted by inequities and provides them with Inkubator fellowships as well as mentorship programs.
By addressing these major systemic issues, organizations such as CRXLAB, BEAT, BAIDA, and Project Inkblot are changing how we design and for who. Whether focusing on race, gender, or economic status, these champions of equality are empowering the very communities that have been pushed to the margins, and moving them to the forefront of the design process. As we continue to move away from the "designing for" model to a "designing with" approach, these organizations can start designing against the dominant culture, and instead design for all. 
Sustainability and Design
Design can play a critical role in creating a sustainable future. With increasing environmental challenges, designers are now being called upon to use their skills to develop products, systems, and spaces that minimize ecological impact and promote sustainable practices.
In the second installment of the 2023 DesignTO talk, "Sustainable Futures Part 2: Circular Systems," designers Anna Horváth, Ranee Lee, and Tnachon Benjapipatkul spoke about their creative practices and how they design from the perspective of circular systems: networks or processes where resources are reused, minimizing waste and promoting sustainability. Sharing examples of their work, this event aimed to raise awareness of the environmental impact of design choices and promote sustainable practices in the industry.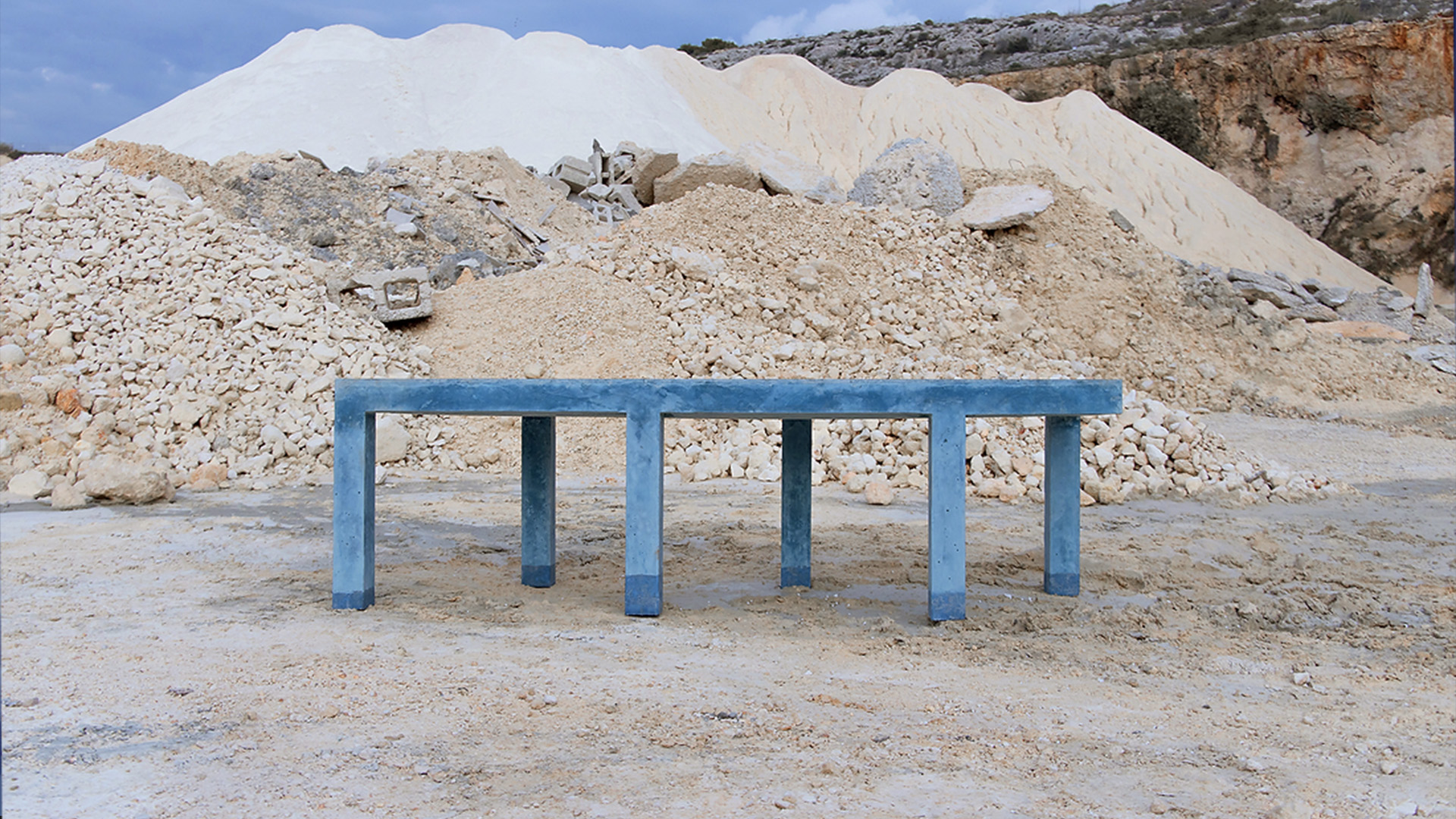 Horváth, a Hungarian-born narrative designer (the design of meaningful experiences in physical, digital, and hybrid environments), architect, and founder of Malta-based multidisciplinary design studio AHA, showcased her SORĠI collection, a research project and outdoor furniture collection made from construction waste. The collection, consisting of six benches, was made using the discarded materials (limestone, broken terrazzo, marble offcuts, and fragments of glass) of the six buildings that inspired them. Ta' Rita Lapsi View (a small café) became Rita, the Roxy Cinema became Roxy, the buildings overlooking the Grand Harbour became Emma, the Sun City Palais became Cini, a 19th century townhouse in Spinola Bay became Twinny, and Dolores was inspired by the many heritage buildings with balustrades. Through the SORĠI collection, Horvàth was able to shed light on the derelict public spaces and neglected architectural heritage buildings in Malta, while also finding a solution for the vast amount of construction waste accumulating on the small island. 
Product designer and Associate Professor in Industrial Design at OCAD University, Ranee Lee, spoke about DESIGNwith, a community focused design lab in Toronto she founded for social and environmental good. Working within a circular economy, the design incubator promotes reuse throughout the lab with projects such as tote bag making from discarded materials, furniture product lines using readily available materials such as wood framing rescued from the dump, and programming such as shoe making workshops that invite the community into the space to collaborate. 
"What has been changing in the design industry is the consideration of social and environmental sustainability. Consumers are demanding and expecting accountability and responsibility more than ever now," explains Lee. "By incorporating a cradle-to-cradle approach, designers have become more thoughtful by using sustainable materials, reducing waste, and designing for reuse, creating a circular lifecycle for products and systems."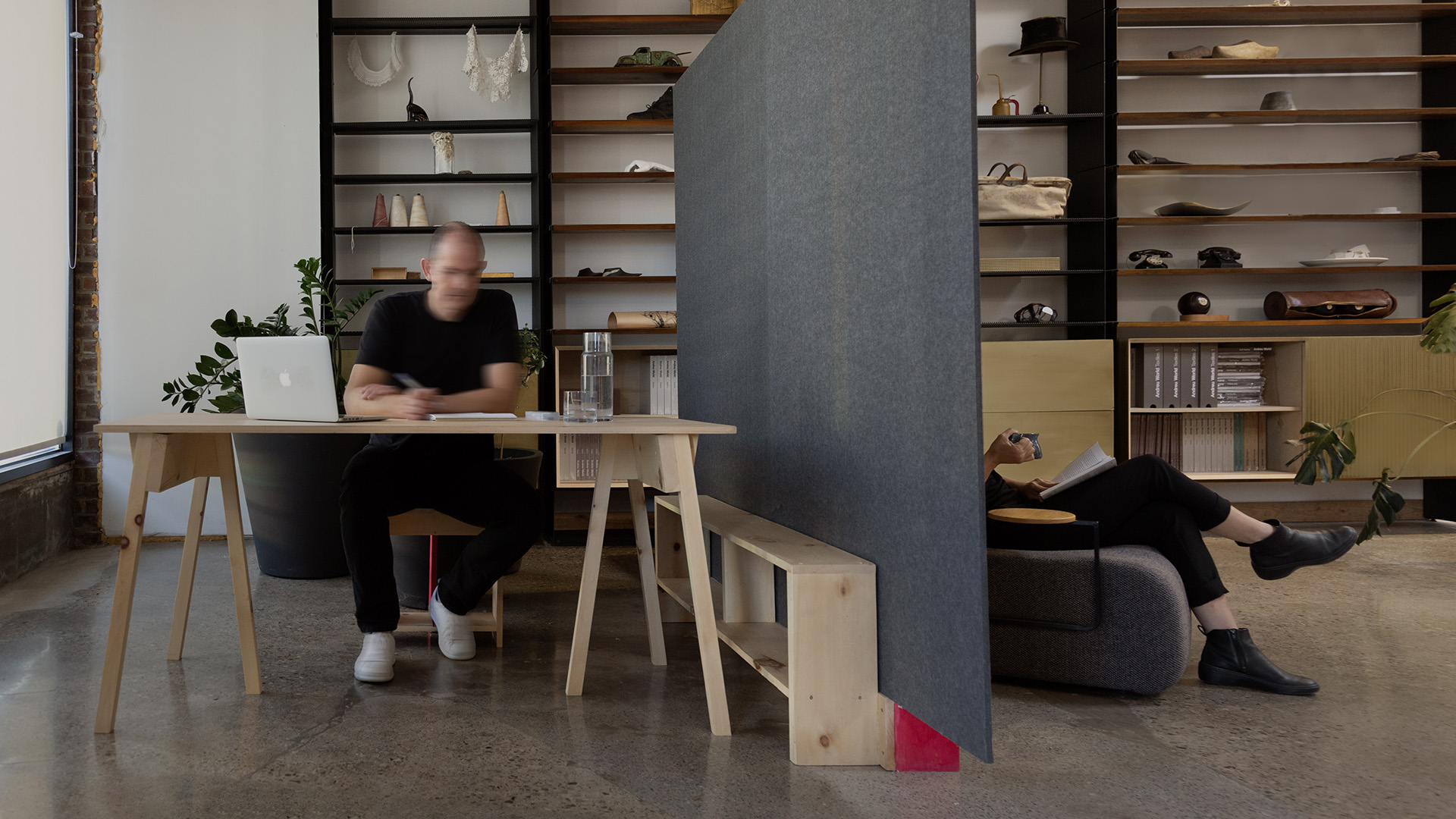 In addition to researching innovative ways to positively impact society and the environment through design, DESIGNwith is also a place to democratize the learnings of design, where designers and makers can share their collective knowledge and skills through design-led programing.
Tnachon Benjapipatkul, a strategic designer and researcher, highlighted her work and exploration of the circular economy. While at the University of the Arts London, where she completed a master's degree in Design Management, Benjapipatkul began looking into climate problems through a wider lens, looking at topics such as shifted culture, economic and societal systems, specifically in Thailand. This curiosity led Benjapipatkul towards her work in circular economy research, where she continues to research plastic waste, its involvement in the global environmental crisis, and how we can drive change.
Through this talk, and other programming, DesignTO is raising awareness of the potential of design's role as a tool to drive change. Aligning with the United Nations Sustainable Development Goals, which aim to address global challenges such as climate change, poverty, and inequality, topics such as design for social impact, alternative economies, site-specific adaptations, open-source sharing, and community-oriented interventions are just a few ways the design is addressing the climate crisis.
Joy and Wellbeing in Design
Design can positively impact our emotional wellbeing and quality of life by creating products, services, and environments that promote happiness, comfort, and bring people together. The Canadian Index of Wellbeing (CIW) measures how well people are doing across various domains, including living standards, community vitality, and time use. This index highlights the importance of considering wellbeing in design to foster a more balanced, fulfilling life.
In 2020, DesignTO partnered with North American architectural, engineering, interior design and planning firm, DIALOG, to introduce a new award to the DesignTO Awards program, which celebrates and recognizes design excellence at the DesignTO Festival. The Community Wellbeing Award honours design work embodying the Community Wellbeing Framework, a collaborative research project between The Conference Board of Canada and DIALOG, which studies the relationship between the built environment and people's wellbeing. The award highlights design's role in promoting flourishing communities.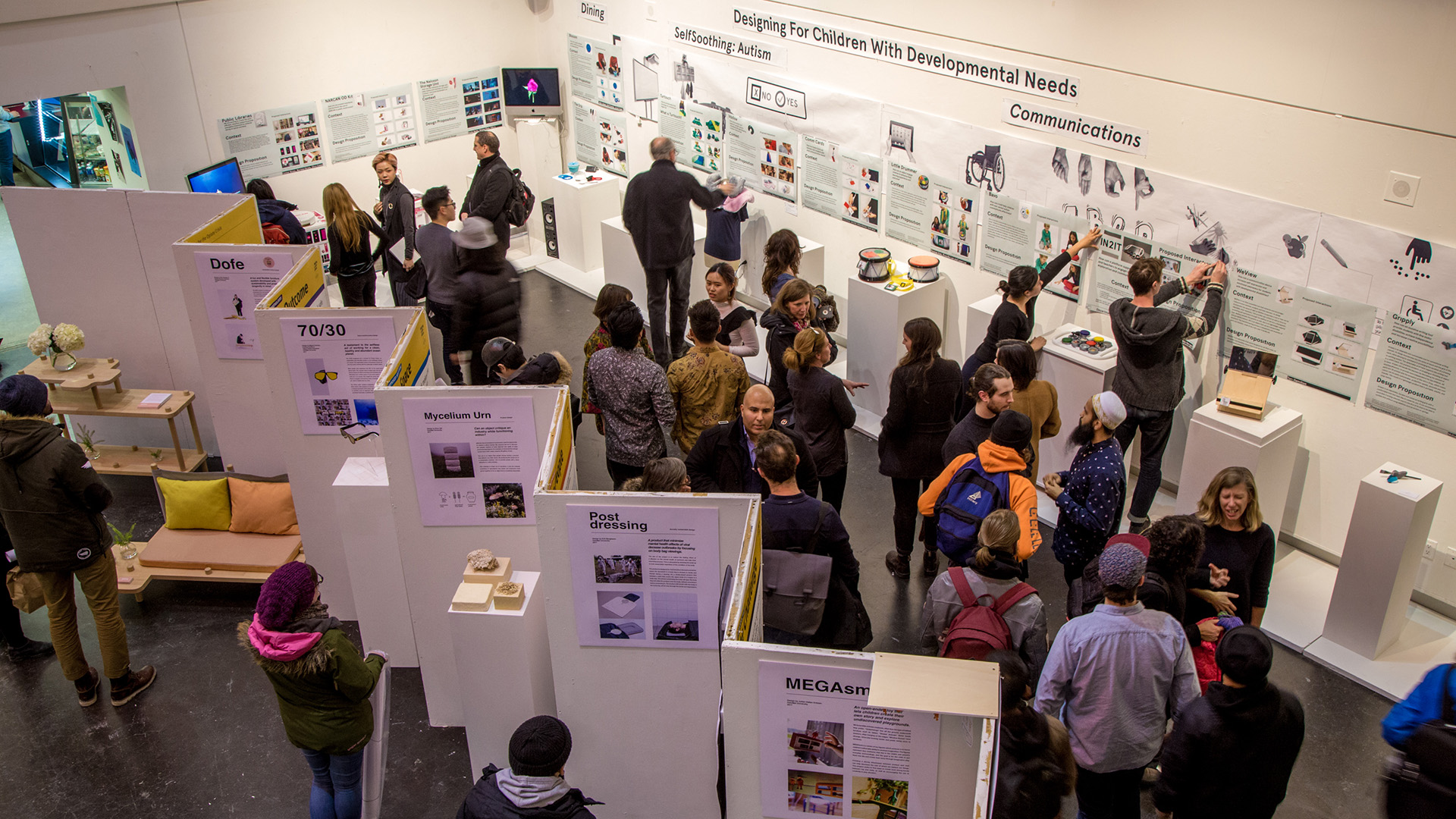 The winner of the inaugural award in 2020 was the 'Design for Health, Wellness, Aging and Inclusion' exhibition by OCAD U Industrial Design students. In this exhibition, students explored investigative, people-first, ground-up ways to better design our world, and consider how those approaches recognize and accommodate our personal, physical and mental diversity. The students presented work in relation to three different health challenges, the first was a collaboration with Baycrest Health Sciences in response to supporting people living with dementia and their care providers; the second, a response to the learning of elementary school age children with special needs; and the third was a collaboration with the Safehaven Project for Community Living, presenting a response to the needs of young adults with complex disabilities for social inclusion. 
At the 2023 DesignTO Festival, DIALOG returned to present a second Community Wellbeing Award. The recipient of the award, 'Democratizing the Creation of Furniture', an exhibition by DESIGNwith, was a showcase of a furniture collection designed by Lee Fletcher, Ranee Lee, Ernesto Ramirez, and Katya Koroscil along with other furniture pieces submitted by designers in the Toronto community. Referencing the work of Enzo Mari and the Ishinomaki Laboratory, which pushes the horizons of DIY as a departure point, the furniture collection sought to answer the question: How do we democratize the creation of furniture pieces using accessible materials and methods of fabrication?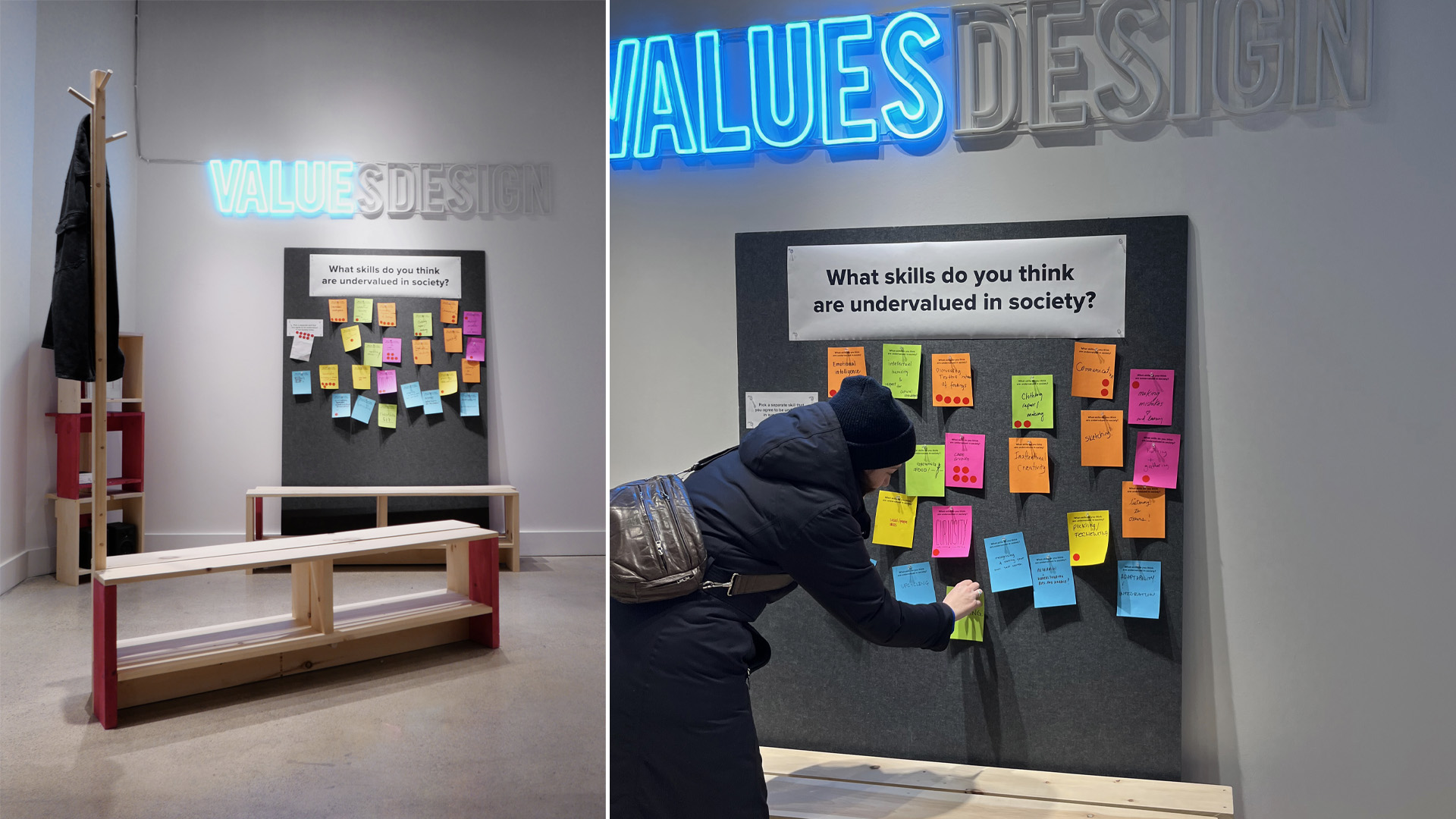 "Designing collections of products and furniture that are made for easy assembly using readily available and easily accessible materials, tools, and fasteners is a way for the design community and the public to participate," explains DESIGNwith's Ranee Lee. "This results in a high degree of modularity and disassembly, furthering its contribution in the circular economy. DESIGNwith's framework is scalable, using local skills within our community, participating as an alternative economy towards prosperity," Lee adds. Through this award, DesignTO acknowledges designers' contributions and encourages further exploration of design's potential to enhance wellbeing in the built environment by finding common ground, a shared vision, and a sense of purpose to make decisions that act in the interests of the community.
DesignTO's mission to promote the role of design in creating a more just, joyful, and sustainable world is more relevant than ever. Through exhibitions, talks, workshops, tours, and other events, DesignTO is able to showcase the diverse ways in which design creates positive change.
To explore more inspiring stories and insightful articles about design, art, and craft, visit the DesignTO Blog.
---
This article is part of the new DesignTO 101 series aimed at providing valuable insights on the role of design, craft, and art in promoting sustainability, social justice, and joy.