DesignTO Launch Party – POSTPONED
DesignTO projectevent: party in-person
Following the announcement on January 3 about new COVID-19 restrictions for the province of Ontario, we are postponing the Launch Party until restrictions are lifted. We will provide an update once we have rescheduled the event, and hope you will join us then!
–
Kick off the annual DesignTO Festival with its official Launch Party in the King East Design District, structured as a roaming neighbourhood party anchored by five Party Hubs. The Launch Party is the must-attend bash of Toronto's annual design week, kicking-off 10 days of festivities and bringing together hundreds of designers and design-lovers.
Designed and built by the experimental design practice Studio Rat for a winter streetscape, a series of glowing landmarks guide partygoers through the neighbourhood. These wayfinding beacons echo the architectural forms unique to the King East Design District, marking the entrance to each Party Hub.
With unique installations, food, drink and entertainment at each Party Hub, partygoers can explore them all or pick their favourite and stay put.
Also enjoy additional DesignTO Festival projects in the King East Design District neighbourhood:
The DesignTO Launch Party is free, but partygoers must RSVP. Proof of vaccination is required for access to Party Hubs. Guests can check in at any Party Hub to get a bracelet, and then move between venues. Venues have capacity limits.
—
LAUNCH PARTY INSTALLATION DESIGNER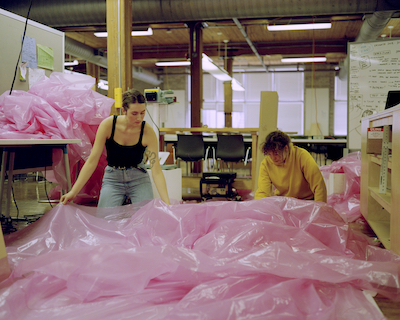 Studio Rat is an emerging creative practice pursuing research and experimental design work located in Toronto and Montréal, founded in 2018 by Emily Allan and Dominique Di Libero. The duo's educational backgrounds in interior design provide an understanding of the aesthetic and technical language of interiors which they reflect in their installation work with Studio Rat through a practice that is committed to DIY fabrication techniques and resource-sharing rooted in circular design principles. To learn more about Studio Rat you can visit their website or follow them on Instagram @studio__rat! 
Studio Rat thanks fabrication partner Design + Technology LAB.
—
The 'DesignTO Launch Party' is generously supported by the St. Lawrence Market Neighbourhood BIA / Old Town Toronto.
Accessibility
Who should visitors contact with questions regarding accessibility?
Is this venue accessible by wheelchair or similar mobility devices? This includes access to washrooms and all aspects of programming/events.
Accessibility at each of the Party Hubs varies. Most are accessible by mobility devices. Please contact Robyn Wilcox at
[email protected]
regarding your specific accessibility needs.
Can people get to the venue using accessible transit?
Yes